The Carolina Hurricanes have arrived at the American Thanksgiving benchmark whereby teams are judged as to whether or not they make the playoffs. For some teams, the only significance Thanksgiving will hold is in a large plate of stuffing and a big turkey leg.
Some recent American Thanksgiving NHL playoff notes to be aware of. A 78% likelihood in past 5 years that teams listed in top 8 in their conference would make playoffs. Don't count #Canes out though. They made big gains in the Draft Lottery, so percentages may not apply to them. https://t.co/ElLhukYuLY

— Peter Koutroumpis (@pksport) November 22, 2018
As the above Tweet points out, statistically the Hurricanes face an uphill battle to make the playoffs. But, everyone knew this season that the playoffs were not a given. In fact, for the Hurricanes, a season that started fast and full of hope has fast been disintegrating into another same old song as recently as a few games ago.
The new owner, new general manager and new coach have not been able to put together consistent results. A new captain, new players and even a new song to be played when goals are scored at home have not been enough to effect real change for the 'Canes.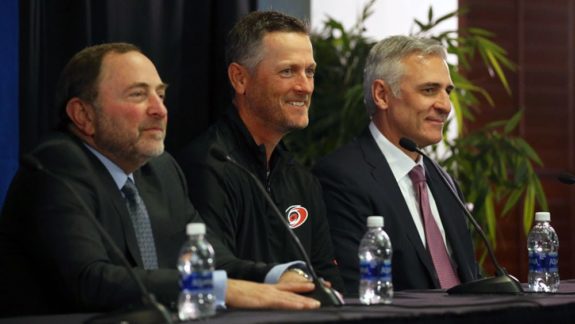 Yes, the team has rebounded and has actually looked decent lately. They have won their last two games and are 3-1-1 in their last five. More importantly, they have allowed their opponents less than three goals three times during the last five games. Of course, it is goaltending around which this team's futures rises or falls.
Hurricanes Consistently Inconsistent
The one constant for this team over the past five seasons has been their propensity for slow starting and not finishing. "We didn't start on time" has been their mantra over and over again. At the start of this season, it appeared that this was not going to be a part of the DNA of a Rod Brind'Amour coached team. But, not including Wednesday night against the Toronto Maple Leafs, the recent starts have been mostly lethargic.
Even against the New Jersey Devils when they scored two goals in the first 30 seconds of the game, it can be said that their entire game was not what one would call consistent. If not for good defensive plays and a stout performance by Curtis McElhinney in goal, the Hurricanes might not have won. But, they did and it was a win they needed to erase their previous bad outing against the Columbus Blue Jackets.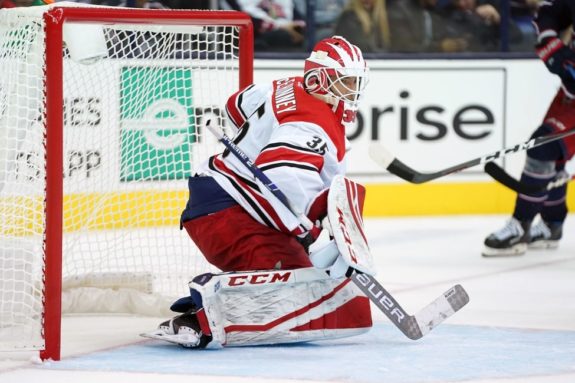 Hurricanes team captain Justin Williams called the 4-1 beatdown at the hands of the Blue Jackets "a dud." He blamed himself first and foremost for an effort that was anything but "on time." The goaltending was horrendous and Scott Darling looked a lot like he did last season, just a beat too slow.
Hurricanes Know It's All About Defending the Net
Darling has not separated himself from Petr Mrázek and McElhinney, and the number one goaltending position is still up in the air. McElhinney is doing his part, however, to force Brind'Amour to give him a serious look as the starter. With the three-headed goalie situation still in place, getting good goaltending is crucial for the Hurricanes.
Brind'Amour seems somewhat hesitant to give McElhinney the "starting goalie" gloss. He did say after Wednesday's game that McElhinney has "Earned every start that he has had. It probably makes sense to do it again." Regarding the fact that McElhinney is making the decision of who to start and even who to keep among the three Hurricanes goalies Brind'Amour said, "I'm glad it's not my decision."
Curtis McElhinney might just be the new full time starter for the @NHLCanes. Dude absolutely deserves it

— Britton Phipps (@PhippsBritton) November 22, 2018
The bottom line is that statistics say that today it does not look like the Hurricanes will make the playoffs. But, they are not that far from a playoff spot – three points behind both the Boston Bruins and the Montreal Canadiens. There is a lot of hockey to be played and this team can win in bunches. But, they can lose in bunches, too. That is why it is imperative that they have a consistent backstop.
If – and this is a big "if" – the Hurricanes can get good consistent goaltending, their chances of making the playoffs increase dramatically. Brind'Amour is glad he's ultimately not the one making the call regarding who is the 'Canes goalie, but ultimately he can see what the fans can see. If Darling intends to fight for a spot on this team, he better start immediately.