The Providence Bruins weathered a bit of storm in their last three games, taking three of a possible six points. There's been a noticeable turnover on defense in the P-Bruins lineup. The team started the year with the likes of Jeremy Lauzon, Urho Vaakanainen, Connor Clifton, and Jakub Zboril. As is the case with an AHL roster, the lineup was dictated by the needs of the parent club. Unfortunately, Boston has been struck by injuries. The P-Bruins remain solid up front and continue to bounce back from an early season slump, but just who are some of these new guys on the blue line?
ECHL Call-Ups Join P-Bruins
Olivier Galipeau is the name of most interest to both fans in Boston and Providence. Galipeau spurned his home-town Canadiens to sign with the Bruins. He arrived in the organization at a time when Boston had eight NHL-ready defensemen and depth in Providence. However, Galipeau's assignment to ECHL Atlanta lasted only a little over a month.
Galipeau is a left-shot defenseman that developed an offensive side to his game early in his junior career. He kept that going in his first taste of professional hockey, with three goals and six assists through his first 11 games in the ECHL.
The twists and turns in a season of minor league hockey found Galipeau as one of only three defensemen in the lineup as Bruins property last Friday against Lehigh Valley. For that reason, it's a low-pressure debut for Galipeau. He'll get some quality minutes and not have to worry about a quick trip back to Atlanta.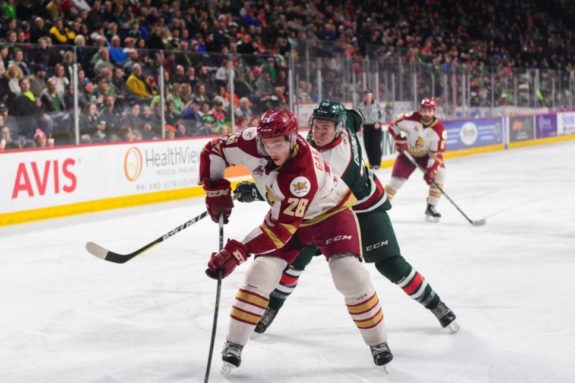 Galipeau joins a team with veterans and talent up front, but desperately needs his services on the back end. He should be given minutes over his ECHL counterparts to play, learn, and even make mistakes. His weekend was highlighted by picking up his first AHL assist while playing power-play minutes in a 3-2 overtime win against Rochester.
The organization's needs will ultimately be a positive for the P-Bruins. Even if Galipeau doesn't hang with the AHL club all season, if the need arises on the blue-line he'll provide a ready-made option that's already logged some experience. Currently, he's the best young option the P-Bruins have to account for the missing defensemen.
Aside from Galipeau, looking at the Providence defense corps heading into the weekend might leave fans with a simple question. Who are these guys? Well, Joel Messner has quickly introduced himself with a goal and assist in six games with Providence. A Nebraska-Omaha product, Messner began his first pro season in Atlanta, but could benefit the P-Bruins as a top ECHL defenseman with an opportunity to stick around at the AHL level.
Natick, Massachusetts native and Harvard product Desmond Bergin made his P-Bruins debut after playing back to back games with Adirondack in the ECHL. Begin completed the weekend with four games in four days in a Providence sweater. Chris Carlisle joined him, bringing 141 games of AHL experience to the depleted P-Bruins lineup.
Opportunity Strikes for Veteran & Rookie Defenseman
The P-Bruins may have even found a stabilizing force on the blue line in Kyle Cumiskey. The 31-year-old veteran of 131 NHL games was off to a hot start with ECHL Newfoundland, tallying nine assists in 11 games. Cumiskey picked up a goal and assist against Hartford in his debut Wednesday. While the defense remains a question mark, his veteran presence could help a P-Bruins team that hopes to remain competitive and find wins.
Cumiskey's impact was evident Wednesday night. He may have tried to force a couple of passes, but his skating ability and offensive mindset will play in the AHL. Cumiskey was added to the power play, picking up a goal on the man advantage late in the third period. As the P-Bruins defenseman begin to filter back, Cumiskey could make the decision to send him back a difficult one.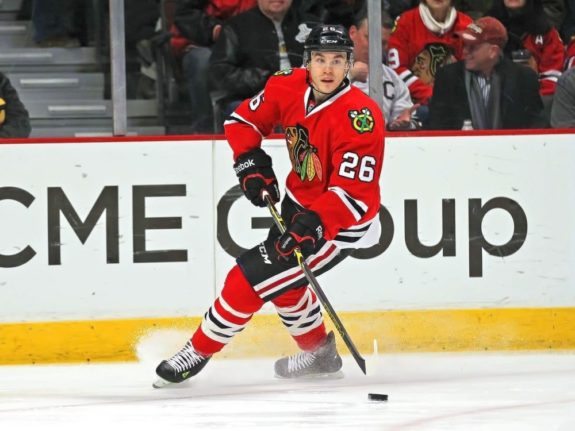 Wiley Sherman remains one of the steadying forces on the blue line in Providence. The Harvard graduate started the season as possibly the seventh or eighth defensemen on the depth chart, but has quickly found himself in a key role. Sherman must continue to keep it simple, Listed at 6-foot-6, his imposing presence makes him an interesting prospect. For Providence, Sherman must take advantage of the opportunity early in his pro career to become a leader.
Sherman has been caught out of position a few times tracking faster players. Skating may never be a strength of the imposing defenseman, but like his young counterparts, he's getting a crash course in adjusting to the speed of the pro game. When reinforcements return, Sherman should get some favorable matchups, leaving the rookie less exposed.
Providence has the forward group to continue to earn points and win games at the AHL level, Ryan Donato, Peter Cehlarik, and Anton Blidh may even be NHL-ready in some organizations to fill various roles. The P-Bruins could look back at this time of turnover as a turning point in the season. If they can continue to get points, this stretch may be the difference in a postseason berth.
A life-long follower of the game of hockey. Communications experience with the AHL'S Portland Pirates, and a former coach at the college club level. Covering the Providence Bruins and prospects.