Prior to the start of the season, I identified two San Jose Sharks players as potential X-factors, the sort of player who might grow into a new role and become a major difference-maker for the team.
It's a quarter of the way into the season, and I'm batting an even .500. The forward I selected has been electric, while the defender has been in the dog house.
At Forward: Marcus Sorensen
Marcus Sorensen is the forward. He wasn't the popular choice, that was Kevin Labanc. In my x-factor analysis, I elevated Sorensen, nominally a fourth liner, to the top line with Logan Couture and Tomas Hertl. I hoped the smallish Sorensen could handle the bigger minutes and heavier game. Sorensen hasn't been a part of the Couture line, but he has worked his way up the forward units. Currently, he resides on a line with Labanc and Joe Thornton. Over his two NHL decades, Thornton has made a lot of wingers look really good. But in the last few games, it seems Sorensen is the one helping Thornton and the duo ooze chemistry.
Thornton didn't look particularly good in his first few games this season, fitting in awkwardly with Joe Pavelski. Then an infection sidelined Thornton for nine games. A few games after he returned to the lineup, Sharks head coach Peter DeBoer juggled his way into the Thornton-Sorensen-Labanc line. And it has been golden. Sorensen set up Thornton for the game-winner in the thriller against Nashville Predators, just 19 seconds after he'd set up Pavelski for the game tying goal. Against Edmonton, Sorensen notched his fourth goal of the season with Thornton collecting a milestone on the assist, tying Mario Lemieux for 11th all-time.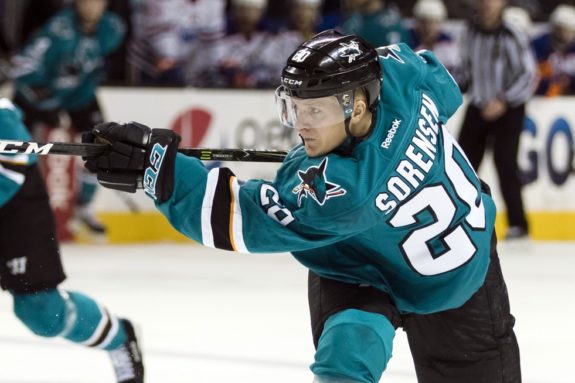 Sorensen sits below the midpoint of Sharks forwards in points, goals and assists,. But when one removes power play numbers (he is not on the power play), Sorensen moves several notches higher. His four goals tie him for fifth on the team, his ten points tie him for sixth, which is impressive for a player whose ice time per game is ninth among the team's forwards. Further, Sorensen spent much of the season on the light-scoring fourth line. Since his promotion, his trend line is up sharply. At even strength, he sits seventh on the team in CF% and is plus-four, tied for second best.
He's also been an asset on the penalty kill, where he's garnered over 30 minutes of ice time. With Sorensen on the penalty kill, the Sharks have allowed just three goals while scoring twice. On the short-handed tallies, Sorensen got the goal on one and an assist on the other.
By the numbers and by the eye test, Sorensen is delivering as an x-factor.
On Defense: Joakim Ryan
In contrast to Sorensen, defenseman Joakim Ryan isn't delivering as an X-factor. To be fair, the Sharks don't have a defender which would qualify as an X-factor this season, so no matter who I selected, I'd have come up dry here. But in Ryan's case, it is downright depressing. Ryan hasn't been great, but he's rarely made it easy on opponents by being out of position and allowing odd-man rushes. It may sound like a low bar, but most of his defensive teammates have been far worse on this front.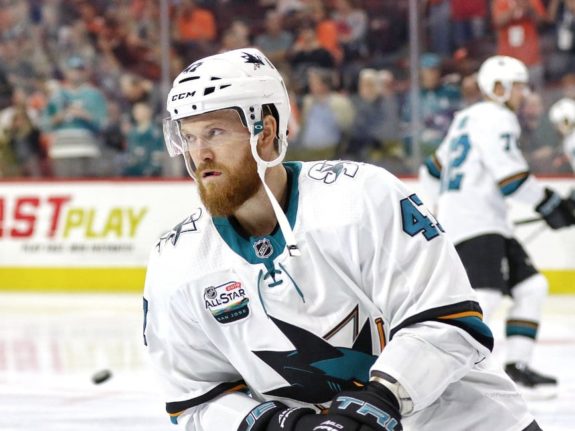 Ryan's Corsi is eighth-best on the team, and third among defenders. He sits at plus-two, tied for second among defenders behind Burns' plus-three. He's been sent to the penalty box (alone) exactly once this season. Measured in points per minute, he's putting up points at the same rate (or better) as the other Sharks defenders not named Brent Burns or Erik Karlsson. In short, there's little to suggest Ryan is a problem, let alone a pariah, which is essentially how he's being treated by DeBoer. Even after Ryan fought against a much larger opponent to defend a teammate, DeBoer's comments about Ryan were, at best, lukewarm.
Ryan is among the few players who can claim to be a plus-player on the penalty kill over his career (plus-three), yet DeBoer has played him less than a minute on the penalty kill this season. Not a minute per game, a minute total. DeBoer has routinely sat Ryan in third periods, and even benched him for a game (the Sharks were trampled, 4-0, that game).
Alas, it's hard to be an X-factor without the coach's trust. Ryan doesn't have it. Unfortunately, this is a situation which could get ugly for the Sharks. Ryan can't be happy with his role and he is a restricted free agent at the end of the season. While the Sharks hold a lot of cards with Ryan (or any restricted free agent), this is one case where the Sharks need to be very smart.
Finding a compatible partner for Burns is difficult, and Ryan is easily the best candidate the Sharks have to fill this role. There is enough supporting data, too. It's an essential role – Burns is in year one of his eight-year deal. Burns' last full-time partner, Paul Martin, cost the Sharks about $18 million over three seasons, only two where he was mostly healthy. If Ryan can fill the role at a much lower cost, the Sharks will benefit enormously.
Ryan has shown compatibility with Burns, better than the Sharks other left-handed defenders, Marc-Edouard Vlasic or Brenden Dillon. But alas, DeBoer is undermining Ryan and the handwriting is starting to appear on the wall. Wherever the blame lies, this potential X-factor isn't delivering.
ZEKE is a native of the DC area where he witnessed the birth of the Capitals franchise. After graduating from Cornell University, which had seen hockey glory before he arrived, he moved west to San Jose. There he witnessed the birth of the Sharks franchise. His wait to witness a Championship from any of these teams finally ended in 2018.