We continue with our preview of the San Jose Sharks season with a look at the team's X-factors — the sort of player who might emerge from a less visible role and deliver something critical to the team's ultimate success. For the San Jose Sharks, I've identified two players — one forward and one defenseman.
In our preview articles so far, we've covered the team's pre-Karlsson trade roster, our expectations for the division opponents and the Sharks area of greatest vulnerability. I've taken a look at important side effects of the Karlsson trade and my colleague, Mac Bass, offered his take on the deal as well.
At Forward: Marcus Sorensen
According to player information, Marcus Sorensen is the Sharks smallest player. He is quicker than he is fast, designed to win the short races which are critical to a team's success. For his first two NHL seasons, Sorensen was a part-time player — he didn't secure a starting job until late last season. He played 32 games in 2017-18, finishing the season with seven points and a minus-5 rating, which made what followed very surprising.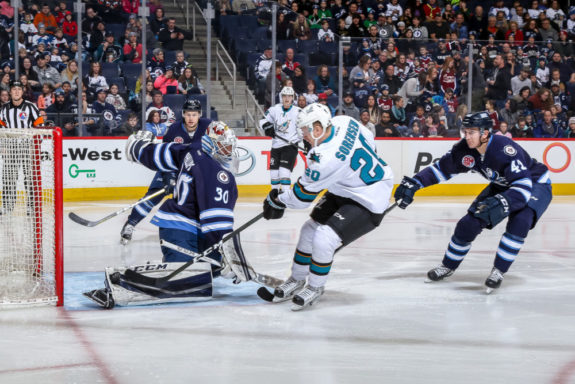 In the playoffs, especially against Anaheim, Sorensen was superb. He played 10 games, scored five points (four goals) and was plus-5. On the fourth line with center Eric Fehr and (mostly) Melker Karlsson, the group delivered a significant advantage. At times, it was even dominant, not something you hear about fourth lines very often.
Sorensen's athleticism played a very big role in it. His quickness proved challenging for opponents, but what stood out was his physical play. For a smaller guy, he was hitting everything. And, his hits got results, frequently changing the play in the Sharks favor. With turnovers off the forecheck becoming an increasing source of scoring, Sorensen's ability to generate these sorts of turnovers carries added value.
There are two questions with Sorensen? The first one is simple enough. Is Sorensen able to play like he did in last season's playoffs on a routine basis? Perhaps this was an adrenaline-fueled moment in time which won't repeat itself. And second, is he durable enough to play a bigger role in the NHL? Though he is 26, he's never played a full NHL-type schedule, either in Sweden or North America. But, he's been close, playing 78 total games between the Sharks and their AHL team, the San Jose Barracuda, in 2016-17. Close enough to be hopeful.
If both questions are answered in the best way possible, Sorensen should move up to the line with Logan Couture and Tomas Hertl. His physicality, quickness and ability to shake pucks free will complement the very talented duo. If you're battling Hertl and Couture, the last thing you need is a very quick player creating even more havoc for the defense.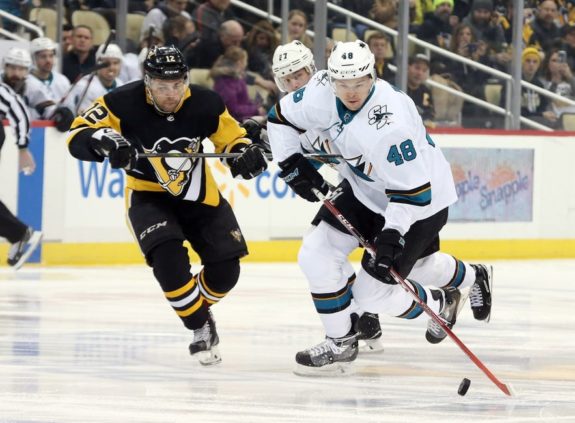 Last season, the Couture line was the Sharks best with Hertl and, most often, the since-departed Mikkel Boedker. It doesn't appear likely this line will get top billing this season, but if Sorensen can play the X-factor role as he did in the playoffs last season, this will be the Sharks best line.
The ramifications of Sorensen taking this leap are significant, even beyond the Couture line. The Sharks have a very good starting lineup, but the expectation is at least a few rookies will play a major role this season. By moving Sorensen up, talented forwards like Timo Meier and Joonas Donskoi can upgrade what might otherwise be "hold your breath" lower lines. Sorensen can not only help his own line, but make other lines better as well.
On Defense: Joakim Ryan
There are few roles in the NHL trickier to fill than "Brent Burns defensive partner." Paul Martin was quite good at it, but the NHL's version of Father Time came for Martin, and as of now, he is no longer in the league. The right-handed Burns will most likely pair with a left-hander and the Sharks only have three: Joakim Ryan, Marc-Edouard Vlasic and Brenden Dillon.
Vlasic and Burns skated together a good bit last season — DeBoer often sat Ryan for the third period of games. It'd be wrong to say it was a disaster, but they were less than the sum of their talented parts. It'd be accurate to say the pairing of Dillon and Burns was a disaster. It hasn't worked since Dillon joined the team in 2014, there's no point in even thinking it might now.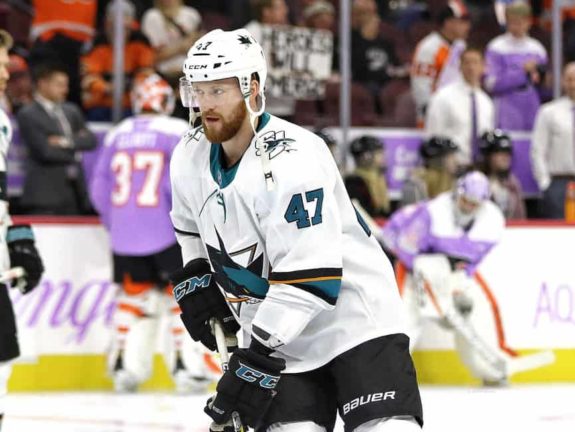 Partly by default, but more by the product of his work, the job falls to Ryan, now in his second NHL season. Defensive-minded and smooth skating, Ryan proved a solid fit. With Burns as his primary partner, Ryan finished last season at plus-13, the best on the team. Burns finished minus-16, worst on the team, suggesting his time away from Ryan was the problem, not his time with him.
As a rookie last season, Ryan proved he belonged in the NHL. But for me, he did more than that. There are areas of the game where he has issues (he gets outmuscled by Alex Tuch on this goal), but not many. Ryan couples fundamentally sound play with good on-ice vision. This combination can take him a long way. Even against veteran standards, the lack of mistakes he made last season was impressive. It was stunning by rookie standards. He took two minor penalties in his first three games, then went 49 consecutive games without going to the penalty box. Between the regular season and playoffs, he had just four penalty minutes in his last 62 games.
The question which moves Ryan into X-factor territory is: Can Ryan help Burns return to the Norris Trophy winning form of 2016-17? If he can provide this boost, the Sharks will be a tough team to stop.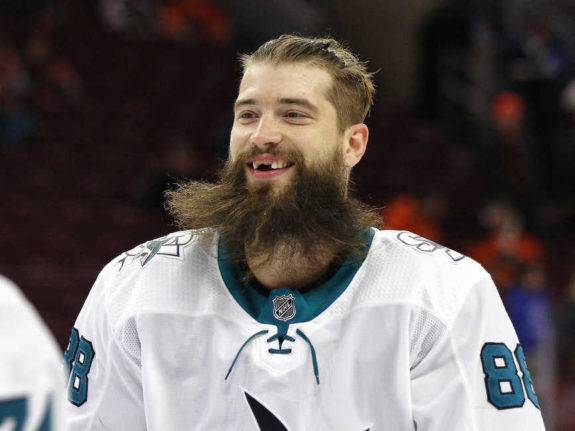 There is a flip side to this. If Ryan has to miss games along the way, what do the Sharks do with Burns? In all seriousness, if you can't partner him with either of the other roster lefties (Dillon or Vlasic), you aren't left with many choices. The most entertaining choice would be to pair Burns with Erik Karlsson. Having these two on the ice together is a scary prospect for opposing teams. Since both nominally play the same role – whether they have chemistry together is a different question.
The alternative is to move Burns to forward where it is easy to find players who can work with him. But if Ryan is out and Burns goes to forward, the Sharks will need to get another defenseman from somewhere. The AHL group is limited, and I rather doubt most teams would take an interest in helping the Sharks out of a defensive predicament.
As with Sorensen, Ryan will need to see a major uptick in games played and playing time. He's young enough to carry bigger minutes, yet savvy and experienced enough to give the team hope.
Ultimately, Ryan's play with Burns will have a huge role in the Sharks season. If successful, the Sharks will be very tough for anyone to stop and Ryan may be the most important, under-the-radar cog in the league. Which is a whole lot of X-factor.