As the San Jose Sharks get ready for the upcoming season, the fans are getting ready, too. We're onto the second of several articles where I'll help define the issues for the Sharks' upcoming season. The first looked at the roster heading into training camp.
The Sharks have played the last three seasons under head coach Peter DeBoer. The regular season results appear remarkably consistent, the team finishing with 98, 99 and 100 points in the three seasons—either 45 or 46 wins—and a playoff berth each time. Alas, what appears to be consistency is actually the product of some miserable slumps, some incredible hot streaks, some key injuries and some critical acquisitions.
It would be easy to predict another Sharks season hovering near the 100-point mark and forecast another playoff appearance. Rinse, lather, repeat. The truth is, the Sharks are quite vulnerable, due to both roster issues and improvements among their divisional foes. At the same time, they are quite formidable, with considerable talent at every position. We'll cover these issues in future pieces. Today, we'll emphasize an overview of the division foes, then touch on the identity of this Sharks team.
The Sharks' Division Foes
Vegas Golden Knights
Within the division, many expected last year's winner, the Vegas Golden Knights, to regress. I didn't see a regression in the offing. This is a talented team with several players in the growth phase of their careers. The roster perfectly meshes with the fast-forecheck style favored by head coach Gerard Gallant. Some people point to things like William Karlsson's stunning 23.4 percent shooting percentage as unsustainable. I'll point to the turnovers his line produced, creating an abundance of very high-percentage scoring chances. Coupled with his speed and his skill as a shooter, he had a remarkable shooting percentage because the quality of the underlying game was outstanding—and that is sustainable.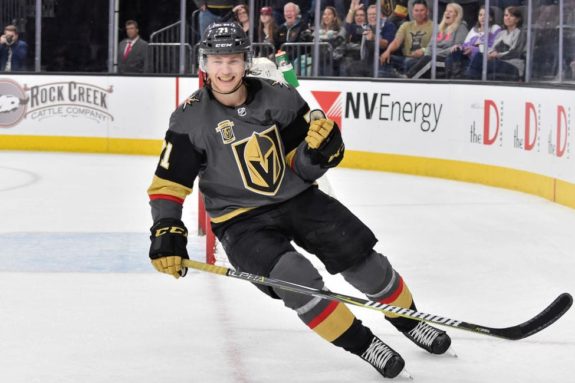 Earlier this month, the Golden Knights changed the equation further, acquiring another stud, Max Pacioretty. With that move, any "regression" expectations left the building. Last season, everyone underestimated Vegas. Many seemed ready to do it again this season before the recent big trade. With the trade, Vegas is not merely the division favorite, but perhaps the Stanley Cup favorite as well.
Anaheim Ducks
Anaheim passed the Sharks for second place in the division at season's end, finishing with 101 points. They then proceeded to disintegrate against the Sharks in the opening round of the playoffs. Are they better this year than last? Many think Anaheim will struggle this season, especially with the likely absence of Ryan Kesler.
I don't agree. Kesler had a mediocre half season for the Ducks last year, with just 14 points, plenty of penalties and a minus rating in 44 games. He wasn't key to the Ducks success. I'd hesitate to call Kesler's loss addition by subtraction, but the Ducks won't miss last season's version of him. Some are concerned about Corey Perry's play, but he too has already declined significantly and was far less critical last season than in seasons past. He's been a declining player for some time now. Even with a modest season from Perry and as far lesser one from Kesler, the Ducks managed 101 points. And the reason they didn't get more than 101 was the lengthy absence of stud center Ryan Getzlaf.
The Ducks' top player missed one-third of last season. Not surprisingly, the Ducks were instantly better when he returned to health. The Ducks go nowhere without Getzlaf, but a full season of him far more than compensates for the loss of Kesler or another modest season from Perry.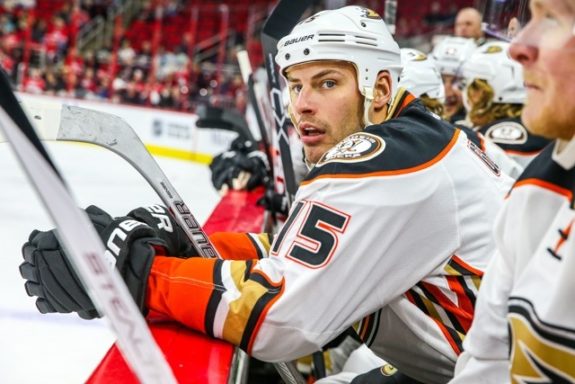 Anaheim has both an excellent blue line and goalie. The key to me is whether Patrick Eaves, who missed last season with an autoimmune disease, can return. Eaves was a hand-in-glove fit following his acquisition from Dallas in 2017. If he returns to form and is able to play in a good portion of Ducks games, I expect Anaheim to be an improved team, perhaps significantly so.
Los Angeles Kings
Some of the teams that finished behind the Sharks appear improved as well. The Los Angeles Kings, who finished with 98 points and made the playoffs last season, have the potential to improve significantly. They added Ilya Kovalchuk, and whatever the older but highly talented Russian brings, it probably helps this low scoring team. The Kings also missed center Jeff Carter for two-thirds of last season; he averaged a goal every other game upon his return. Adding these two into the Kings' everyday lineup will help the team in several ways. The two will obviously add offense and leadership, but they will also bump two lower-end forwards out of the lineup.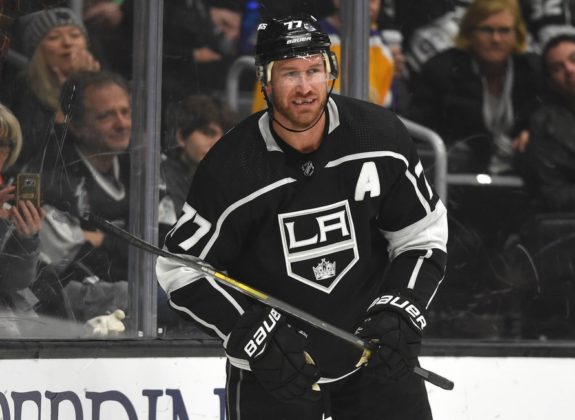 Still, I hesitate to put too much faith in the Kings. Goalie Jonathan Quick has been up and down in recent years, and he won't likely improve on last season's strong campaign, which included his second-best regular-season save percentage of his career (followed by a strong playoff series against Vegas). The Kings still have blue-line depth issues that will hold them back a bit. But another strong season from Quick, relatively good team health and Kovalchuk meeting high expectations will make the Kings better than last season.
Calgary Flames
While I'm not certain Calgary is a more talented team entering this season as compared to last, they have proven they can compete for a playoff spot. Well, sort of. They were in the hunt in mid-February, projecting to a finish of 95 points. But the Flames collapsed the rest of the way, posting a 7-15-2 record over their final 24 games. The addition of James Neal and a new coaching staff led by Bill Peters are both positives, but trading away Dougie Hamilton (and others) for talented younger players might not help Calgary this season, even if it does pay off down the road. The team needed a character rebuild after last season's collapse, and perhaps that alone will give them a better shot. Well, that and a healthy, effective goalie in Mike Smith.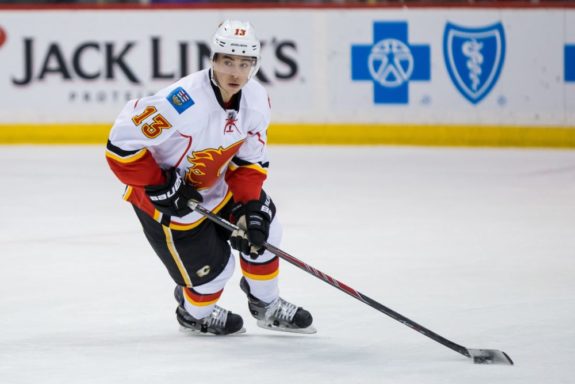 The Flames' roster is too good to be discounted, but I think Calgary is in "change the trajectory" mode this season. There is a lot of 'new' to integrate, and depending on how long this takes, it likely determines Calgary's season. I expect they'll struggle to stay in the playoff chase, but I won't be surprised if this team is a lot better in the second half of the season, as the new pieces start to mesh. I could easily see them finishing strong and finishing with a better record than last season's 84-point total.
Edmonton Oilers
Edmonton had a massive meltdown last season, but they still have the game's best player in Connor McDavid and much of the roster that led them to the Pacific Division championship the season before last. They added a few lower-end but useful pieces in the offseason, while the departures don't seem overly significant.
Losing defenseman Andrej Sekera for a big chunk (and perhaps all) of the season is going to hurt this team in the area they can least afford it (he also missed much of last season). Their defensive corps is simply too thin. If the Oilers can upgrade their middle defensive pairings, they'll improve a lot. On the upside, the roster led by young talent and several players are still improving. McDavid is just 21, Leon Draisaitl is 22 and Darnell Nurse is 23. It's a very talented core.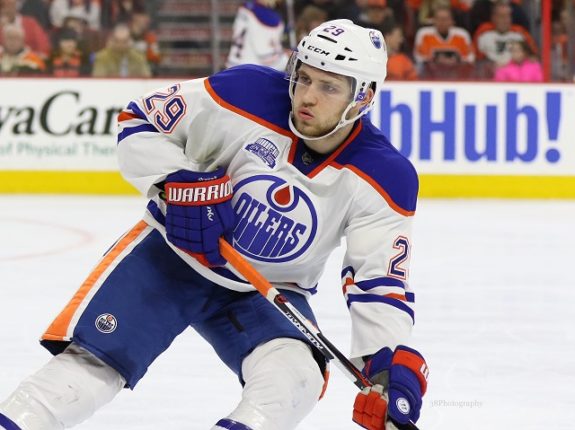 Arizona Coyotes
The most improved team in the division looks to be the Arizona Coyotes. They might be the most improved team in the league after a strong offseason. Better health (especially in goal) coupled with several talent upgrades may see them take a major leap in their ability to compete. If a few things go right, Arizona could quickly enter the mix for a playoff spot. Trading Max Domi for the excellent Alex Galchenyuk, who was badly misused in Montreal, gives the Coyotes a major talent upgrade at forward. Michael Grabner, a speedy goal scorer sort, also adds a useful piece, perhaps on the third forward line.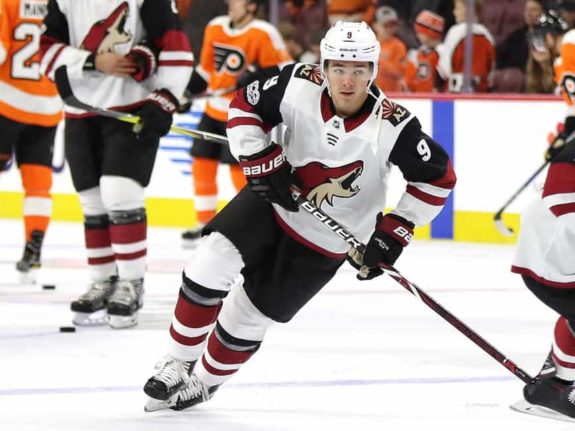 Antti Raanta was among the league's better goaltenders when healthy last season (he had the league's second best save percentage). But he was limited to just 47 games. He'll play closer to 65 if he can stay healthy. It is a similar story for veteran defenseman Niklas Hjalmarsson, who only played in 48 games last year. His leadership is probably as valuable as his considerable skills.
This is head coach Rick Tocchet's second season at the helm, but positive results started to show after the All-Star game last season. They finished 17-12-3 from that point forward. One senses the trajectory change needed in Arizona, which began last season and will continue this season. There are a lot of up arrows in Arizona. Whether they take a modest step or a giant leap remains to be seen, but a 90-point season would not surprise me at all.
Vancouver Canucks
I expect the Vancouver Canucks, a young team with a limited amount of high-end talent, to slip out of contention well before season's end. With the retirement of the Sedin twins, there are simply too many holes for the Canucks to fill. The pipeline has talent, and a few younger players—such as Brock Boeser and Bo Horvat—have already made an impact. But it simply won't be enough. At least not this season.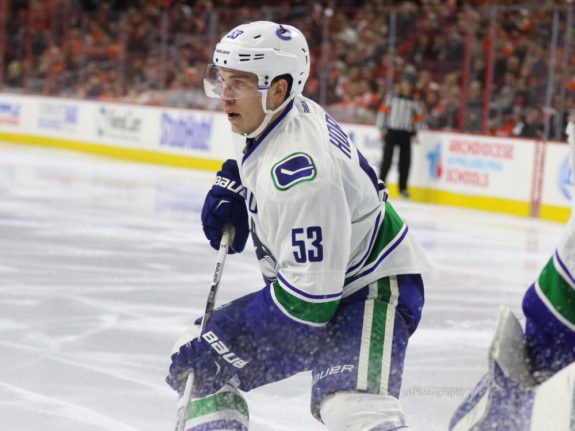 All in all, I expect an improved Pacific Division to eat into the Sharks' point total. Seven teams have good reason to believe they can compete for a playoff spot. At least at the outset of the season, parity has increased within the division. For the Sharks, it won't take much to go from a playoff spot to a spot on the outside looking in.
The Sharks' Team Make-Up
As we move forward in our preview of the season, we'll hit on a few key themes for this team, and I'll give them a quick once-over here. You'll see them again, with more detail, in upcoming pieces.
The Sharks are a power-forward driven team. Depending on the deployment favored by DeBoer, each line can feature one. Evander Kane is the most talented of the group, but both Tomas Hertl and Timo Meier are forces to be reckoned with. Spread them out and the Sharks will have frequent mismatches. Barclay Goodrow is the fourth forward who can fill the role. Goodrow had a strong season between injuries last season. The Sharks' fourth line was an asset all season long, but the talent levels may be less this season, and having Goodrow step up his game will be an important piece of the equation.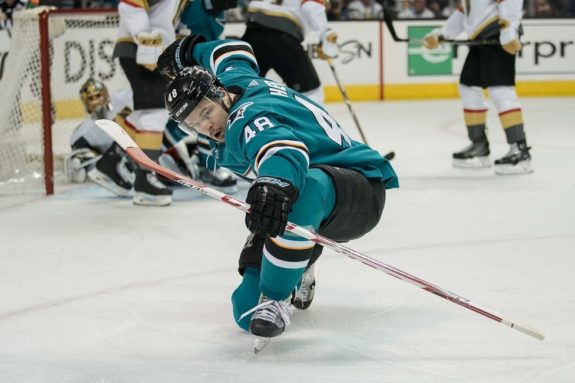 With these four forwards dragging opposing defenders behind the net, shift after shift, the Sharks can create deliver a powerful, puck-possession game which few teams can match. These forwards can score goals, draw penalties and wear down opponents.
Add the Sharks' cornerstone competence, strong defense and solid goaltending into the mix, and this team has plenty of potential.
The Sharks' composite special teams were the league's best last season with a plus-24 goal differential. Another successful season for the special teams is probably a requirement.
At the core, this is the team's identity. Power forwards, stingy defense, solid goaltending and excellent special teams. Everything builds from this.
The Outlook
The Sharks certainly have enough talent to get to the playoffs, but the margins for error are surprisingly slim in an improving division. Yet, if things fall right, this is a team capable of a deep playoff run. In upcoming articles, we'll look at the Sharks' upsides, vulnerabilities and potential important changes which optimize this team.