With NHL 19's official release right around the corner, it seems appropriate to start looking through each team's roster and seeing which teams appear to be the strongest and which appear to be the weakest in the newest installment of this legendary video game franchise.
Related: NHL 19 – A Refreshing Twist on the Classic Game
To kick things off, the Atlantic Division – a division that should see another top-heavy race to the finish in 2018-19, will be looked at and briefly analyzed. The ratings presented are from the Aug. 31 2018 rosters for NHL 19 – ratings that could change when the game is officially released on Sept. 14 2018.
Boston Bruins:
Patrice Bergeron – 90
Tuukka Rask – 90
Brad Marchand – 88
David Pastrnak – 87
Zdeno Chara – 85
Charlie McAvoy – 85
Torey Krug – 84
David Krejci – 83
John Moore – 82
Jake DeBrusk – 82
When looking at the Bruins initial roster ratings, it's clear that the perception of the Bruins as a top-heavy team with an average supporting cast is shared by those at EA Sports. The Bruins did have arguably the best line in hockey last season and the ratings reflect as much in this year's game.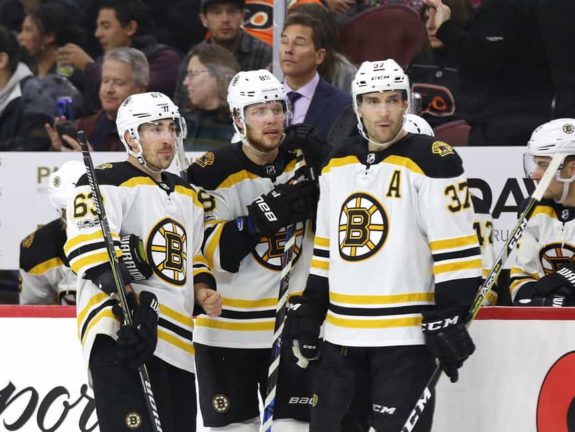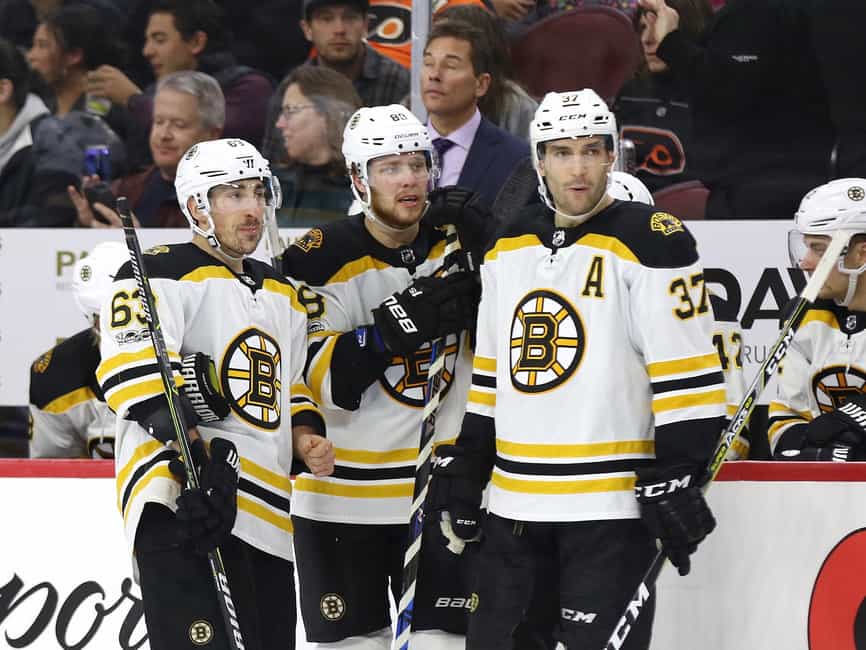 While Tuukka Rask should likely be rated lower and Brad Marchand and David Pastrnak have legitimate cases to be rated higher, the general placement of most players on this list doesn't seem to be too off the mark.
Buffalo Sabres:
Jack Eichel – 87
Rasmus Ristolainen – 86
Jeff Skinner – 84
Kyle Okposo – 83
Sam Reinhart – 83
Carter Hutton – 82
Marco Scandella – 81
Vladimir Sobotka – 81
Conor Sheary – 81
Zach Bogosian – 80
The Buffalo Sabres are a team that is looking to finally put it all together in 2018-19. While the competition is fierce in the Atlantic Division, the Sabres have compiled one of the very best prospect pools in the NHL – a prospect pool that should lead to many new faces in the Sabres lineup this season.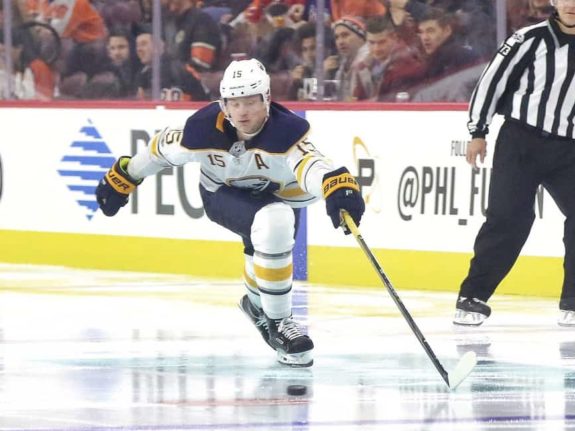 For one reason or another, Rasmus Dahlin was nowhere to be seen on the Sabres' roster and a deeper dig found him as an 82 overall player on the Frolunda Indians in the SHL – the team he was drafted out of in Sweden. Based on that, Dahlin would fall at around No. 6 in the Sabres ratings with Zach Bogosian being knocked off entirely.
Detroit Red Wings:
Henrik Zetterberg – 84
Dylan Larkin – 84
Jimmy Howard – 83
Gustav Nyquist – 83
Anthony Mantha – 83
Danny DeKeyser – 82
Jonathan Bernier – 82
Mike Green – 82
Andreas Athanasiou – 81
Thomas Vanek – 81
Once the gold standard in the NHL with over two decades of consecutive playoff appearances, the Detroit Red Wings have become one of the NHL's worst teams. This was reflected in their NHL 19 counterpart as well with their top-rated player receiving a score of only 84 – far and away the worst top-rating in the Atlantic Division.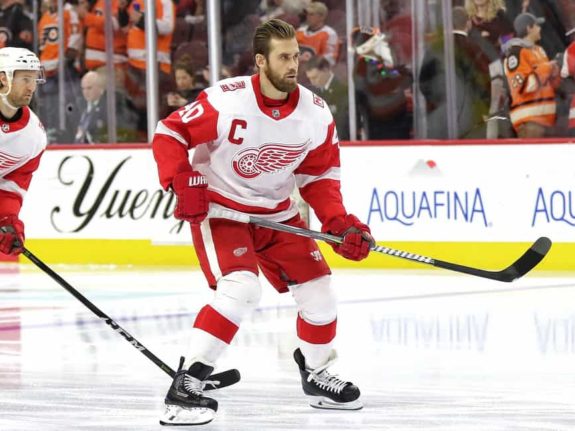 The Red Wings did have a very good draft in 2018, however, and things could start looking up for the Red Wings in a few years when their high-end prospects help alleviate cap pressure put on the team by some of the more abysmal contracts on the team (and across the league).
Florida Panthers:
Aleksander Barkov – 88
Aaron Ekblad – 86
Vincent Trochek – 86
Jonathan  Huberdeau – 86
Evgeni Dadonov – 85
Roberto Luongo – 85
Mike Hoffman – 84
Mike Matheson – 83
Keith Yandle – 83
Nick Bjugstad – 83
The Florida Panthers late-season burst last season didn't happen by accident. With a young team filled with first-round talent and a solid supporting cast of veterans, the Panthers are one of the better teams in the Atlantic Division heading into the 2018-19 season. This remains true in NHL 19 as well as the Panthers lowest rated player in their top-10 still has an impressive rating of 83.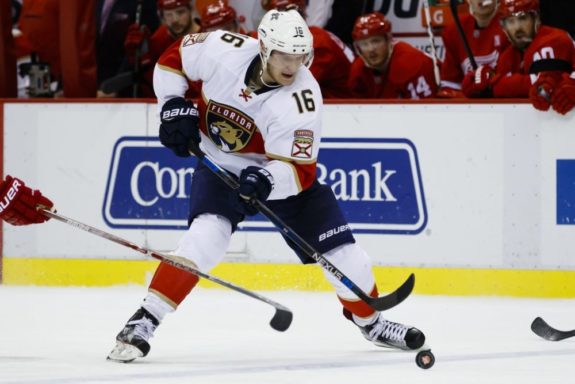 Montreal Canadiens:
Carey Price – 92
Shea Weber – 87
Brendan Gallagher – 84
Jonathan Drouin – 84
Max Domi – 82
Jeff Petry – 82
Simon Despres – 81
Joel Armia – 80
David Schlemko – 80
Phillip Danault – 80
Due to the official rosters last being updated on Aug. 31 2018, the Canadiens roster still featured Max Pacioretty on the list as an 87-overall player. To make this list more accurate, Pacioretty was removed and the next highest-overall player was selected in Danault.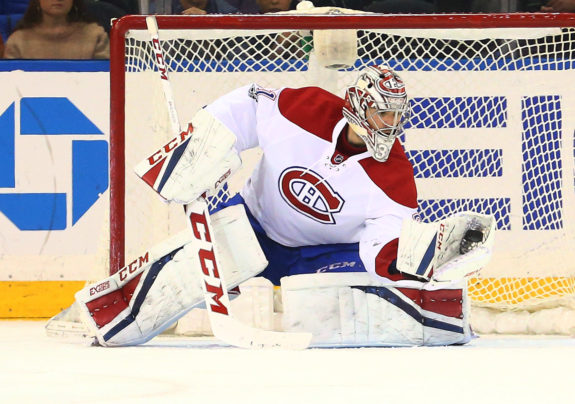 The Canadiens are going to experience a lot of lows in 2018-19 with their current roster and that should be no different in NHL 19. Only two teams in the Atlantic Division of their 10th-best player ranked as low as an 80 this season. The Ottawa Senators ninth-ranked player is also an 80-overall but with the Canadiens 8th, 9th and 10th players all ranked as 80-overalls to start the season, things are likely to get worse for Montreal before they get better.
Ottawa Senators:
Mark Stone – 87
Matt Duchene – 85
Bobby Ryan – 81
Craig Anderson – 81
Thomas Chabot – 81
Ryan Dzingel – 81
Mikkel Boedker – 81
Mike Condon – 80
Zach Smith – 80
Cody Ceci – 80
Erik Karlsson was a part of this list prior to the trade sending him to the San Jose Sharks. Following that deal, however, the Senators ratings went from bad to worse with the subtraction of the 90 overall defender.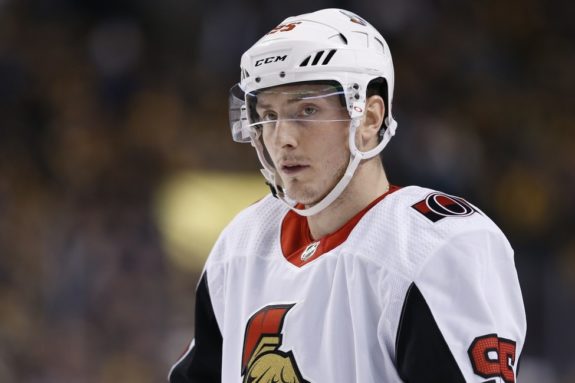 Fast-forward to the 2019 offseason and it's also a possibility that the Senators will be without Stone and Duchene as well as they are both set to be unrestricted free agents. The Senators have done a good job at drafting and while they have some high-end prospects on the way, the team will likely be among the league's worst teams in 2018-19. Unfortunately, that won't do them any good as their first-round pick in 2019 belongs to Colorado as a result of the Duchene trade.
Tampa Bay Lightning:
Steven Stamkos – 91
Nikita Kucherov  – 91
Victor Hedman – 91
Andrei Vasilevskiy – 88
Ryan McDonagh – 87
Brayden Point – 85
Antoine Stralman – 84
Ondrej Palat – 84
Mikhail Sergachev – 84
J.T. Miller – 83
The Tampa Bay Lightning are one of the NHL's very best teams. Whether it's their real-life team or their NHL 19 version, the fact that Steve Yzerman (prior to stepping down as the general manager of the Lightning) was able to construct this team, pay the players and even add more through trades is a testament to how good he was at his job.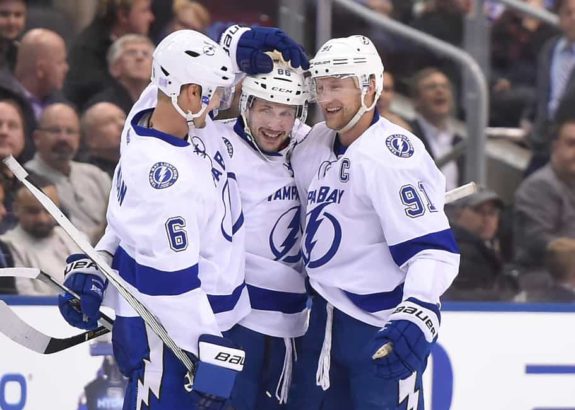 With three players ranked at 91 overall, the Lightning promise to be one of the most feared teams in NHL 19. Their supporting cast also received a very solid set of ratings and their prospect pool also appears to be in good shape in the game – an accurate reflection of their real-life situation.
Toronto Maple Leafs:
John Tavares – 90
Auston Matthews – 89
Frederik Andersen – 88
Mitch Marner – 86
Morgan Rielly – 86
William Nylander – 85
Nazem Kadri – 85
Jake Gardiner – 83
Patrick Marleau – 82
Nikita Zaitsev – 82
After acquiring John Tavares through free agency in 2018, the Toronto Maple Leafs quest to win their first Stanley Cup since 1967 is alive and well. Their video-game version also got rated favorably as well with their seventh-best player ranked at 85 overall.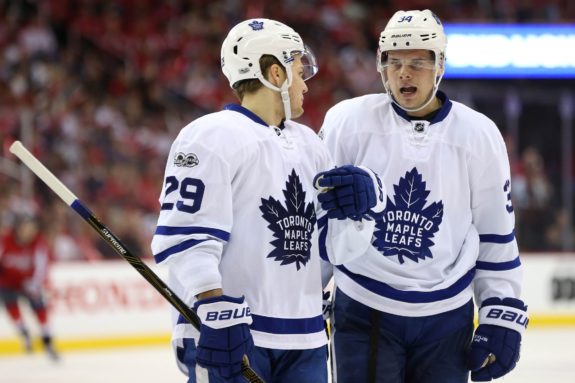 The Atlantic Division will feature some of the best and some of the worst teams in all of hockey this season. While the race at the top will likely feature three or four teams vying for supremacy, the race at the bottom may be just as interesting with the Canadiens, Senators and Red Wings all appearing to have a rough season in store for them.
Brandon Share-Cohen has covered the NHL and various professional sports for seven years. Working with The Hockey Writers, Brandon works extensively on covering the Boston Bruins in addition to his role as the News Team Lead.