Steve Yzerman has stepped down as the general manager of the Tampa Bay Lightning, Joe Smith reported Tuesday. Replacing Yzerman will be Lightning assistant general manager Julien Brisebois. McKenzie also reported that Yzerman will fulfill the remainder of his contract as a senior advisor for the team.
BREAKING: Steve Yzerman told #TBLightning players in a meeting today he's stepping aside as GM to be in advisory role, per source. BriseBois taking over as GM.

— Joe Smith (@JoeSmithTB) September 11, 2018
Yzerman is in the last year of his contract and while the Lightning have been hopeful to sign him to an extension, that doesn't appear to be in the cards. Yzerman has been with the Lightning since 2010 when he would join the team as their vice president and general manager.
Yzerman Was One of the Best
Throughout his time as general manager, Yzerman was regarded as one of the very best in the league from a variety of standpoints. Whether it's roster building through the draft, trading or even re-signing his own players to very team-friendly deals, Yzerman has proven to be as good a front-office executive as he was a player.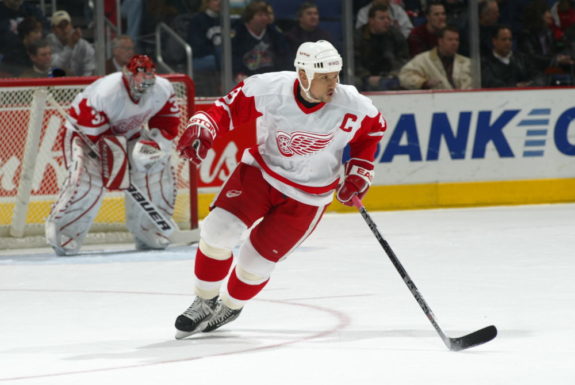 That's saying a lot considering Yzerman would score 692 goals and 1,755 points in 1,514 games in his career, all spent with the Detroit Red Wings. He is on a very short list of players to be a part of the 600-goal club as well as the 1,000-assist club. Coupling that with his three Stanley Cup victories and one Olympic gold medal and it was clear that Yzerman was destined to be a Hall of Famer – an honor he would receive in 2009.
This move comes as a surprise to the entire hockey world given how much success Yzerman has had in Tampa Bay and given where the team stands right now in terms of Stanley Cup contention. While Brisebois was widely regarded as one of the best assistant general managers in the NHL, he'll have some very big shoes to fill with Yzerman having built the Lightning into one of the most dominant teams in the NHL with one of the brightest futures in terms of prospects to boot.
Yzerman was named the general manager of the year in 2014-15 with the Lightning reaching the Stanley Cup Final that season in a losing effort to the Chicago Blackhawks, While he may have only won the award one time, it was a clear testament to how important Yzerman is to the team.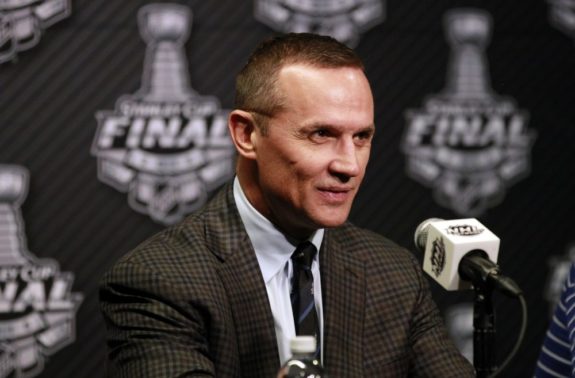 It will be interesting to see where Yzerman ends up given the fact that he ultimately left the Detroit Red Wings front office early in his career due to ambitions of running a team. Now that Yzerman has gotten that opportunity and turned the Lightning into a legitimate contender, his future could go in any number of different directions. Whether he has his eye on a different role on a different team or whether he is simply done with the general manager role altogether isn't clear.
As John Shannon reported, however, this resignation appears to be due to quality of life. Despite being the general manager of the Lightning, Yzerman has maintained a home in the Detroit area and being away from his family and traveling so much was taking a toll on him.
The Lightning will be holding a press conference at 4:00 p.m. EDT, however, which will likely include the official announcement of this move and potentially more details.
Check back to see the updated story as information is released.
Brandon Share-Cohen has covered the NHL and various professional sports for seven years. Working with The Hockey Writers, Brandon works extensively on covering the Boston Bruins in addition to his role as the News Team Lead.