The Toronto Maple Leafs are about to enter one of their most exciting seasons since the 1967-68 NHL expansion. In 1967-68 the Leafs were defending Stanley Cup champions, fresh off their last Cup in 1966-67. Yeah, it's been a long time for Toronto fans and there have been a lot of bad teams. But now it'll all be different. John Tavares came home and joined the Leafs in the biggest free agent signing of the summer. Tavares is also joining an exciting group of young forwards in: Auston Matthews and Mitch Marner. The defence is okay, in that, they do have the solid and ever improving Morgan Rielly. But holes, in the form of Jake Gardiner do exist.
One position along with forwards though that finally has some stability in Toronto is the goaltending. After many years of trying to find a goaltender with established number one chops (Andrew Raycroft anyone?), the Leafs acquired Frederik Andersen from the Ducks in June of 2016. Andersen, although a little slow out of the gate to begin his tenure with the Leafs, has established himself as the Leafs go-to-guy, often saving the team when the defence is allowing too many shots and chances. Andersen is without a doubt the Leafs' number one. It is the man behind him, his backup goalie, which is a spot seemingly up for grabs.
The Leafs have journeyman Curtis McElhinney currently serving as Andersen's backup and while he did post a solid 11-5-1 record in 17 starts last season, below him in the AHL, the Leafs have goaltender Garret Sparks, a man who is coming off a stellar year and Calder Cup Championship with the Marlies last season. McElhinney can't get too comfortable.
Sparks is Younger and Can Play More Games
For the second season in a row Frederik Andersen played 66 games in 2017-18. While again, this fully establishes Andersen as the Leafs' number one, it also brings up the question – was he played too much? Also, if he was, by the time the playoffs came around was he out of gas? The Leafs did concede 28 goals in seven games versus the Bruins in round one, including allowing seven goals in two separate games.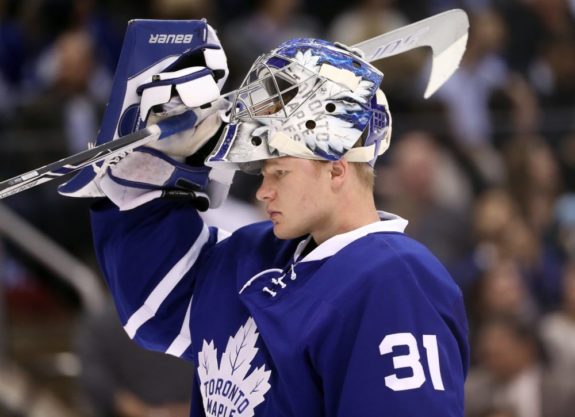 Garret Sparks is 25 years old and a hungry and ambitious goaltender, especially now given the fact he has won all there is to win in the AHL. He was named AHL goalie of the year last season and has not hid his desire to move up and play in the NHL.
"I didn't want to be reliant on the things that I've done last year," he said at a Leafs' summer skate last week. "I want to continue to do great things here, show up and compete every day. I love Toronto and know if I want to (stay), then I have to be really good at camp and do everything I can to put myself in a position to try and make the team."
Complicating matters for the Leafs is that they could end up losing an asset like Sparks for nothing, as he'll have to clear waivers if the Leafs decide to stick with McElhinney at backup. Not exactly the ideal scenario for an asset that won 31 games last season, posted a .936 save percentage and started all but one of the Marlies' 15 playoff victories en route to the Calder Cup. Also, given that McElhinney is 35-years-old, Sparks who his 10 years his junior could in theory alleviate Andersen's workload by playing five to 10 more games than McElhinney did last season.
Improvements are Always a Good Thing
As mentioned, the current tandem of Andersen and McElhinney were more than solid last season as the Leafs set new records in regards to wins and made the playoffs for the second season in a row. That's about where the positivity ends though. The Leafs were often times dominated by the Bruins in round one and Andersen didn't perform at his best, as the goals against showed. Maybe if Sparks had been the backup and lessened Andersen's games by at least five games, the Leafs' Danish stopper could have dealt with Bergeron, Marchand and Pastrnak better. Having Sparks as the backup last season and as a result what would have happened in round one is of course a hypothetical and there is no use in dwelling what could have been.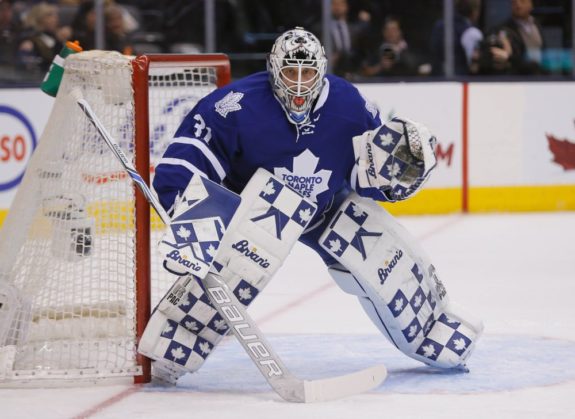 Here are some undeniable facts though: Sparks is younger by a decade and as a result hungrier than a journeyman like McElhinney, who had already played on five other NHL teams before joining the Leafs last season. In theory Sparks has more to prove and while not necessarily pushing Andersen for the starting job, he could play 20-plus games and establish himself as a solid backup in the NHL, all while giving Andersen more rest. Also, one can't help but mention the Leafs would benefit from having a goalie fresh off a championship and goalie of the year season on the team, because as we know winning and winners rubs off on your teammates and the Leafs could definitely use more of that in the spring.
Could Sparks be the spark at backup the Leafs lacked in April?
Sports media writer from Toronto, Canada. Also a novelist, screenwriter and aspiring academic.