The Ottawa Senators have traded captain Erik Karlsson and Francis Perron to the San Jose Sharks in exchange for Chris Tierney, Dylan DeMelo, Josh Norris, Rudolfs Balcers, a conditional 2020 first-round pick and a conditional 2019 second-round pick, the Sharks announced Thursday.
If the Sharks re-sign Karlsson the Senators receive a conditional second-round pick in 2021 which would become a first-round pick if the Sharks make it to the Stanley Cup Final in 2019. If Karlsson is on an Eastern Conference roster (reserve list_ during the 2018-19 season, the Sharks would have to send the Senators an additional first-round pick no later than 2022.
TRADE: #SJSharks have acquired ✌️-time Norris 🏆-winning defenseman @erikkarlsson65 from the @Senators.

Details: https://t.co/w7C4LdJdjn pic.twitter.com/TnVWqSwMqo

— San Jose Sharks (@SanJoseSharks) September 13, 2018
A trade involving Karlsson has been in the works for months and despite the fact that it was expected, a deal of this size will always come as huge news.
With 126 goals and 518 points in 627 career games, the 28-year-old defender has proven year in and year out that he is undoubtedly the most gifted defender when it comes to point production. What's most impressive about Karlsson, however, is the fact that his defensive ability doesn't take a hit despite his ability to produce typically upwards of 15 goals and 70 points a season.
The true definition of a No. 1 defender by the modern day standard, it's safe to say that there won't be a bigger name moved on the trade market this season.
It's not every day that a player making north of $6 million can be said to have a "team-friendly deal," but when Karlsson's next contract is signed, it's realistic to imagine the two-time Norris Trophy-winning defender's annual cap hit jumping to $12 million or more per season, especially after Drew Doughty just signed his huge eight-year, $88 million contract. There were also reports that the Senators offered Karlsson a contract worth $80 million over eight years on July 1 but were turned down.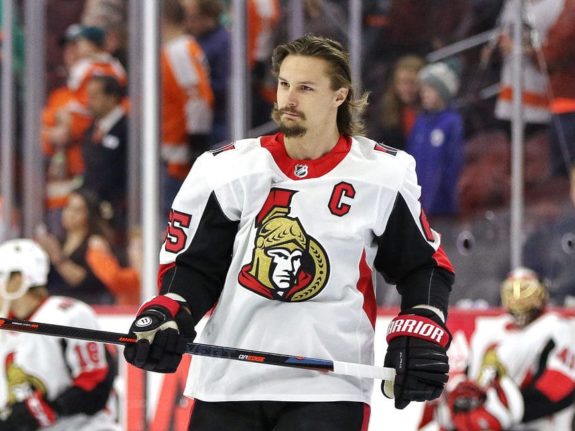 Despite scoring nine goals and 62 points in 71 games and playing elite defensive and possession hockey in 2017-18, Karlsson was said to be in a "down year" last season. If that doesn't frame how good Karlsson is, nothing will. There isn't a player like Karlsson in the NHL currently and it's hard to imagine any player in the near future coming anywhere close to as good as he is.
Sharks Finally Making a Splash
The Sharks were working on making big moves all offseason long, reportedly being interested in Ilya Kovalchuk and being one of the finalists for John Tavares before he ultimately signed in Toronto. This time around, however, the Sharks weren't going to come away empty-handed this time around.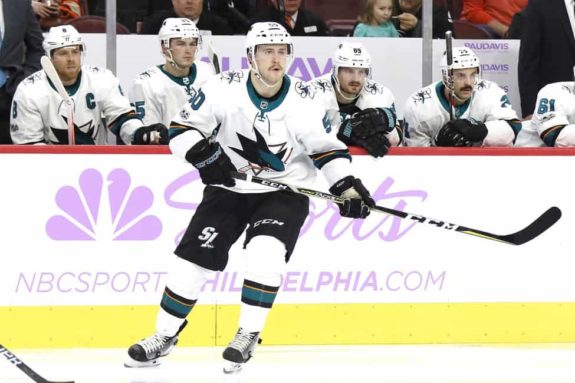 The Sharks traded away Tierney in this deal – a 24-year-old who had a breakout season in 2017-18 with the Sharks. The 55th pick from 2012 scored 17 goals and 40 points last season and will be returning home to Ontario as a part of this deal.
In DeMelo, the Senators are getting a 25-year-old blueliner who recorded 20 assists in 63 games last season. At 25 years old, there probably isn't much room to grow as a player for DeMelo at this point so what he is now is likely what the Senators are getting in the long-run.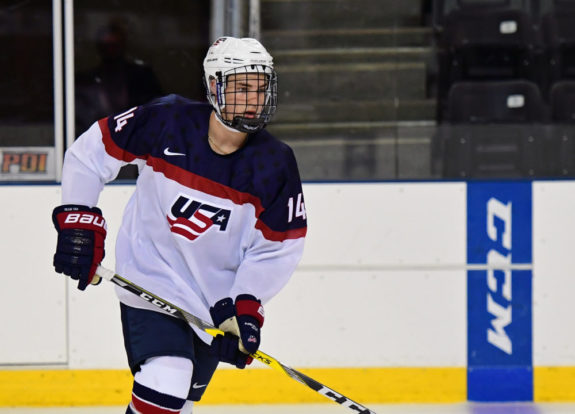 Norris was the Sharks first-round pick from 2017 and while he may not have lit the world on fire in 2017-18 in his first season at the University of Michigan, the Senators are getting yet another high-end prospect to add to their system who could make an impact in the near future.
Balcers is a 21-year-old winger who was taken in the fifth round in 2015. While he hasn't made his NHL debut yet, he did have a very successful first season in the AHL with 23 goals and 48 points in 67 games with the San Jose Barracuda last season.
The Sharks are also receiving Francis Perron in this deal. The 22-year-old Perron was a seventh-round selection in 2014 and has spent the last two seasosn in the AHL.
Brandon Share-Cohen has covered the NHL and various professional sports for seven years. Working with The Hockey Writers, Brandon works extensively on covering the Boston Bruins in addition to his role as the News Team Lead.