Athletes face issues. Some issues are physically visible while others affect the mind. Both can be serious and treatment is necessary. For National Hockey League (NHL) players, seeking treatment for problems that can't be seen is difficult. The reality is that these athletes are expected to be strong.
This mentality has had dire consequences. In 2011, three former NHLers passed away. Rick Rypien, Wade Belak and Derek Boogaard were all battling some form of mental illness. Rypien confided in a couple members of the Canucks organization, one of whom was long-time teammate Kevin Bieksa. He also took a couple leave of absences to try and deal with the issues that plagued him.
Following a 2011 offseason trade to the Winnipeg Jets, Rypien was diagnosed with clinical depression. All seemed well for the tough guy who spent his career fighting opponents, many of whom were bigger than him, but his untreated condition eventually led to his breaking point.
These tragedies opened the door for anyone suffering from mental illness to speak up. Some former NHLers took the opportunity, baring their soul in an attempt to raise awareness about mental health. Others, meanwhile, became active behind the scenes, doing everything possible to help erase the stigma surrounding mental health issues. Their bravery has not gone unnoticed, as the number of people reaching out for help is on the rise.
Kevin Bieksa Helps Launch Mental Health Website
Kevin Bieksa lost his best friend and Vancouver Canucks teammate Rypien in August 2011. A victim of depression, Rypien took his own life after keeping his feelings bottled up for so long. It was a difficult time, and Bieksa committed himself to promoting mental health awareness.
He felt his friend's story had to be shared so that others would seek help before tragedy struck. For years, NHL players were told to be mentally tough. That statement can easily be misinterpreted, so it's not a stretch to believe players became hesitant to share their deepest, darkest secrets with others who may not understand what they're going through.
Bieksa aimed to change such thinking, teaming up with the Canucks organization to create a website for those suffering from mental illness. Foundrybc.ca (formerly mindcheck.ca) is geared towards youth and young adults that face the same issues Rypien did during his hockey career. It offers them a safe haven where they can share their struggles without the fear of being judged. Many spent years in silence, afraid of being called crazy or worse losing their job. Simply put, this site is a forum for them to talk about the trials and tribulations they endure on a daily basis.

That isn't the only thing the site promotes, however. It also has a self-assessment tool where young people can identify symptoms in themselves or loved ones. There are also links to different resources where they can receive help if they choose.
While it's a great start, the league felt more needed to be done to raise awareness for a disease that affects so many worldwide. Recent reports state that 9.6 percent of Americans in early adulthood suffered from depression in 2017. That's only one of many mental illnesses, with anxiety and substance abuse also prevalent in today's society.
NHLPA Launches Hockey Talks Initiative
Shortly after mindcheck.ca launched, the NHL Players Association (NHLPA) decided that something else must be done in order to further raise awareness about the challenges posed by mental illness and to honor their fallen friends.
Hockey Talks is a month-long initiative focused on raising mental health awareness. Each Canadian NHL team chooses a February home game to get people talking about illnesses that affect an astounding number of people worldwide. This includes athletes.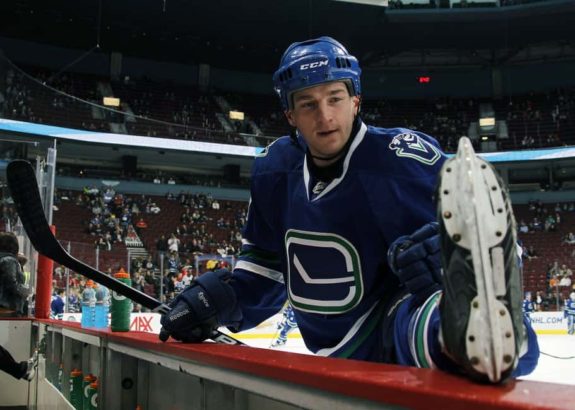 Awareness is raised through in-arena messaging and the sharing of experiences dealing with all types of mental illness during their teams Hockey Talks game night. Fans not in attendance can share their stories via social media, using #HockeyTalks. This is the most effective way of raising awareness because it starts conversations about issues that often times get overlooked.

Other players and teams across Canada got involved. The Toronto Maple Leafs put together a video featuring a handful of NHL players vowing to continue the dialogue regarding mental health awareness.
What's Next for the NHL?
For a league that spent years ignoring mental health issues, the NHL has begun bringing to light the challenges faced by many, including athletes.
Bell Let's Talk has joined Hockey Talks in getting the conversation going. They have even dedicated a specific day to talking about all the troubles individuals endure on an everyday basis. Players from the NHL, along with other leagues, took part in recent years. So did a variety of NHL teams, not only the Canadian ones. The hope was that more people getting involved would encourage others to speak out.
It's a start, but the NHL must do more. A league-wide month dedicated to mental health could help, as would other players and teams getting involved in initiatives raising awareness for a disease that affects everyone in one way or another.
Teams also need to open up a conversation regarding mental health in their locker rooms. Cancer and other illnesses are spotlighted, with cancer receiving an entire month devoted to raising awareness and finding cures. Things related to your mind don't get nearly the attention they deserve though, which is a shame.
Look around. There are so many dealing with the effects of a variety of issues, ranging from depression to anxiety to drug and alcohol addiction. These people fight demons daily, yet are afraid to speak up because of the ways others may perceive them.
I know because I fought that battle and continue to do so. The support of those close to me means a lot, driving me to be the best that I can be. Hockey has played a role in my fight too, with the creation of mindcheck.ca (now foundrybc.ca) showing me that I have the ability to make a difference. I began doing that by forming my own blog in which I expose myself to the world in an attempt to shed light on mental health.
Going forward, there are plenty of other avenues the NHL can explore when it comes to ending the stigma surrounding mental illnesses. The ability to find those and put them into action could be the difference between preventing further heartache or not.