Nick Boynton was like any young Canadian who played hockey. Born in Nobleton, Ontario, he aspired one day to lace up the skates and compete in the National Hockey League. For most youthful Canadians, the dream to play professional hockey often ends in the backyard pond, Triple AAA or the Junior A level. But Boynton didn't want to stop at the footsteps of stardom. He wanted to be a professional that could play a critical role on a team.
Trophies and hardware are the objects that encapsulate success and prosperity in hockey. With the Ottawa 67's, Boynton helped his team to a Memorial Cup victory, the second in franchise history. He would also capture the Stafford Smythe Trophy as the Most Valuable Player in the Memorial Cup.
He wasn't satisfied with the most coveted trophy in junior hockey. He wanted to hoist hockey's majestic trophy, Lord Stanley's Cup. After jumping around the league, Boynton was acquired at the perfect time by the Chicago Blackhawks in 2010. That year the Hawks finally ended their drought and won their first Stanley Cup since 1961. Every young hockey player would be envious of Boynton and the Blackhawks who were champions. It seemed like the forward had finally achieved his dreams.
Boynton's Success a Mask for Personal Struggles
 "Whenever things get really bad, and I find myself thinking about death, it's always in the context of release. Escaping the pain. And no longer being around to make the lives of those I love miserable. The idea of dying as a way out. And even though I definitely wouldn't say death has been something that I've wanted — that I actually wanted to die — at the same time, when I'd hit those low points, it was like … I didn't exactly not want it, either. In a lot of ways, as things got worse for me, death started to seem not so bad."
"In so many ways, my life after hockey has been a living hell."https://t.co/awkpRXNStL

— Sportsnet (@Sportsnet) June 14, 2018
That is an excerpt from Boynton's recent piece in the Players Tribune titled, "Everything's Not O.K." Behind the aura of invincibility and beneath the mask of an enforcer was someone struggling with addiction, anxiety, and depression.
Throughout his career with the Boston Bruins, Arizona Coyotes, and Blackhawks, Boynton suffered between eight to ten concussions. The NHL lost almost half of his medical records, making it safe to say that he likely suffered more head traumas that went undiagnosed. Even with the head injuries, the mentality and culture of the NHL at that time was to always keep fighting and never give up.
"It was just something you really didn't talk about. So I had my bell rung 20 or 30 times, easily, and you just keep going, and it's a struggle."
When Nick played in the NHL, conversations surrounding the effects of concussions were not taking place and if a player struggled with mental illness, it would often be concealed. When Boynton did speak up about his personal struggles while playing, the support he received from his team was superficial. He would often be traded to another team, demonstrating the lack of support and understanding from the organization.
Nick retired from the NHL in 2011. After leaving the game, his personal demons worsened. To deal with the symptoms of concussions and depression, Boynton would resort to painkillers.
"I was always hurting. And in order for me to carry on, I had to mask all that pain. At one point during my career, I was taking so many painkillers and other drugs on a daily basis that I started to not even be able to recognize the person I had become. Trainers always had painkillers. So I took them. Often. And it just escalated from there. Eventually, I couldn't get as many as I wanted, and so I started buying them from people on the street. Just more and more and more."
"I don't want to die. But, you know, nothing is for certain. And I'm tired of keeping quiet."

@NICKBOYNTON24 is scared that head trauma from playing hockey has left him irreparably damaged.

He's remained silent about it for years. That ends now.https://t.co/XS5tG7cdu4

— The Players' Tribune (@PlayersTribune) June 13, 2018
His demons reached a tipping point and eventually he sought help for his addiction and head trauma. Funded through the NHL, Boynton went to rehab three times but his symptoms and struggles are still present.
"I honestly wish I would've retired when I was 26 or 27, even before I won a Stanley Cup. And I wish I could go back to that time and have a redo," wrote Boynton. "They can scratch my name off that Cup, and I'd hand my ring back in right now if I could go back and make it so that I wouldn't have had to experience all this pain and sorrow and anger and sadness."
There's often false hope that everything is okay if you appear to be doing fine and are being a productive and helpful member of society. But as the former enforcer states, he hopes that his revelation that everything is not okay will lead to more help and support for players struggling with mental illness.
"I've lied for too long. I can't lie anymore. Everything's not O.K. Things have actually been pretty awful for me in a lot of ways. And I'm tired of the act. So, you know … here we are. That's why I've finally decided to put pen to paper. Like I said, I don't want to die. But, you know, nothing is for certain. And I'm tired of keeping quiet."
Carcillo Joins Boynton to Raise Awareness
It is not just Nick Boynton who is speaking out about the impact of head trauma and concussions on an athlete's mental health. A few days before he published his Players' Tribune article, former enforcer Dan Carcillo from King City, Ontario, posted a video on the same site, speaking for greater advocacy towards research and treatment about the effects of multiple concussions on hockey players.
Like Boynton, Carcillo played in an era when teams needed enforcers to go out and fight other players. As a result, he sustained many concussions throughout his career and many went unnoticed because he wanted to maintain the 'tough-guy' image for his team and never leave the game due to injury.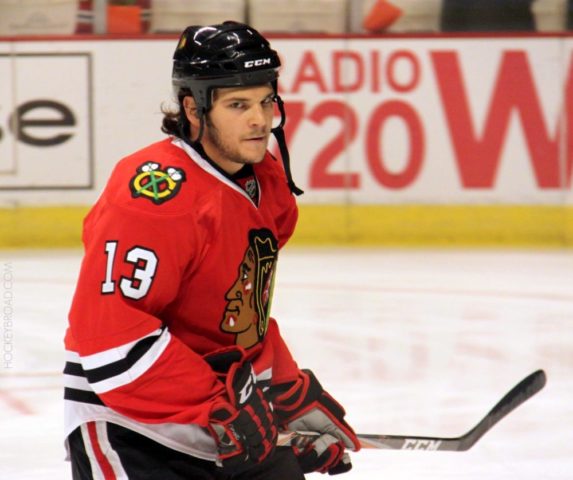 Similar to Boynton, Carcillo experienced the joys that many hockey players in their childhood dream of. He played on two winning Stanley Cup teams, the pinnacle of hockey success. But he would give that up to be healthy and free of concussion symptoms.
"What's the point of playing professional sports?" Carcillo asks in his Players' Tribune video. "It's supposed to be for the memories. You can't remember that anymore. It's scary. I would give back all of my money, all of the time. You can take my name off the Stanley Cup twice over. I can't live like that anymore."
But as Boynton points out, enforcers shouldn't be the only ones raising awareness about mental health issues felt by concussion victims. It should also be the superstars of the game.
"I truly believe it's going to need to be the superstars of the game driving things," writes the former enforcer. "As much as I'd like to believe I have the power to change the world, the reality is that no one in power cares about my complaints. But the guys who make big bucks for the teams … when they're not happy and speak out, that's when maybe something will change. If things could bubble up in that way, with leadership from our game's most talented players, that would really have the potential to move the needle."
Many Enforcers Not as Open About Personal Struggles
With Carcillo and Boynton's recent revelations about their personal struggles, they hope that other players will also come forward sharing their stories of hardship and pain. Unfortunately, many fighters sacrificed their lives because they weren't open about their struggles and kept the pain and sorrow bottled up inside.
Wade Belak, an enforcer for the Toronto Maple Leafs and Nashville Predators, put his heart and soul into every game he played, epitomizing toughness and grit. I met Wade at a time when I needed a boost in happiness and spirit. When I was in Grade 5, I was hospitalized with an undiagnosed illness, hindering my daily life. One day, the nurses took us to a lounge where members of the Leafs were there to visit us.
At least once a year, I look at this photo of Wade Belak and his daughter. Just crushes me. It's a struggle I can't fathom. It's a reminder to check in on people. To listen. https://t.co/03VirgX8D4 #BellLetsTalk #TMLtalk #mentalhealth pic.twitter.com/IgaWE9UvxR

— Ben McLean (@HeyBenMcLean) January 31, 2018
As a young boy who had grown up a die-hard Leafs fan, seeing my hockey heroes made all my troubles evaporate into thin air. The most energetic of all of them was Belak. He shook my hand, put a smile on my face with his contagious enthusiasm and gave me the spirit to keep fighting in the midst of adversity.
My heart sank on August 31, 2011, when I found out that he had taken his own life. That jovial persona, who had helped me during a difficult time, was masking inner demons. Everyone knew Wade as a prankster, a philanthropist and a fun person to be around. But the constant blows to the head, which sparked anxiety and depression, proved to be too much for the enforcer.
Belak was not the only one. As Boynton explains, there were others who had kept their struggles inside until they reached a breaking point:
"Steve Montador. Derek Boogaard. Rick Rypien. I knew those guys. They were real people to me. They played the same game I did, and when it was all said and done … they were really just suffering. They struggled with depression and anxiety and substance abuse and just … pain. All of the things I've been dealing with. They went through some of the exact same stuff. And now … I talk about them in the past tense. How they were my friends. And how they used to be my brothers. They're just … gone."
Lawsuits Divide Players and League
While Boynton and Carcillo should be applauded for their courage to write about their personal stories, more needs to be done to expose the NHL's lack of support for players dealing with concussions. A class-action lawsuit has been filed against the NHL for not providing more advice, knowledge, and support for players during their time in the league to deal with their concussion-related symptoms.
Initially, there were 10 players suing the league. It has now increased to over 100 former players.
The players' argument in the lawsuit is that the league could have done more to ensure player safety when they played in the NHL. While concussion-related research is more comprehensive today than in previous decades, the NHL should have provided better resources to get the necessary help and treatment. As a result of the league's inaction, many players experience dementia, depression and other forms of mental illness due to multiple concussions sustained during their careers.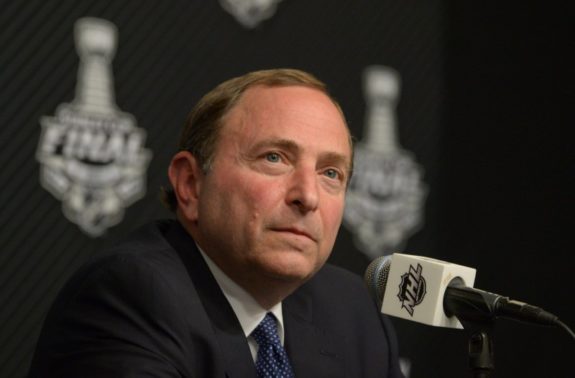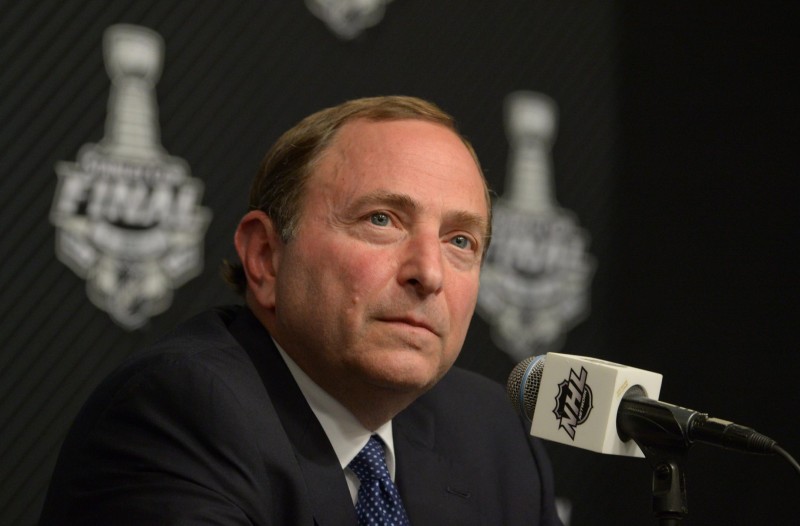 The league is arguing that there is no provable link between CTE and concussions sustained while playing hockey. At the time these players were in the NHL, the appropriate safety measures were put in place, as knowledge about concussions wasn't as expansive as it is today.
At every turn, the NHL is going to dispute evidence from credible scientists in the field that state CTE is linked to concussions. Commissioner Gary Bettman wants to deflect any responsibility in order to protect his bottom line – the owners he works for and the product on the ice that is generating sizable revenue.
"Players who have concussions are dealing with a medical matter. Other players or former players are not qualified to provide medical advice, treatment plans etc., so while we continue to informally connect players, we didn't institute a formal system." https://t.co/Ov0bouKKxf

— Daniel Carcillo (@CarBombBoom13) June 18, 2018
Doubting science will only lead to more players being put in harm's way of sustaining concussions and potentially CTE. A similar lawsuit launched against the National Football League led to settlements of approximately $1 billion. The NHL is not that wealthy, meaning large settlements could impact the financial foundation of the league.
Culture Shift Must Occur Regarding Mental Health
It is courageous and important to see more hockey players speak out about their mental health challenges. It is not just Nick Boynton and Dan Carcillo;  former goaltender Corey Hirsch recently wrote an article in The Players' Tribune, chronicling his battle with depression and Obsessive Compulsive Disorder (OCD).
Former enforcers Gino Odjick and Todd Bertuzzi have also gone public with their personal stories, in the hopes of starting a much-needed conversation about mental illness.
"About twenty percent of the adult population suffers from mental illness, and just because you are a professional athlete or a doctor or a lawyer does not grant you immunity. Anyone at any time can suffer from a mental health issue and it can strike at any time," says Hirsch. "There's nothing to be embarrassed or ashamed about. We're all just trying to get through the day. So let's be open. Let's talk about it."
Corey Hirsch @CoreyHirsch @Sportsnet650 partners with the Centre for Addiction and Mental Health Foundation. Thanks for telling your story @PlayersTribune and being a national advocate for mental health. https://t.co/AptBYd413D

— Sportsnet 650 (@Sportsnet650) January 25, 2018
For many years, players like Boynton experienced the negative repercussions of speaking up about mental illness. It was often concealed, players would have to 'tough it out' otherwise management would ship you to another team. And for years, the NHL made no attempt to try and educate themselves about these conditions, resulting in a silent epidemic amongst its athletes.
"Any time I reached out to the league, or to the players' union doctors about mental-health issues, they basically just told me that I was an addict, and that I should sign up for some self-help groups — and that what I actually, really needed was to go do 90 meetings in 90 days," reflects Boynton. "At this point in my life, I believe that there are other alternatives out there, in terms of diagnosis and treatment, that the league is avoiding for the simple reason that they think it's going to hurt the game if we find out the truth about the damage being done to players' brains from head hits."
A culture shift must occur in the NHL. Education leads to understanding, which will, in turn, lead to more support for those suffering from mental health issues. If coaches and management encourage a culture of acceptance and support in the locker room than it could lead to more athletes speaking up about their troubles and the NHL could be there for them to get the help they need.
No longer can the culture of fear persist. We speak about physical issues like a broken foot or cancer. Why not treat mental health like any other physical ailment?
Toronto Maple Leafs coach Mike Babcock has been heavily involved in bringing awareness to these topics. He has worked with the Center for Addictions and Mental Health (CAMH) and other organizations as an advocate for giving athletes the platform to start a conversation about mental health that will translate into effective action.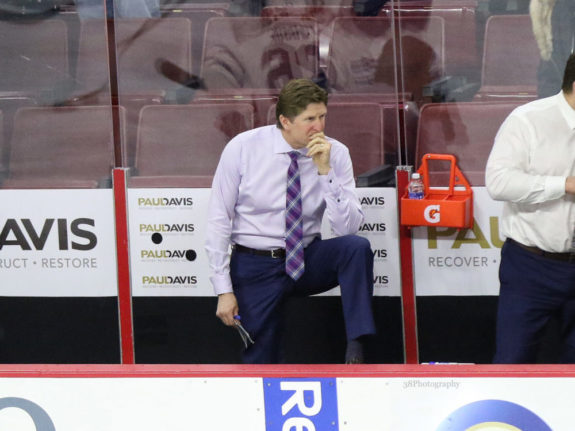 Through his recent Movember initiative that raised money for youth mental health, the coach is helping to slowly remove the fear attached to these illnesses.
"Just because you're a good athlete doesn't mean you can escape mental health issues that affect people," says Babcock. "Bringing awareness to it is important. Bringing funds to it to make a difference is important. By doing this, we do both."
Was Playing in the NHL Worth It?
Hockey players make tremendous sacrifices. From the early morning rides to the rink, to the bus journeys to tournaments and the financial burden on families to pay for leagues and equipment. Beneath those responsibilities is the underlying hope that one day it will all pay off if you can make it to the professional ranks. Given Boynton's struggles, he wonders if he would let his son play in a sport that caused him so much pain.
"I cannot, in good conscience, let him play the game of ice hockey until something changes and we start looking out for our players by taking the problems of head hits and concussions — and their potential impact on mental health — more seriously," he writes.
I can't think of a more passionate competitor. A great person who has gone through a lot. Hoping for bright days ahead for him and his family. https://t.co/4bic8PXGCm

— Hal Gill (@Skillsy75) June 13, 2018
While there is a great impetus to 'start the conversation' about mental health, such platitudes only appear a few days in a year and are not translated into action. Players like Nick Boynton and Dan Carcillo can only hope that their narratives can lead to positive change so future players don't have to endure what they've had to.
"The potential to make a difference right now is just so great," says Boynton. "It's sitting out there for guys, just waiting for someone to grab hold of and initiate some conversations that will end up saving people's lives. And at the end of the day, that, more than anything, will be the best thing for this sport. Because this stuff isn't going away anytime soon, and hockey can either be on the right side of this, or on the wrong side."