With the best of the best in the NHL set to attend the NHL Award Ceremony on Wednesday night, the Boston Bruins will be represented by alternate captain Patrice Bergeron and coach Bruce Cassidy. Bergeron has been a mainstay at the awards in recent years while a few other Bruins have found themselves attending over that same time span for one award or another.
Because the Bruins have been so well represented in certain categories in recent years, including the Selke Trophy, Vezina Trophy, Norris Trophy,  Jack Adams Trophy and others, it seemed fitting to take a look back in history and see which Bruins' players were the most recent to win each award handed out at the ceremonies.
Hart Trophy: Joe Thornton (2006)
This one is a little iffy but we're still counting it. When Joe Thornton won the Hart Trophy in 2006, he did so as a member of the San Jose Sharks. Still, his time in the Bruins counted for something that season and was a legitimate part of his Hart-winning campaign.
To find the last member of the Bruins to win the award as a member of the Bruins, you'd have to go all the way back to 1974 when Phil Esposito did so.
Lady Byng Trophy: Rick Middleton (1982)
While Rick Middleton is one of the best Bruins in history, he will also go down as one of the longest-tenured players for the franchise and one of the lowest penalized at the same time. Playing in 881 games in Boston, Middleton would only amass 124 penalty minutes in 12 seasons with the club, good for 10 penalty minutes a season.
Though he won the award in 1981-82 when he would score 51 goals and 94 points in 75 games with only 12 penalty minutes, he actually recorded fewer penalty minutes in six different seasons, including eight just the following year and a shockingly-low two in 1976-77.
Vezina Trophy: Tuukka Rask (2014)
While some may be led to believe that Rask has never been an elite goaltender in the NHL, his career stats may indicate otherwise. To add to that argument, Rask has a Vezina Trophy to his credit coming after a sterling 2013-14 campaign that saw the Finnish netminder compile a record of 36-15-6 with a 2.04 goals-against average and a .930 save percentage.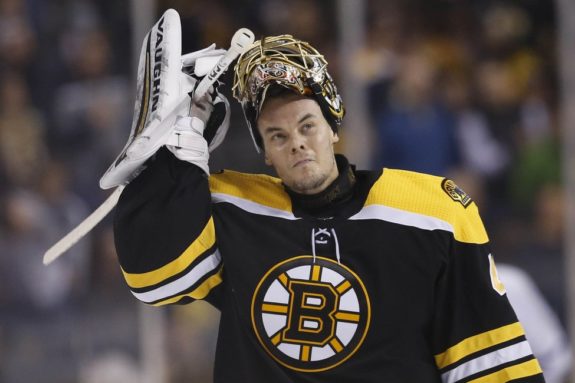 Rask's numbers may not be what they once were but there's no denying that his 2014 season was one of the best in Bruins' franchise history.
Calder Trophy: Andrew Raycroft (2004)
Andrew Raycroft looked like he had the potential to be a star after his breakout campaign in 2003-04. Compiling a record of 29-18-9 with a stellar 2.05 goals-against average and .926 save percentage, Raycroft appeared to be the real deal. Unfortunately, the young netminder would stumble in his second season, going 8-19-2 with a 3.71 goals-against average and a .879 save percentage.
Because of his early success, the Toronto Maple Leafs believed that they could salvage Raycroft and the Bruins were able to parlay him into Tuukka Rask in a move that is still paying dividends for the Bruins today.
Related: The Rise and Fall of Andrew Raycroft
Art Ross Trophy: Joe Thornton* (2006)
This one is a just as iffy as the Hart Trophy, but again, we're still counting it. Though Thornton was officially a member of the San Jose Sharks in 2006 when he won the award, he was traded part-way through the season after spending 23 games with the Bruins that year, scoring nine goals and 33 points in the process. He would finish the year with 29 goals and 125 points (20 goals and 92 points coming with the Sharks alone) but he was the last player to play with the Bruins and win an award in the same year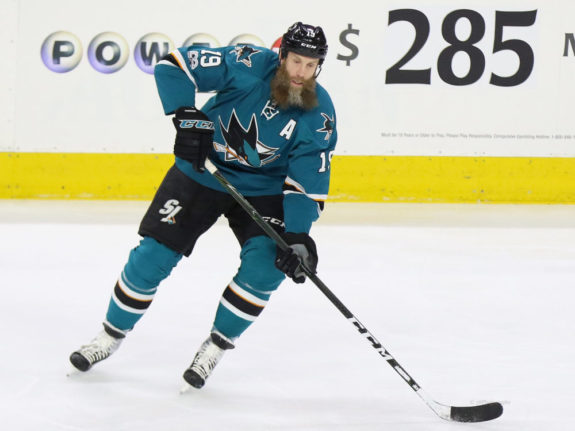 .The last player to win the award as a member of the Bruins was Bobby Orr in 1975, capping off a string of seven seasons in a row that he and Phil Esposito would share the trophy as members of the Bruins (With Orr winning the award twice and Esposito winning it five times).
Norris Trophy: Zdeno Chara (2009)
Zdeno Chara is arguably the best shutdown defender of his era and has consistently been one of the NHL's best defenders over the course of his career. It's surprising, then, that Chara has only won one Norris Trophy in his career. At 41 years old, it's hard to imagine Chara coming anywhere close to another Norris award in his career but that doesn't mean the Bruins will be without a winner in the near future.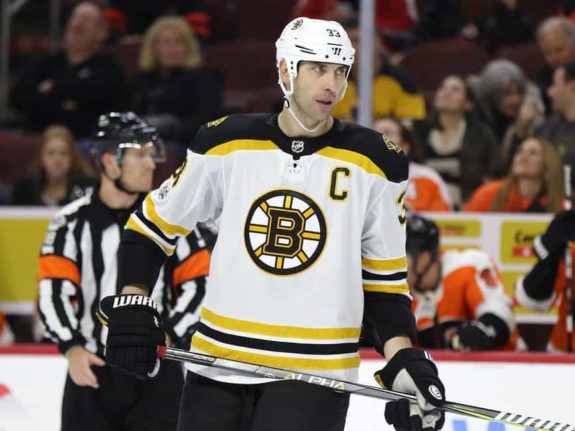 With Charlie McAvoy, Brandon Carlo and Torey Krug making up the present and Urho Vaakanainen, Jeremy Lauzon and Jakub Zboril making up the future of Bruins defenders, it wouldn't be surprising to see the award be won by a Bruin in the near future.
Masterton Trophy: Phil Kessel (2007)
It's a little-discussed topic in the hockey world in 2018 but Phil Kessel's return from cancer in the early stages of his career was inspirational and was enough to earn him the Masterton Trophy in 2007. While Kessel's tenure with the Bruins (and subsequently the Maple Leafs) ended on well-documented and sour notes, Kessel's time as a Bruin should be remembered fondly given all he gave to his team and his community despite the personal issues he was dealing with at the time.
Related: Phil Kessel Biography
Ted Lindsay Award: Bobby Orr (1975)
While Orr may not have won the Ted Lindsay Award (and no Bruins' player ever has), he is the last player to win the award formerly known as the Lester B. Pearson Trophy which is awarded annually to the NHL's most outstanding player as voted on by the NHLPA.
Given Orr's storied history as a superstar in the NHL, it shouldn't be surprising that he was once the recipient of such an award, especially given the fact that he scored a ridiculous 46 goals and 135 points in 80 games that season as a defender. That type of production from a defender is simply unachievable in the modern day NHL and its a testament to just how good Orr was in his final full season in the NHL.
Jack Adams Award: Claude Julien (2009)
Though his career ended on a rather sour note in Boston, Claude Julien spent a decade with the Bruins and became their winningest coach in the history of the franchise. It's no surprise then that he is the last coach to win the Jack Adams Award winner in Boston and only the first since Pat Burns did so in 1998, joining Burns and Don Cherry (1976) as the only three Bruins' coaches to ever win the award.
In 2009, Julien would coach the Bruins to a 53-19-10 record, good for 116 points that season – the third most the NHL has seen in the last 21 years.
Related: Jack Adams, the Man and the Award
Selke Trophy: Patrice Bergeron (2017)
There is a very real chance that the Frank J. Selke Trophy could one day be renamed to the Patrice Bergeron Trophy. Tied for the most wins in history with Montreal Canadiens' legend Bob Gainey (a player who arguably could have won more had the trophy existed prior to 1977-78) with four wins apiece, Bergeron has a chance to win a record-setting fifth Selke award in 2018 as one of the Finalists for the award.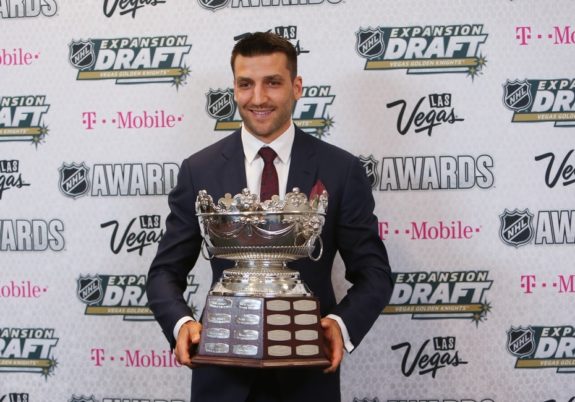 Winning the trophy in four of the last six seasons, Bergeron has made a name for himself as one of the very best to ever do it and because of this, his legacy will forever be cemented in the NHL as a 200-foot legend.
Jennings Trophy: Tim Thomas & Manny Fernandez (2009)
It's been nearly a decade since the Bruins last won the Jennings Award as the last duo of Bruins' goalies to do so came in 2009 when Tim Thomas and Manny Fernandez shared the honors.
The pair of Thomas and Fernandez combined for 52 wins on the season while also only losing 19 games in regulation that season. Thomas posted a stellar 36-11-7 record with a 2.10 goals against average and a .933 save percentage while Fernandez carried his weight as a backup with a 16-8-3 record and a 2.59 goals against average and .910 save percentage.
King Clancy Trophy: Patrice Bergeron (2013)
A true leader on and off the ice, Bergeron has made a name for himself as one of the best faceoff winners, two-way forwards and above all, gentlemen that the NHL has ever seen. It's no surprise then that outside of his awards for on-ice play, Bergeron has also won an award for his play off the ice as well, winning the King Clancy Memorial Trophy for his leadership on and off the ice as well as his contributions to the community.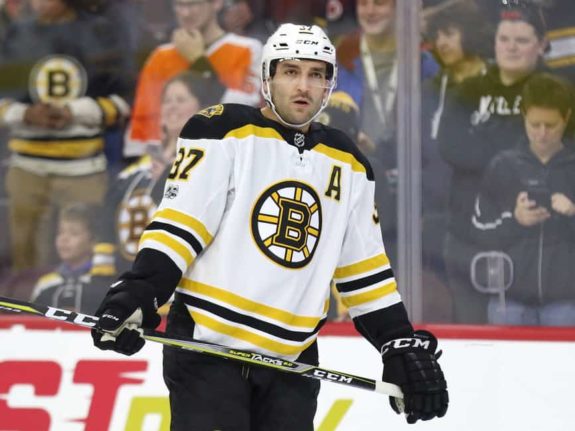 A fun fact here is that the award has been handed out 29 times in history and three times the award has been won by a Bruin with Ray Bourque and Dave Poulin winning the trophy back-to-back in 1992 and 1993. Only the Edmonton Oilers have also had three players win the award with their most recent coming from former-Bruin Andrew Ference in 2014.
"Rocket" Richard Trophy: Never
If this award was around in the early 1970s, Phil Esposito would have been a shoe-in to be awarded the trophy each and every year. As the last Bruin to ever lead the league in goals, Esposito actually did so in six consecutive seasons starting in 1969-70 and ending in 1974-75. He's one of only seven players to lead the league in scoring at least five times and one of only three to do so more than six.
Unfortunately, the Bruins haven't had any player lead the league in goals since 1975. With their new, young crop of forwards in place, however, the team could find themselves with a Richard Trophy winner at some point.
Mark Messier Leadership Award: Zdeno Chara (2011)
It isn't a surprise that Chara was named the Mark Messier Leadership Award recipient at least once in his storied career. Though he may not have spent his entire career as a member of the Bruins, his time with the team has been nothing short of exemplary in terms of leadership.
Related: Seven Cool Things About Zdeno Chara
A gold standard for captains and players alike around the NHL, Chara has done an incredible job at becoming an endearing presence both in the locker room and within the community while maintaining his presence on the ice as one of the most prolific shutdown defenders in hockey history.
---
Which Boston Bruins' player or coach will be the next to win an NHL award? Comment below with your pick.