We continue on with our look at the upcoming season for the San Jose Sharks. Previously, we discussed the roster and the competition within the Pacific Division. We know the Sharks have plenty of talent plus significant experience to lean on when times get tough. The newly acquired Erik Karlsson adds another incredible talent to an already talented core (My colleague Mac Bass has his own take on the trade.) And yet, this team is vulnerable.
The challenge facing the Sharks isn't apparent when one looks at a healthy starting lineup. But things can fall off quickly if the Sharks have to go much beyond their starters. This wasn't the case last season when the Sharks had their deepest team in years.
All four lines were competitive and the forward unit went over 15 deep (in total, 19 forwards played for the Sharks last season). With power forwards all over the roster, the Sharks were able to battle effectively and spread out minutes. By season's end the Sharks were getting strong play from four lines. On defense, the Sharks had eight quality defensemen (and needed them all). The goalie combo was excellent. The Sharks' depth was an under-appreciated asset of last season's team.
Sharks Change Their Depth
The goalies remain the same, a solid duo. But beyond this, the story changes. The Sharks have seen their reliable depth depart. Ryan Carpenter and Danny O'Regan left mid-season. In the offseason, Mikkel Boedker was traded to Ottawa while Eric Fehr went to Minnesota in free agency. Useful veterans Paul Martin, Jannik Hansen and Joel Ward are no longer with the team. And on Thursday, the Sharks gave up (among others) Chris Tierney, Dylan DeMelo and their top AHL player, Rudolfs Balcers, (who I had penciled in for a Sharks roster spot, possibly at the start of the season) in the deal for Karlsson.
DeMelo, Tierney and Boedker were everyday starters for San Jose. The departed nine skaters combined for 380 regular-season games and 47 playoff games. Collectively, they weren't liabilities, finishing a combined plus-7 in the regular season and plus-5 in the playoffs. Last season, the Sharks could plug in players from the lower end of their roster and not see their line-up degrade much. This season, the situation is much different.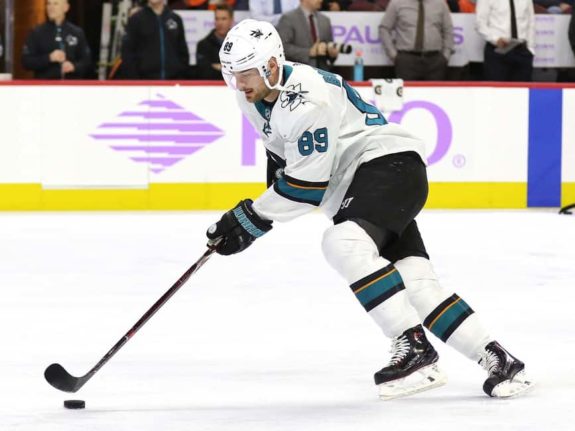 How many replacements with NHL experience have the Sharks brought in to counter the above-mentioned losses? Just two—Karlsson and Evander Kane. Of course, some consider the return of Joe Thornton a pretty big deal as well. Still, even with Thornton and Kane, the Sharks have exactly 11 experienced NHL forwards, a considerable drop-off from the 15-plus they carried for much of last season.
As of now, I expect either Dylan Gambrell (three NHL games) or Antti Suomela (zero NHL games) will be in the Sharks' daily lineup, with the other as the top forward reserve. There won't be much help coming from the AHL team, the San Jose Barracuda. The Sharks have tapped that reservoir in a big way in recent seasons, and the pipeline which goes to the NHL is pretty empty at the moment.
The Sharks no longer have the ability to plug in a backup player and expect an NHL quality performance.
An Increased Injury Risk
The Sharks' vulnerability has a second piece to it – it is more than the lack of depth. They are vulnerable because this team is more susceptible to injuries than teams in years past. The Sharks' history is to almost take for granted the enormous durability of players like Thornton, Joe Pavelski, Brent Burns and Patrick Marleau, each of whom has or has had remarkable durability streaks.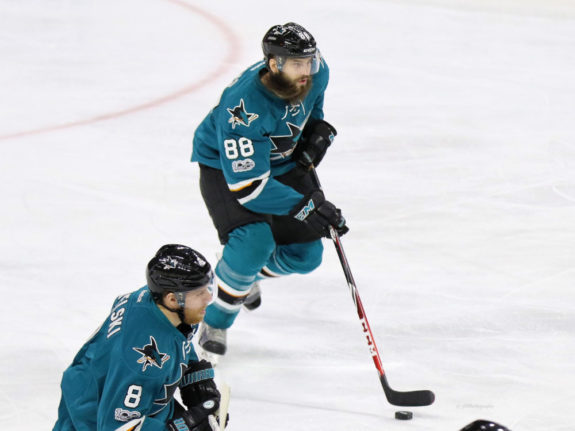 But the 2018-19 Sharks team is not stocked with durable players. Indeed, several have missed chunks of games in multiple recent seasons. And the durable sorts are not as durable as they once were. Marleau is gone while Thornton has had surgery on both knees. Even Pavelski (early on) and Burns (in the playoffs) were playing hurt last season.
Joonas Donskoi (16 games missed last season, two separated shoulders the season before), Melker Karlsson (11 games missed last season, 15 the season before), Kane and Thornton are among those who've missed considerable time in recent seasons. Indeed, Thornton hasn't been healthy in April in either of the past two seasons while Kane hasn't been healthy in April in three of the last four. In 2016, the Sharks had perhaps their healthiest April roster ever and they went to the Stanley Cup Final. Yes, it matters.
Tomas Hertl also has an injury history, though a mostly healthy campaign last season provides hope after dealing with a recurring knee issue in his prior seasons. Barclay Goodrow seemed to cement himself a spot in the daily lineup, but he also missed significant chunks of last season, playing in only 47 games.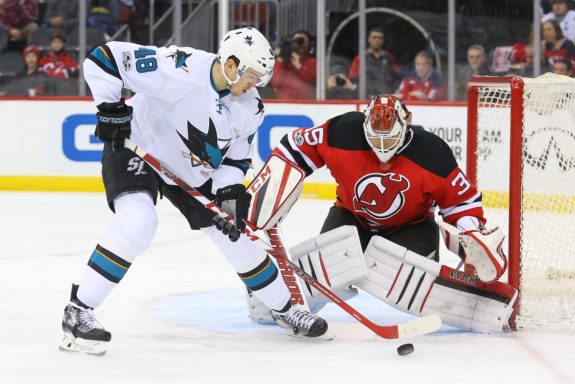 On defense, Joakim Ryan missed several games with an injury late last season while Erik Karlsson missed a total of 11 games while with Ottawa (and five games the season before last). The defensive depth is pretty much limited to Tim Heed. Should more than one Sharks defenseman be out, things will get very dicey, very quickly. The defensemen on the Sharks' AHL team will be hard-pressed to fill a void if pressed into NHL action.
Staying Healthy
There is one final complicating factor in all this. As I highlighted earlier, this is a team that must play physical. The strength of the forward unit is the power players. This requires lots of very physical battles on the walls. And it is along the walls where a lot of injuries take place. The Sharks will spend more time there than most teams.
Addressing the Sharks' Vulnerability
Some people might think it's easy to get a low-end guy to fill in if injuries start to become a problem. Well, it hasn't been the case in San Jose. Doug Wilson has done an excellent job as general manager, but his skill set hasn't included bringing in the low-end veterans to fill gaps. Last season, he had success with Eric Fehr, but this was more the exception than the norm in the Wilson era. I won't list past players Wilson acquired who didn't mesh in this role, as doing so might just cause a wave of nausea among readers.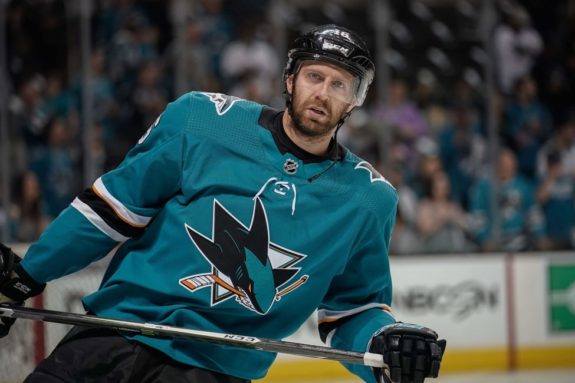 The Sharks have very limited depth, and it's coupled with increased injury risks from a combination of aging players and, quite specifically, Kane, who's been hurt in every season in his career. Then add on the physical style the team needs to play (Kane, for one, has no intention of shying away from this), and this Sharks team can become vulnerable in a hurry.
Key players like Pavelski (who played but didn't look healthy for the first half of last season), Thornton, Kane and Burns (who played but wasn't healthy in the playoffs) need to stay healthy for the Sharks to have the sort of success they want. If last season is any indication, this season is going to be challenging. Last season, the Sharks' depth mitigated some health issues and helped key their successful season. The Sharks don't have that depth to fall back on this season.
The starting roster is stacked, but the depth cupboard is bare. There are steps Sharks head coach Peter DeBoer can take to lower injury-related risks, at least slightly. I expect Wilson will look to make at least one more move to add veteran depth. Both the coach and general manager have work to do on this front. With several teams in the division improved and less margin for error than any time in DeBoer's tenure, the Sharks' season may well depend on it.
Zeke's Notes
• At the end of last season, the Sharks had one Karlsson under their umbrella; they now have three. The team drafted Linus Karlsson in the third round of the most recent draft and acquired Erik Karlsson from Ottawa. They join Melker Karlsson in the organization. It is possible a Sharks lineup will feature three Karlssons at some point, but not this season. Linus Karlsson is a long way from making his NHL debut, and given the Sharks' history with third-round selections, it's fair to say the deck is stacked against him.
• Many Sharks fans thought that Boedker's departure was a case of addition by subtraction. If one only looked at the first year and a half of his Sharks tenure, it'd be a good case. But in the 2018 portion of last season, Boedker was genuinely effective and an important contributor to the team's success, including in the playoffs. He'll be missed more than most realize.