From a management point of view, the professional tryout (PTO) is often referred to as bargain shopping.
From a player's perspective, it may offer one last shot to prove you still belong in the NHL.
As far as the Edmonton Oilers are concerned, the hope is that this year's trio of PTOs will offer some promising options to the team. Over the summer, Oilers' general manager Peter Chiarelli inked defenseman Jason Garrison along with forwards Scottie Upshall and Alex Chiasson to an extended look at training camp.
Unfortunately for the Oilers, the 34-year-old Upshall failed his physical at Oilers training camp on Thursday, casting doubt on his future with the team.
Upshall Fails Physical but Still Plans to Be in Camp
By Friday, however, it appeared the knee injury that led to the failed physical would only sideline the grinder for a few days rather than weeks, as was initially speculated. Chiarelli told reporters that Upshall could return to camp "this weekend or early next week."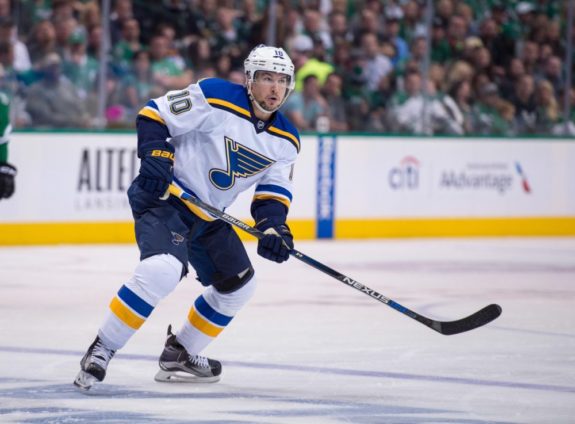 The Fort McMurray native is expected to compete for a fourth-line role alongside former St. Louis Blues teammate Kyle Brodziak.
Upshall's last four campaigns—one with the Florida Panthers and three more recently with the Blues—show a player capable of playing between 63 and 73 games per season while contributing 14 to 19 points a year. More importantly, he is an effective penalty killer. Only three other Blues forwards spent more time on the ice shorthanded during Upshall's tenure with the team.
A successful camp for the 15-year NHL veteran could have displaced Pontus Aberg, Drake Caggiula or Zack Kassian, thus freeing up a winger to be traded for much-needed help on the back end or cap space—which comes in handy at a time when up-and-coming blueliner Darnell Nurse remains unsigned.
Chiasson the NHL Dream With the Oilers
If injury woes persist for Upshall, his loss could ultimately be Chiasson's gain.
The younger Chiasson—who turns 28 on Oct. 1—has shown a bit more offensive upside than Upshall. During his last five seasons, the 6-foot-4 right winger played for the Dallas Stars, Ottawa Senators, Calgary Flames and Washington Capitals.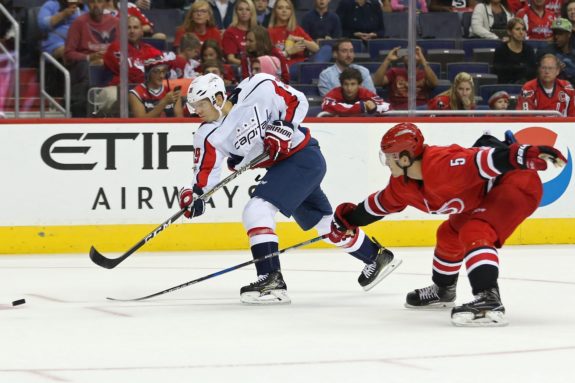 The Montreal-born forward put up 35 points in his 2013-14 rookie campaign with the Stars and followed that up with 11 goals and 15 helpers for the Sens in his sophomore season.
When he joined Calgary in 2016-17, Chiasson scored 12 goals and 12 assists for the Flames before moving on to the Caps for a Stanley Cup-winning season last year. During 61 regular-season contests, Chiasson contributed nine goals and nine assists, and then appeared in 16 postseason games, registering a goal and an assist.
In addition to bringing valuable championship experience from Washington, Chiasson is familiar with new Oilers assistant coach Glen Gulutzan, for whom he played in Dallas and Calgary. He is also a dependable penalty killer and shot blocker. Chiasson adds depth on the right side, and if he looks good in the preseason the Oilers may look to move Kassian and his $1.95-million-per-season contract, which runs out in 2020.
Training Camp Battle for Jason Garrison
Garrison comes to Edmonton with a lot to prove. Can he be a valuable depth defenseman or has his time in the NHL come to an end?
Last year was a tough one for the 33-year-old, who ended up in Las Vegas but only suited up in eight games for the Golden Knights. The rest of Garrison's season was spent in the American Hockey League (AHL), where he put up respectable numbers on offense with the Chicago Wolves, scoring eight goals and 20 assists in 58 games.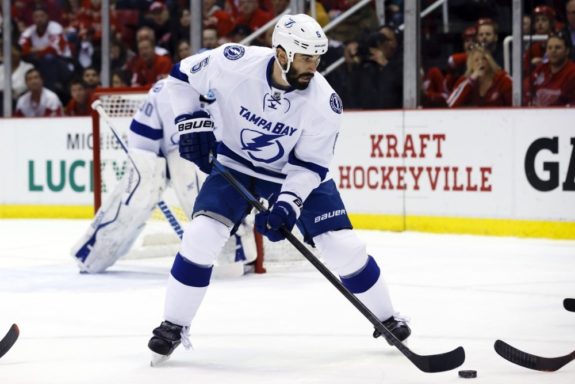 Garrison's seasons of 30-point production from the blue line are well behind him, but with a significant injury to Andrej Sekera and Nurse in Toronto waiting for a deal to get done, the Oilers need to look at every possible option on defense.
Before he arrived in Vegas, the left-shot defenseman from White Rock, B.C. looked like a player in decline. His offensive numbers during his three seasons in Tampa Bay dropped from 30 points to 11 points to nine points, while his plus/minus dropped from plus-27 to minus-four to minus-eight.
Garrison's veteran presence may have a positive influence on the younger rearguards in training camp, but he'll be in tough to beat out 2018 10th overall draft pick Evan Bouchard or recently signed defenders Kevin Gravel and Jakeb Jerabek. Ethan Bear, Caleb Jones, Keegan Lowe and William Lagesson may also pass Garrison on the depth chart by the end of the preseason.
Can the Professional Tryouts Solve Some Problems?
Apart from the desire to see players compete and earn their roster spots on the team, the coaching staff and management of the Oilers will be looking at strengthening a few weak areas with their PTOs.
If Garrison can keep up with his younger teammates, he may prove to be a useful seventh defenseman. Even if Garrison doesn't stick with the big club, he could take on a mentoring role once again in the AHL.
Chiasson and Upshall, meanwhile, have the ability to improve a penalty kill that was 25th in the league last year, and they may also provide Chiarelli with a bit of cap relief or a trade chip if the Oilers opt to roster one (or both) of their PTO forwards over more expensive options on the wing.
For the most part, you can slot the PTOs under the category of "no harm, no foul." All three are worth a look, and by the time the regular season rolls around, Oiler fans should have a better idea of their value.
Ian Wilson is a life-long hockey fan who was initially drawn to the sport by the Edmonton Oiler dynasty of the 1980s. He brings decades of journalism to the table as a former editor and reporter with the Calgary Sun.