Coming into this offseason, the Anaheim Ducks had three key restricted free agents (RFAs) to sign. After inking two critical players in Brandon Montour and Ondrej Kase, it seemed that talented but underachieving forward Nick Ritchie would be a relatively pain-free signing.
Alas, as training camp has opened, the 22-year-old Ritchie remains unsigned, and now, as more time passes, so too do opportunities for Ritchie to train with the team and get ready for what he needs to be a bounce-back season.
Ritchie Disappoints in 2017-18
The Ducks selected Ritchie 10th overall in the 2014 NHL Entry Draft, and in 2016-17, the power forward began to show flashes of what he could do at the game's highest level. He scored 14 goals and added 14 assists in 77 regular-season games. The left winger also added some scoring in the playoffs via four goals, including a game-winning Game 7 tally in the second round against the Edmonton Oilers.
Ritchie also sported strong underlying possession numbers, which seemed to bode well for increased future point production. His promising campaign gave the impression that he was poised to build on that and continue to come closer to reaching the ceiling the Ducks saw for him when they drafted him. A certain writer also picked him as a prime breakout candidate heading into the 2017-18 season.
As it turned out, Ritchie not only failed to take a meaningful step forward in his development, but he seemed to actually take a slight step backward. In 77 contests in the regular season, his goal production dropped down to 10, to go along with 17 helpers. With the slew of injuries the Ducks sustained last season, Ritchie was someone they needed to step in and help fill the void, but he was unable to do so on a consistent basis.
The physical Ritchie also struggled to avoid minor penalties that were more so a product of a lack of discipline than his hard-nosed style of play. His ill-advised penalties for actions such as slashing and hooking contributed to his team-high of 26 minors committed. They were also a major factor in tilting the Ducks to the wrong end of their team penalty differential, which was the worst in the league.
While still only 22, Ritchie is at a point in his career where he needs to take a strong step forward in his development. He first needs to clean up his undisciplined play, and then he needs to focus on working to increase his offensive production.
What Ritchie's New Contract Could Look Like
To that end, some positive news is that the 6-foot-2 Ritchie, who weighed in at 234 pounds last season, has apparently been working hard with former NHLer Gary Roberts in the offseason to get into peak shape ahead of the 2018-19 campaign. That's encouraging and all, but at the end of the day, there is no substitute for a full training camp with one's current club, and that's what Ritchie's contract holdout will continue to cut into until a deal is reached.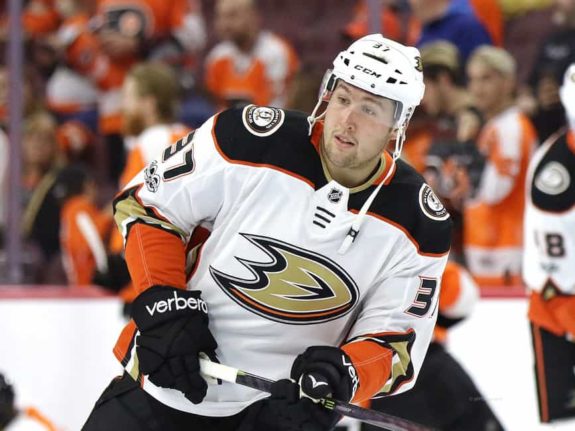 The fact that Ritchie, who just came out of his entry-level contract (ELC), has not yet signed is a bit surprising given that he has almost no leverage in this situation. He is not arbitration-eligible, and his disappointing performance last season makes him a clear candidate for a short-term bridge deal with a low average annual value (AAV) that would amount to a "prove-it" deal. Be that as it may, at this point, GM Bob Murray has seen it all.
"Nothing surprises me anymore."

–Ducks GM Bob Murray on Nick Ritchie's contract holdout
As he holds out, Ritchie's only realistic action at this point is inaction, but again, that hurts him more than the Ducks as time goes on. Barring a trade, Ritchie will be back under contract with the Ducks this season, but it's just a matter of exactly when. A bridge deal seems inevitable, and given the three-year, $2.6-million-AAV deal to which Anaheim signed energizing 22-year-old 20-goal scorer Ondrej Kase, anything more than two years and an AAV of $2.5 million would be foolish for the organization. Even that might be a touch high, as Ritchie still has quite a bit to prove.
For now, it's on Ritchie to stay in shape, which he's doing to this point while working out with the OHL's Guelph Storm. Before long, it would also be in his best interest to take a deal from the Ducks and elevate his game before looking to cash in on a more significant payday.
Tom has been with The Hockey Writers for almost four years. After previously covering the LA Kings and the New York Rangers, Tom now covers the Anaheim Ducks.
While in college at Clemson University, the 2016 college football national champions, Tom wrote game summaries and feature articles for the official team website of the Greenville Drive, a Class-A minor-league baseball team and affiliate of the Boston Red Sox. Tom is happy to be able to continue to fulfill his passions for sports and writing with THW.