The Carolina Hurricanes are singing a familiar tune. The lyrics go something like, "Here we are again, hanging out in no man's land. Year after year, fans can't understand." It is a sad song, really, that laments the reality that another season out of the playoffs is unfolding. The team seems headed to no man's land yet again, no playoffs and no prime draft position.
"It Didn't Feel Familiar"
Maybe it was all the preseason hype about having a new goaltender, or the way Cam Ward seems to have found the fountain of youth, or any number of things, but for some reason, this season didn't feel familiar. It didn't feel like frustration lurking. Instead, it felt like the team really had a chance to make the playoffs and take the step forward fans have been patiently waiting for over the past nine years.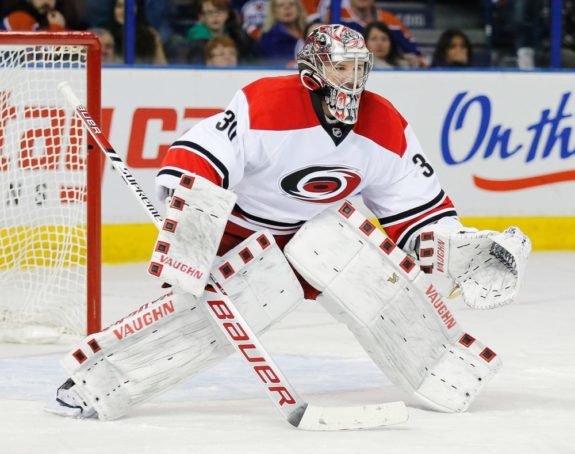 Sadly, it feels familiar now. Here at the break, the Hurricanes are in last place in the Metropolitan Division and five points out of a wild-card spot. They have two teams in front of them, also. Sound familiar? Unfortunately, it does. It is the same familiar tune that has been sung since 2009, and it seems that regardless of the changes made, the song remains the same.
A Stunning Statistic
There is a good reason that this season feels all-too familiar. Luke DeCock of the Raleigh News & Observer wrote about the team a few days ago, and made this observation:
Through 45 games, the Hurricanes are actually a point behind where they were last season.
That is something that was stunning to read and realize. Not only is the feel-good atmosphere that was trying to settle in on the team a mirage, it isn't even warranted. In spite of everything, the team is worse than it was last season, at least on paper, anyway. DeCock went on to write,
For all their youth and exuberance and skill, this is still a soft team, too soft to win a playoff round even if the goaltending somehow holds up. Aho is fearless – too fearless, as it turned out, Sunday – and Williams knows what it takes to win. McGinn has some pop and Lindholm is capable when he's engaged, but for the most part, the Hurricanes have neither the strength nor the mentality to exert a physical influence on the game.
If that is not a deeply stinging indictment on the team, then there is none to be made.
"Starting on Time" is Sadly Familiar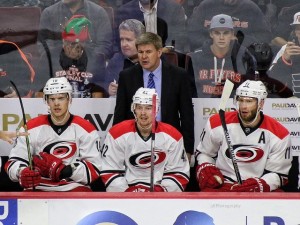 DeCock's observation, "Neither the strength or the mentality" means a lot is missing. The biggest concern has to be under the heading of mentality, and that has been the Achilles' Heel of this team. It seemed that the team had moved beyond this unexplainable lack of energy when starting games. I have written about this phenomenon more times than I care to count, always with the question, "How can professional athletes not start on time?"
The other question is, "Whose responsibility is it to make sure the players start on time? The coach? The captain, or in the Hurricanes' case, the captains?" Finding oneself in a new system under a new coach may grant a player a little bit of room to get adjusted and maybe appear to not be starting on time. But head coach Bill Peters has been here for four years now. He's not new, nor is his system. Yet, even he sees the problem.
In DeCocks's article, he quotes Peters as saying,
The nights that we're not the hardest-working team, and I don't know our record, but it wouldn't be flattering. So, if we're not going to wrap our head around the fact that we have to start on time, each and every night, and outwork our opponent, then it's going to be a frustrating second half.
You think so, coach? The fans have been frustrated for years. It's one thing to get beat by other teams who may be better or have more talent. But, to lose games because the team doesn't seem to care enough to start on time and play for a full 60 minutes, is inexcusable.
The Hurricanes are not out of contention. But, they have to want to be in the playoffs more than the Philadelphia Flyers or the New York Islanders or other teams in their division.