The Calgary Flames made a lot of moves during the 2018 off-season, touching upon nearly every area of their roster. They raised a few eyebrows when they didn't address their goaltending, as backup netminder David Rittich was considered something of a question mark after an up and down 2017-18 season.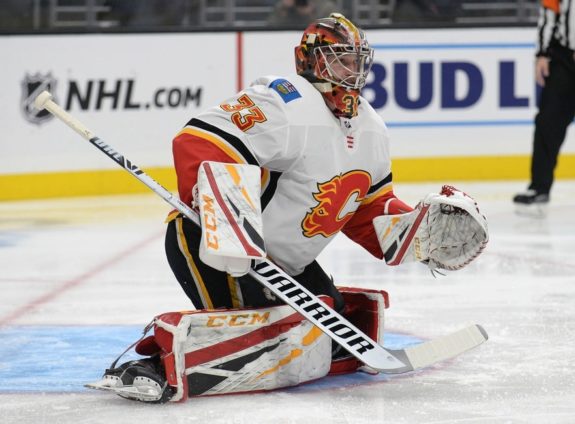 But one-quarter of the way through the 2018-19 season, the Flames' goaltending questions instead are directed towards veteran starter Mike Smith. While Rittich is playing very well, Smith's starts have turned into something of an adventure, to the point where the Czech netminder may soon find himself facing the majority of the work in the Flames net.
Great Expectations
Brad Treliving became general manager of the Flames in the spring of 2014 and spent much of his first few years at the helm trying to solidify the franchise's goaltending. 2014's off-season saw him settle on a tandem of Jonas Hiller and Karri Ramo, only to move onto Brian Elliott and Chad Johnson two seasons later.
Unable to find a new face that fit the bill, Treliving went back to his old stomping grounds for a solution. Days prior to the 2017 NHL Expansion Draft, the Flames acquired Smith from the Arizona Coyotes for pending free agent Chad Johnson, the rights to college defenseman Brandon Hickey and a conditional 2018 draft pick. It was a relatively low price to pay – particularly relative to other netminders that were moved that summer – and it gave Treliving a goaltender he had a history with and that he could trust.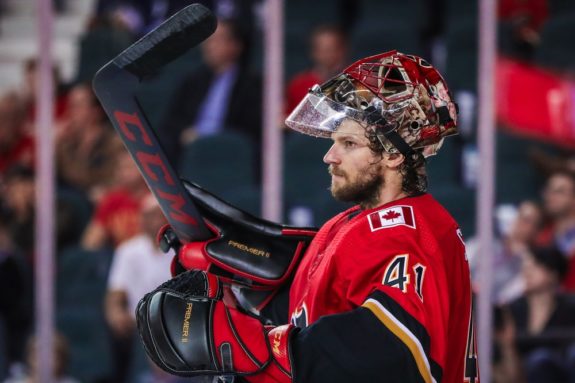 Smith was renowned as a big-bodied, competitive player that was a leader on a series of Coyotes teams that weren't very good. He also came with a bit of an injury history, having missed some time with lower body injuries the season prior, but the notion was that even though was 34 when he was acquired that his commitment to fitness and relatively low mileage would allow him to stave off the age curve for a little while.
Treliving's hunch was spot-on for the first four and a half months that Smith played for the Flames. Then he suffered an injury, and he hasn't been the same since.
Smith's Decline, in Four Parts
The old adage is that Father Time is undefeated. Aside from perhaps ageless wonders like Roberto Luongo and Jaromir Jagr, player performance significantly declines past the age of 35. Reflexes dull, the body's ability to rebound from physical strains is lessened, and eventually it's reflected in a player's performance.
It's impossible to say whether Smith's performance has diminished because of age or injury, but he hasn't been quite the same since his return from a month-long absence due to a lower body injury suffered on Feb. 11, 2018 against the New York Islanders.
Here's a quick statistical comparison:
Oct. 1/17 to Feb. 11/18: 23-16-6, 2.53 goals against average, .921 save percentage, .928 even strength save percentage
Feb 12 to Mar 10/18: Injured
Mar. 11 to Apr. 15/18: 2-6-0, 3.44 goals against average, .880 save percentage, .885 even strength save percentage
Oct. 1 to Nov. 17/18: 5-7-1, 3.48 goals against average, .876 save percentage, .891 even strength save percentage
In all fairness, the Flames were an injury-riddled mess for the last month of the 2017-18 campaign and so it's probably fair to throw out those eight decisions. But Smith's numbers have not improved despite playing behind a significantly improved, deeper and better-organized Flames squad this season.
Here Comes David Rittich
While Smith has struggled, his backup has found his stride. Originally discovered by pro scout Derek MacKinnon in the Czech Extraliga while scouting another player, Rittich joined the Flames organization for the 2016-17 season. The thought process at the time was that he could be useful depth, an established pro goaltender that could help the organization push and develop prospects like 2012 draft pick Jon Gillies, 2014 draft pick Mason McDonald and 2016 draft pick Tyler Parsons.
#Flames G David Rittich, on his thinking when facing his fourth breakaway of the game…a save on Khaira that led to Ryan's goal to make it 2-1: "When its coming in on me, it's something with a couple swear words, kind of like that. When it's the other way it's a great feeling."

— Aaron Vickers (@AAVickers) November 18, 2018
The irony is that so far Rittich has surpassed all reasonable expectations from the time of his signing. Injuries and inconsistency on the part of the organization's young netminders gave him ample playing time, and he established himself as one of the top goaltenders in the American Hockey League. When Eddie Lack struggled to begin the 2017-18 campaign the Flames ended up bringing up Rittich to stem the tide.
His numbers tell an interesting story:
Oct. 1/17 to Feb. 11/18: 5-1-2, 2.20 goals against average, .927 save percentage, .937 even strength save percentage
Feb 12 to Mar 10/18: 3-4-1, 3.49 goals against average, .888 save percentage, .888 even strength save percentage
Mar. 11 to Apr. 15/18: 0-1-0, 3.68 goals against average, .867 save percentage, .861 even strength save percentage
Oct. 1 to Nov. 17/18: 6-1-0, 1.92 goals against average, .933 save percentage, .957 even strength save percentage
Rittich's first chunk of time was spent playing exclusively the second game of back-to-back nights on the road. Then he was thrust into the starting role when Smith was injured and the numbers suggest the mental game of being a starter impacted him, as did the team's general level of defensive panic down the stretch with no Smith and a few key injuries. But he's seemingly rebounded rather well and there's very little skittishness or panic in his game this season.
Performance Should Dictate Playing Time
The hope was Smith would find his stride over the summer and come into camp in the fall with confidence and swagger. That hasn't happened. Through a quarter of the season, the Flames have given Smith chances to work through his struggles and so far, that hasn't worked either. The team has a talented core whose strong play have been undone at times by Smith's netminding. On the other hand, Rittich's performances have been sparkling and he's consistently given his club chances to win – admittedly with the safety net of having Smith backing him up on the bench.
The Flames have no established NHL goaltenders signed for 2019-20 and it would be smart to play Rittich more down the stretch to figure out precisely what his developmental ceiling is – he might be a potential starter or he might be a good backup, but it's worthwhile to find that out soon. With the Pacific Division standings in a logjam and Smith still trying to find his way, Rittich is the goaltender that currently gives the Flames the best chance to win on a nightly basis and that alone should merit him receiving most of the starts for the foreseeable future.