The Calgary Flames missed the postseason in 2017-18 and did so due to the conflation of several smaller challenges that snowballed on them. While no one factor caused their season to unravel, the single largest factor was their goaltending.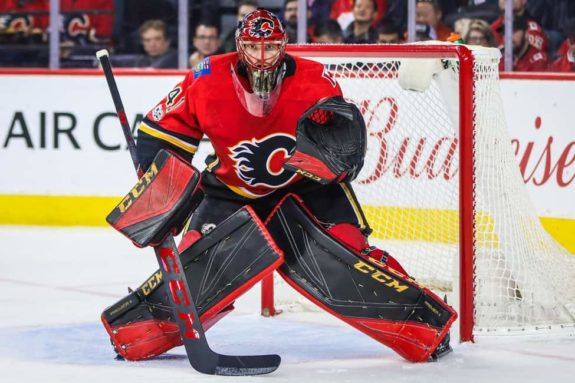 While Mike Smith was superb in the first half of the season, they didn't get what they needed from the whole group that strapped on the pads during the entire season. For several reasons, having the right person in the backup goaltender role behind Smith could be the key to success in 2018-19.
Building Team Trust
When the regular season begins, Smith will be 36 years old. He's played 529 regular season games (and 19 playoff games), so he has a pretty large sample size to establish a track record. When he arrived in Calgary, it was likely easy for his new teammates to accept him as the top goaltender based on his extensive track record and is early performances likely reinforced that trust.
The two netminders vying for backup work behind Smith – 24-year-old Jon Gillies and 26-year-old David Rittich – combined for two NHL appearances prior to last season and just 34 appearances heading into this year's training camp. That duo's lack of track record and uneven performances last season make this training camp crucial in establishing one (or both) as viable options between the pipes for the Flames. Rittich was superb as a backup, but both he and Gillies faltered when Smith was out.
Smith isn't getting any younger, and despite his reputation as a tireless worker in the gym, he's missed time in each of the last three seasons with lower-body injuries. His spirit is definitely willing, but at some point his body may have had enough of the rigors of being an NHL goaltender.
Finding a Rhythm Early
Prior to the 2017-18, the Flames acquired veteran Eddie Lack with the intention of using him as their backup – he had struggled with the Hurricanes, but the thought was he'd flourish with some new scenery. Unfortunately Lack struggled both in preseason and his early starts in the regular season, leading to then-head coach Glen Gulutzan tapping Smith for the majority of starts early last season.
With veterans away in China, opportunity knocks for David Rittich https://t.co/Cjkw8FVYp1

— FlamesNation (@FlamesNation) September 15, 2018
Lack was demoted to the AHL on November 24, 2017 and replaced by Rittich, the AHL starter at the time. Prior to Lack's demotion, Smith started 20 of the club's first 22 games. Once Rittich was recalled, Smith only started 17 of the next 22 games. It was a huge improvement, but it allowed Smith to stay a little bit fresher between appearances.
While it's impossible to say whether Smith's heavy workload early last season was a contributing factor to his injury, spreading out his workload and relying more on the club's backup is a good idea.
Keeping Smith Fresh for the Stretch
The challenge for the Flames coaching staff will be working in their backup goaltender – whether it's Rittich or Gillies – early and often, particularly given that Smith is so accustomed to a heavy workload. If you discount his injury time, Smith has been one of the league's busiest goaltenders over the past several seasons – when he's healthy, he's usually starting the vast majority of his team's games. Managing Smith's own expectations and habits might be the biggest challenge, as workhorses are physically and mentally accustomed to large workloads.
There's no doubting that Smith was superb for the Flames in the first half of last season. But ideally the club would like his best 15-to-20 outings to be saved for the spring rather than used up early in the winter months. Smith's performance will determine whether the Flames are a playoff team or a disappointment. But the frequency and placement of his performances are likely dependent on how much the Flames can get out of his backup goaltender.
Ryan Pike has covered the Calgary Flames and the NHL Draft extensively since 2010 as a Senior Writer for The Hockey Writers and Senior Contributing Editor of FlamesNation.ca. A member of the Professional Hockey Writers Association, he lives in Calgary.