Ever since Miikka Kiprusoff hung up his pads, the Calgary Flames have struggled to find goaltending consistency. While Mike Smith has emerged as the dependable starting goalie the team has desperately needed, backup goaltender Eddie Lack has struggled mightily. The Flames put Lack on waivers and sent him to the American Hockey League's Stockton Heat to get him some playing time.
Lack's assignment to the minors raises a question: how did a once-promising goaltender, not even 30 years old yet, fall from grace to this extent?
A Promising Prospect
Lack initially came to the attention of the North American hockey world as a teenager playing junior hockey for Brynas IF of the Superelit league. He posted strong numbers for several seasons, but didn't end up being selected in any NHL Drafts. He transitioned to the Swedish pro ranks, playing with Brynas in both the secondary Allsvenskan league and the SHL, and continued to put up strong save percentage numbers.
He ended up signing with the Vancouver Canucks as an undrafted 22-year-old free agent.
In each of his first two seasons in North America, Lack was matched up in a tandem with a more established goaltender. He played with Tyler Weiman in Manitoba in 2010-11 and Matt Climie in Chicago in 2011-12. In both cases, he out-performed his teammate and earned more trust from the coaching staff and more starts. An injury-riddled 2012-13 season only slightly delayed his NHL arrival.
A Strong Canucks Backup
Lack made the Canucks roster out of camp in 2013-14, making his NHL debut at the age of 25 with a 32-save victory over the Calgary Flames. Playing behind Roberto Luongo, Lack ended up with more shutouts than his teammate and played one fewer game than Luongo did. In his second year with the Canucks, he played behind Ryan Miller and posted better overall numbers than his more-experienced teammate. He was credited by many, including then-assistant coach Glen Gulutzan, with getting the Canucks into the post-season when Miller was injured down the stretch.
His performances in Vancouver over two seasons led many to speculate that he could handle a starter's workload. With a year remaining on his contract before he was slated to become an unrestricted free agent, the Canucks cashed out by sending him to Carolina for a couple draft picks. He was signed to a two-year contract extension by the Hurricanes before he had started a single game for the club. It turned out to be a horrible gamble.
A Weak Hurricanes Starter
Despite the big vote of confidence from the Hurricanes, it's hard to imagine Lack's tenure with the club getting off to a worse start. It took him three starts to get his first win with Carolina, and he ended up winning just once in his first nine outings. Following his acquisition by the Flames, and with the benefit of hindsight, Postmedia's Kristen Odland theorized as to the root of Lack's Carolina struggles:
There's the theory that Lack was coached in Carolina to play more aggressive and outside the crease more often, which had led to struggles. Prior to that while working under Vancouver Canucks goaltending coach Rollie Melanson, he was instructed to play less aggressive and was dialled back.
Carolina goalie coach David Marcoux is arguably best known as the goalie coach who was in Calgary when Miikka Kiprusoff broke out as a high-end netminder. Kiprusoff's aggressive style is something Marcoux attempted to replicate in other goaltenders with varying levels of success, but it definitely didn't suit Lack. During his two seasons in Carolina, Lack was routinely out-performed by teammate Cam Ward and posted career-worst save percentages.
Things seemed to reach a boiling point by March 2017, when Hurricanes head coach Bill Peters called out Lack for his lack of consistency. Sportsnet's Elliotte Friedman observed two instances of Lack being a bad fit for the club and noted he was likely on the trade block.
'No. 1, he plays a style that the Hurricanes don't really like in terms of the way they like their goalies to play,' Elliotte Friedman said on a Hockey Night in Canada Headlines segment. 'No. 2, Eddie Lack is a happy-go-lucky kind of guy and Bill Peters is a very serious guy. I think that was a problem as they continued to fall out of the playoff picture.'
Lack finished out the season in Carolina, but it became evident that he wasn't going to be there for the remainder of his contract.
A Flames Reclamation Project
In June 2017, Lack was acquired by the Flames in a deal where the Hurricanes retained half of his $2.75 million salary. Lack's acquisition was a product of work done by Flames goalie coach Jordan Sigalet to identify potential backups and confidence from Gulutzan, now Calgary's head coach, that they could get Lack to where he was in Vancouver.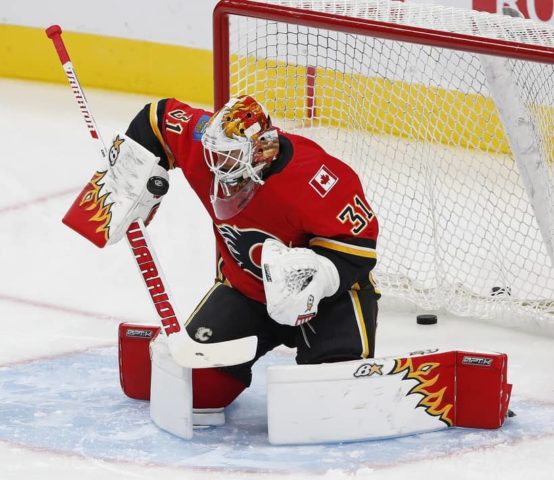 The challenge for Lack returning to form was a lack of playing time. In the preseason, the majority of the playing time with the Flames' regulars – particularly their defensemen – went to new starter Mike Smith. In the regular season, the Flames leaned heavily on Smith as the team initially struggled to score and later had trouble in their own zone.
With Smith emerging as the team's early-season MVP, it wasn't prudent to use Lack very much. As a result of this lack of playing time and lack of familiarity with the players and style of game in front of him, there came poor performances and a Lack without confidence.
The Flames eventually waived Lack after four games – two starts and two games in relief – and assigned him to the AHL.
An Unclear Future
With Lack approaching his 30th birthday in January, it's not clear what the next step is for him.
As predicted, Eddie Lack assigned to Stockton and David Rittich duly rewarded with callup. It has been clear for more than two years Lack is no longer an NHL goalie. Flames finally admitting that and rewarding their best farmhand with promotion.

— Eric Francis (@EricFrancis) November 24, 2017
The Flames brought 25-year-old Czech prospect David Rittich up from the farm. He earned a win in his first NHL start. Lack will likely split time in Stockton, for the time being, with 24-year-old prospect Jon Gillies. With the glut of goaltenders in their system, the Flames had to place former OHL standout Tyler Parsons with the ECHL's Kansas City Mavericks – and if the Flames had their way, Parsons would probably get some time in Stockton at some point.
Needless to say, if Lack wasn't a great fit as Calgary's back-up he's an equally odd fit in their developmental pipeline. If the thought process behind his demotion was to rebuild his game and his confidence, it's difficult to justify giving him the AHL playing time to do that when promising youngsters such as Gillies and Parsons are in the system.
Barring Lack enjoying a remarkable turnaround and posting unbelievable numbers in the AHL, it appears that the NHL portion of his hockey career may be over just over four years after it began.
Ryan Pike has covered the Calgary Flames and the NHL Draft extensively since 2010 as a Senior Writer for The Hockey Writers and Senior Contributing Editor of FlamesNation.ca. A member of the Professional Hockey Writers Association, he lives in Calgary.