If not for a miracle in the desert last season, Boston Bruins coach Bruce Cassidy would have won the Jack Adams Award as the NHL's top coach. Cassidy navigated a Bruins team that was dead in the water in early February of 2017 to a 100 point season and second round appearance in the spring of 2018. He's provided the B's with a new voice and a system that breeds hard work and results.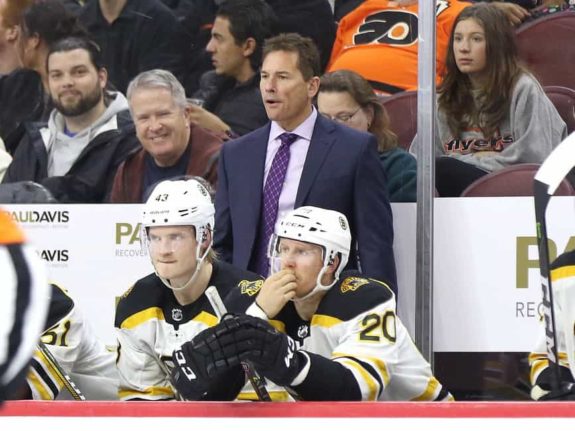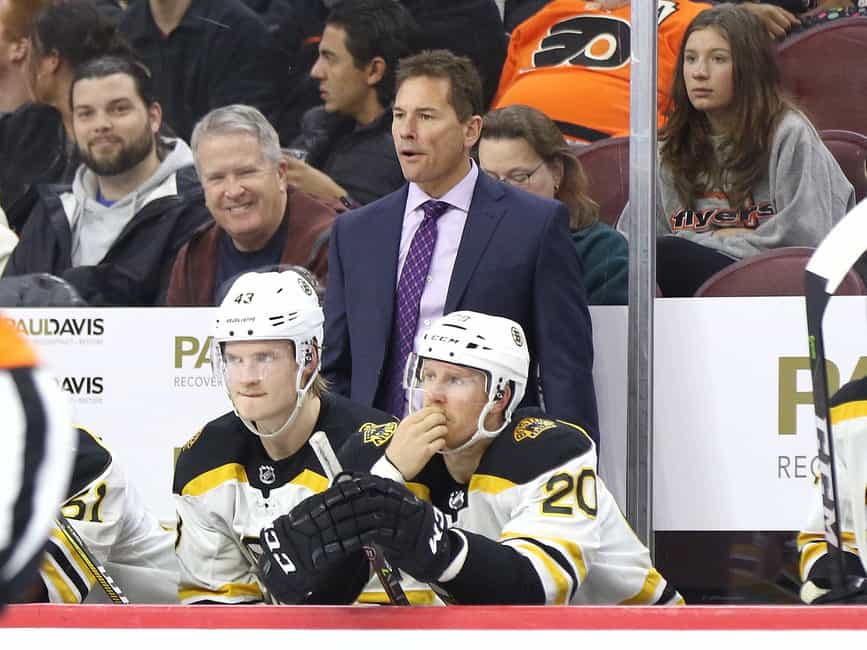 The Bruins have lost Patrice Bergeron, Zdeno Chara and Charlie McAvoy for long stretches this season and are still well on their way to a third consecutive playoff berth. It hasn't been easy and there have certainly been ups and downs, last night's spanking in Florida against the Panthers being the most recent example. That being said, the Bruins are still finding ways to get it done thanks to Cassidy's leadership.
RELATED: Jack Adams, the Man and the Award
Banged Up Bruins
As mentioned above, this Bruins team is rolling along without their number one defender in McAvoy, top center in Bergeron and number two defender and top veteran in Chara. They went a stretch without Tuukka Rask and prior to that went a stretch with Rask playing poorly. Kevan Miller, Brandon Carlo, Torey Krug and John Moore have all missed time on the blue line this season, while reinforcements like Urho Vaakanainen have also seen time on the IR. There has not been a more banged up team than the Bruins this year.
Cassidy has been getting the most out of his group even without those three pillars available to him on a nightly basis. Guys like Matt Grzelcyk, Jeremy Lauzon and Connor Clifton have come up and given the Bruins solid minutes during the last month. Personally, I give the coach a lot of credit for the way these guys have played. He's kept things simple for them and isn't asking for too much. Guys are being put in positions to succeed and, as a result, are getting things done.
Up front, I love how Cassidy is trusting his young guys and is rewarding good play. Colby Cave doesn't have pedigree and certainly wasn't anyone's first pick to step up, but he's centering the top line with Brad Marchand and David Pastrnak on his wings now because he's fit Cassidy's system so well and because he's worked his tail off.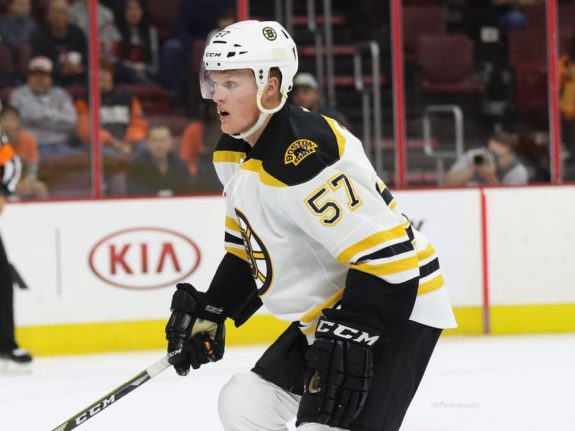 I especially loved Cassidy's comments about Jacob Forsbacka Karlsson and his compete level. Injuries or not, guys need to bring it every night and if they aren't getting it done, then they shouldn't be playing. It couldn't have been easy to call out a guy that this team quite frankly needs right now, but Cassidy did it and I believe guys took notice.
The Bruins' lineup is beyond banged up right now, but Cassidy still has them playing his system and getting results for the large part.
Helping Halak (And Tuukka)
Cassidy has employed a system that has allowed goaltender Jaroslav Halak to thrive in his first year with the club. There is no denying the talent that Halak possesses, but his Islanders' career went off the rails because the team in front of him was the worst defensive group in hockey each of the last two campaigns. That isn't the case anymore, as Cassidy's system limits dangerous chances against and keeps everything in front of the goaltender. This has had a positive impact on Rask as well over the last few weeks.
Halak posted save percentages of .915 (2016-17) and .908 (2017-18) in his last two seasons with the Islanders. He only played in 28 games in 2016-17, and was actually assigned to the AHL's Bridgeport Sound Tigers during the course of that season. He wasn't good last season, but the Isles were a complete and utter mess in front of him. Injuries played a factor, but for my money they were the worst defensive team in hockey a season ago. Halak was a relatively low risk bet for the Bruins this off-season, and has turned out to be a Godsend for the team. He and Cassidy have helped each other immensely in the season's first two months.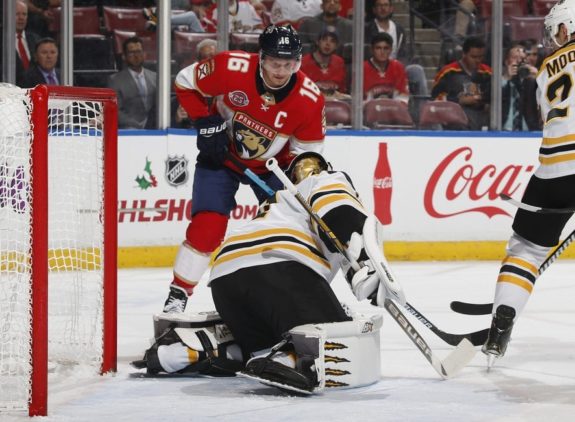 Tuukka Rask has played his best hockey in recent memory under Cassidy, and it looks like he is turning the corner once again. In Cassidy's lone full season with the club, 2017-18, Rask posted a .917 save percentage that is skewered a bit because of a bad start. Another tough first month had people wanting Rask run out of town, but his save percentage is back up to .915 and I thought he had a very strong month of November all things considered.
Cassidy's system is defense first and really helps the goaltenders out, allowing them to keep their team in it on a nightly basis. In a league that has truly become a 3-2 league in the words of former Edmonton Oilers coach Dallas Eakins, that's monumental.
If not for Gerard Gallant's miracle work a season ago with the Vegas Golden Knights, Bruce Cassidy would have been yet another Bruins' coach to take home the Jack Adams Award. With the work he has done so far this season, Cassidy should be the leader in the clubhouse for this award in 2018-19.