I was wrong. The Buffalo Sabres did NOT beat the Toronto Maple Leafs last night as I had predicted. For Maple Leafs' fans, the right team won. For Sabres' fans, wait until next time.
Sabres' fans had much to celebrate about their team, but in the end they are now 17-8-4. The Maple Leafs, with two points, now trail the Tampa Bay Lightning (who, after beating Detroit in a shootout, have won four in a row) by three points in the standings. The Sabres' single point puts them two back of the Maple Leafs and five behind the Lightning. As coach Mike Babcock noted during a post-game interview, "The Lightning win every night, don't they?"
What did we learn from that game?
The Buffalo Sabres Are for Real
First, the Sabres are for real. They had every reason to tank this one – after losing a tough game less than 24 hours earlier, but they didn't. They played the game with energy, carried the play for much of the first period, and played hard until the end.
Related: The Old Prof's "Maple Leafs 'Just-a-Guy' Awards" for November
Without Patrick Marleau's goal with five minutes left to force overtime, and Auston Matthews' sudden victory overtime goal with three seconds left, the Sabres were pushing this to a shootout, where anything can happen. It was the kind of game that lifts rears from chairs – for both teams.
Auston Matthews Is Amazing
Second, Auston Matthews is better than advertised. He scored two great goals. On his first goal – a TSN highlight of the night, as he's skating behind the net, he reaches back with his left hand, slight-of-hands a slow-motion puck from behind his head to his stick, and back doors it.
On his second goal, with 2.7 seconds left in overtime and admittedly gassed, he makes a beautiful toe drag to turn a good, but not dangerous-looking play by Kasperi Kapanen into three-on-three overtime heartbreak for the Sabres.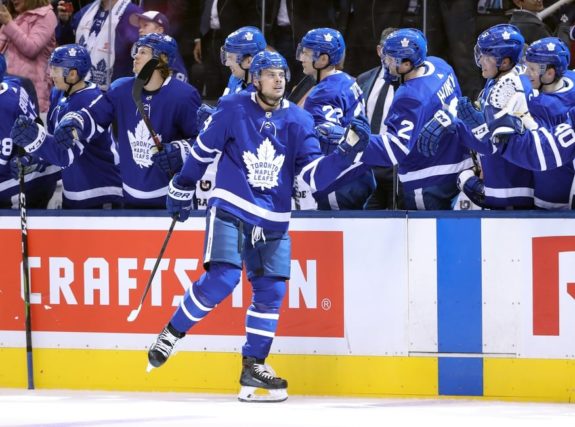 Matthews still isn't in game shape, but he's still deadly. He's huge, with great hand-eye coordination, and – as Babcock said after the game – he's "gifted." Every year he gets better, and this year his play has reached another level. Maple Leafs' fans must wonder what's coming next.
There's More Where This Came From
Third, if all goes as it could, there promises to be years of great hockey for fans of both teams. Toronto and Buffalo have been rivals for years, and play each other often. However, until now, these games haven't meant much. I'm thinking that's changed.
Both the Sabres and Maple Leafs Have Great Players
Fourth, the stars are the stars on both teams. Jack Eichel entered the game with fewer goals and more assists than normal at this stage of the season. He scored twice. Former under-18 teammates, Eichel and Matthews both scored two goals – although Matthews' last goal, coming when it did, will be the most memorable.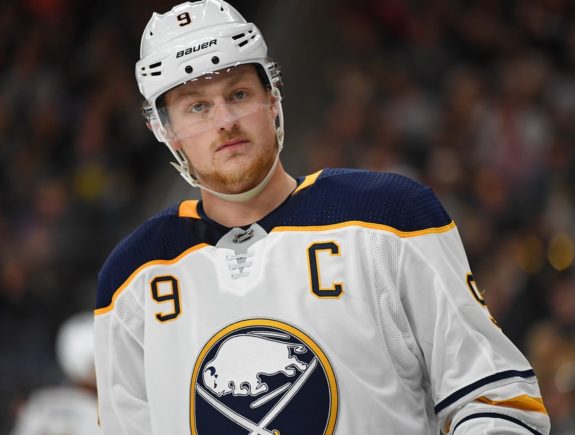 Obviously, both teams have good players behind Matthews and Eichel. Maple Leafs' D-man Morgan Rielly played almost 26 minutes and was plus-three. Forward Kasperi Kapanen played just under 20 minutes and was plus-three. The Sabres' Sam Reinhart had a goal and an assist and was plus-three. Jeff Skinner was plus-three.
Context and Records Don't Mean That Much
Fifth, recent records and schedule issues really don't come into play when two good teams face each other. It is possible to list myriad reasons why experts might have predicted a walkover, and many did. Reason One: The Sabres could have been flat. They weren't. Reason Two: The stars aligned for the Maple Leafs to dominate the game, but they didn't. Reason Three: The Maple Leafs played their number one goalie against the Sabres' number two. And on and on, the Maple Leafs had more rest and they had easier travel. In the end it didn't matter. Great game.
Related – NHL Rumors: Hitchcock, Duchene, Skinner, Panarin, More
In Hockey, Things Happen Quickly
Finally, hockey is a fast game – not just in terms of skating and action – but also in how quickly something can change from everything-is-going-okay to hey-what-just-happened. Until Matthews' game-winning goal, the overtime seemed listless compared to the sometimes helter-skelter three-on-three play that often happens. Suddenly – just when fans were preparing for a shoot-out – top corner! Rears leave chairs. Game over.
Hockey is that fast.