Tuesday evening, Dec. 4, the "surprise, we're good!" Buffalo Sabres (17-7-3) meet the "doing as well as people thought" Toronto Maple Leafs (19-8-0) in what might be one of the great hockey games of December. Really, most hockey games are good; but, this one has special zing. I know Sabres' fans are keyed up for it, and I know thoughtful Maple Leafs' fans see the game as a measuring stick.
The two teams are close. They are both in the top three of the Atlantic Division, just behind the Tampa Bay Lightning. And, they are in each others' back pocket geographically – Google Maps notes that it is only a 99.2-mile drive down the Queen E. (As a note, Google Maps also suggests it is a 33-hour walk. Hint – Maple Leaf fans choosing this option, leave now.)
There are several reasons for this year's Sabres' success. First, last year's record snagged them Rasmus Dahlin. Second, adding Jeff Skinner was brilliant. Third, replacing Robin Lehner in goal with Carter Hutton helped – a transaction the St. Louis Blues might like to re-think. Fourth, they have a good coach. The Maple Leafs have been evolving into a strong team for a few years, with this year's iteration the best in recent memory.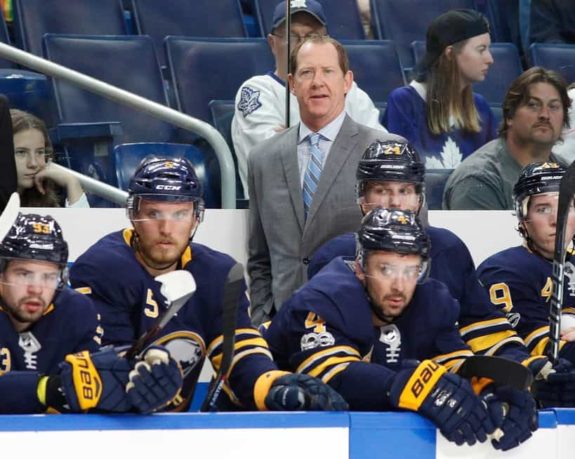 The Impact of the Schedule
The Sabres have advantages in this game. They are on the rise, and they play at home in front of supportive fans. This game is marked on the Sabres' fans calendars, but a goofy schedule gives the Maple Leafs a huge advantage. The Sabres are playing on the second leg of a tough back-to-back. Monday night, they meet the powerful Nashville Predators in Nashville. They'll probably get to the airport after midnight, land early Tuesday morning in Buffalo; get to bed even later – well, you get the point. Who knows how many other ways the Sabres' game-day rhythms are altered.
Schedule advantage: Maple Leafs.
Comparing the Leading Players for Each Team
The Sabres are led in scoring by Jack Eichel's 32 points (five goals, 27 assists) and new-comer Jeff Skinner's 20 goals (with eight assists).
Eichel's scoring is a bit of a surprise – both good and bad. Although Eichel has only five goals in 27 games this season (last year he had 25 goals and 64 points – imagine how big his contract be with the Maple Leafs would be), his assist total is a surprising 27 – only a dozen below last year's total of 39.
The 26-year-old Jeff Skinner is hot, with no indication of cooling. He has established himself as a Sabres' favorite (me, too), which can be seen in reaction to Jim Parsons' recent The Hockey Writers' post that suggests it might not be a bad time for Sabres' management to consider trading Skinner. I'm guessing – NOT. Skinner, at more than a point per game, will post career-high scoring records (he hit 63 points twice with the Carolina Hurricanes). Sure his scoring might slow down, but probably not on Dec. 4.
Related: Sabres Should Move Jeff Skinner While They Can
The Maple Leafs scoring leaders are Mitch Marner (38 points, leading the NHL in assists with 32) and John Tavares (17 goals). This doesn't even count Auston Matthews' contribution (three goals and an assist in two games) since returning from his shoulder injury. Matthews has played 13 games and has 13 goals: not even Gretzky kept up that pace. He will likely slow down as well, but again, probably not on Dec. 4.
Tavares is flourishing in his new home. He might score 50 goals this year (last year's 37 were a career best). Marner can drive the entire offense. He has a four-game, multi-point-game streak and is one of the NHL's elite set-up men.
Both teams have exciting young players (even Tavares is only 28), who enter this game playing well. But, honestly, the Maple Leafs' top players are still better than the Sabres' top players – even if it's only because there are three of them to the Sabres two.
Best player advantage – Maple Leafs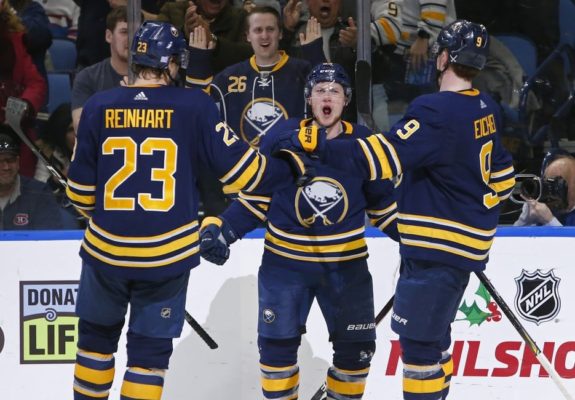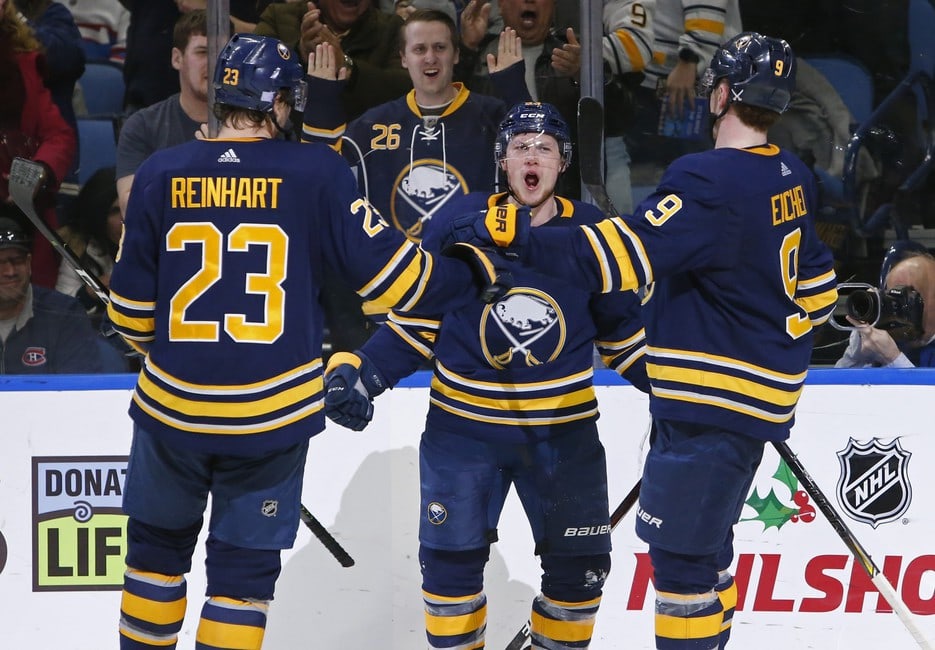 The Rest: Position by Position
Centers
The Sabres' top-two centers are Eichel and Casey Mittelstadt. Eichel I already noted. Mittelstadt is so young and his body of work so small that, unless you watch the Sabres every night, it's tough to get a good read. And, I admit, I don't get many Sabres' games on Vancouver Island.
The Maple Leafs' top centers are John Tavares and Auston Matthews. Although Eichel is great, this call is easy – especially if you remember the Maple Leafs' Nazem Kadri and Par Lindholm. The Maple Leafs centers are stronger.
Advantage: Maple Leafs
Left Wingers
The Sabres' top-two left-wingers are Skinner and Tage Thompson. The Maple Leafs' first two line left-wingers are Zach Hyman and Patrick Marleau. A first-round draft selection in 2016, Thompson has four goals as a Sabre (seven career goals). Like other young Sabres, he doesn't have a large body of work. Earlier this year, he played on the Sabres' fourth line, but recently has jumped to the top six. The jury is out.
Skinner has been playing great and will continue to do so. Hyman is a favorite, but Skinner wins. Veteran Marleau is, right now, better than Thompson.
Advantage: Tie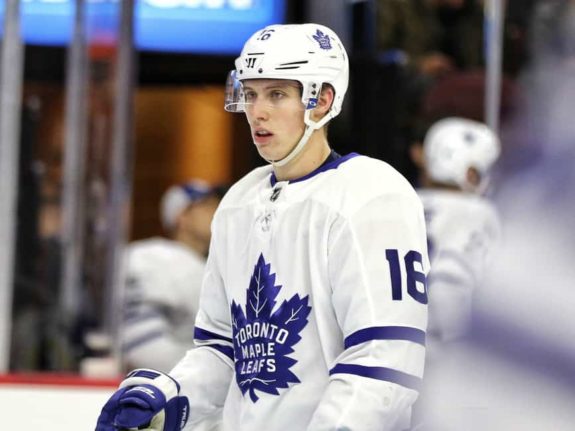 Right Wingers
On the right wing, the Sabres skate Sam Reinhart and Kyle Okposo. The Maple Leafs match with this year's NHL assist leader Marner and Kasperi Kapanen.
How does one not like 25-year-old Reinhart? He finished November at a point-a-game clip, and the top-line partnership of Reinhart, Eichel, and Skinner is strong. As a result, Reinhart will have his career year (his high so far is 50 points). Okposo had a better year last year and perhaps isn't a contract the Sabres prize, but he's a decent player.
Kapanen has 10 goals and 18 points in 27 games. He has done everything expected gliding in William Nylander's skates for a third of the season. He's fast, good, and a Maple Leafs' building block. When Nylander returns, Kapanen seems destined to drop to a line centered by Kadri, which is good news both for Kadri and the Maple Leafs. I have noted what I think of Marner – GREAT.
Advantage: Maple Leafs
Related: Are the Sabres Better Than the Maple Leafs?
Defense
On defense, the Sabres are led by Dahlin, who plays with Rasmus Ristolainen. Their second pairing is Nathan Beaulieu and veteran Zach Bogosian. Dahlin won the top rookie for the month of November. He is the Sabres' success, and he's a favorite to win the Calder Trophy as the league's top rookie. Ristolainen is a 24-year-old big-body, who hits hard, blocks pucks, and even scores the odd goal. That said, he has a minus-eight rating. Beaulieu was decent in Montreal, but hasn't done as well yet in Buffalo. Bogosian is good enough.
On the other hand, Maple Leafs' fans don't like their defense. The Maple Leafs' first line of defense is manned by Morgan Rielly and NHL long-timer Ron Hainsey. Who can critique Rielly – especially his scoring? That said, one Maple Leaf fan suggested Hainsey couldn't beat the Zamboni in a race. Another pointed out Jake Gardiner's mistakes, and others suggest Nikita Zaitsev is a D-line plodder. Who am I to not listen to Maple Leafs' fans?
Advantage: Sabres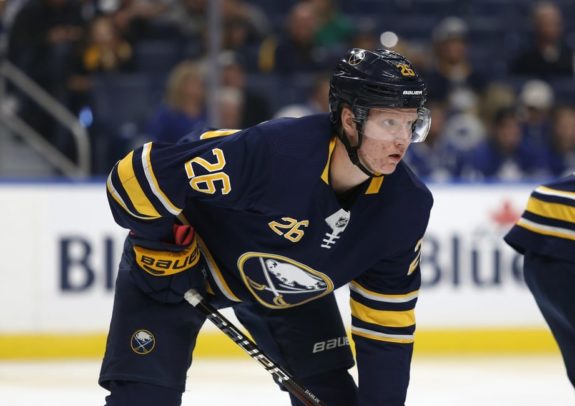 Goalies
Buffalo's starting goalie, Hutton, is backed up by Linus Ullmark. The Maple Leafs' Frederik Andersen is backed up by Garret Sparks.
Hutton is projected to start against the Predators. Does that mean Ullmark will start against the Maple Leafs? Hutton was on a hot streak until the Lightning game. Ullmark hasn't been defeated in regulation, with a 5-0-2 record and a .927 save percentage. Andersen is ready. Who the Sabres play in goal doesn't matter: Andersen is the best goalie on either team.
Advantage: Maple Leafs
Who Will Win?
Despite the higher rankings I have given the Maple Leafs in all but one category, I have gone on record predicting the Sabres would beat the Maple Leafs on Tuesday night. After crunching all the numbers and weighing all the evidence, "hockey's a funny game."