Before the postseason, I wrote an article asking five questions the Edmonton Oilers were facing heading into their first-round series against the Los Angeles Kings. One was whether defenceman Darnell Nurse would continue the elevated play he showed down the stretch when he tallied 12 points in the last 21 games, was a plus-8 and was steady defensively.
It would have been a huge advantage if the Oilers had seen that version of Nurse, but four games into the playoffs, we're seeing those defensive lapses that we've seen in the past start to creep into his game.
Related: 3 Takeaways From Oilers' Game 4 Win Over Kings
In four games, he's made costly mistakes, so much so that former NHLer Scottie Upshall tweeted during Game 4 on Sunday, "Nurse played better last year when he had no hip/groin. Playoff time, you're costing your team in almost every situation. I would argue that they put Demers next game. Nurse should watch the rest of the series from the press box."
If Upshall meant what he said, I disagree. Sitting Nurse would be a mistake because when he's at the top of his game, he is one of the Oilers' best blueliners. However, if they hope to have a long playoff run, they need more from their $9.25 million a year defenceman, and he needs to improve his on-ice decisions, quickly.
Nurse's Defensive Lapses Have Led to Goals Against
Nurse played over 26 minutes in Game 1 and was plus-1, but made a costly defensive blunder in overtime when he failed to intercept the puck on a centring pass to Alex Iafallo in the slot, who scored the game-winner. In Game 2 on April 19, Nurse played his strongest game of the postseason, with over 26 minutes of ice time, an assist on Derek Ryan's opening goal and was plus-2 on the night.
Yet, by Games 3 and 4, his defensive shortcomings started to show. He played over 24 minutes in Game 3, blocking five shots and delivering two hits, but his standout moment was another lapse on the Kings' overtime winner. He failed to cover a man in front and fell awkwardly, leaving Trevor Moore wide open for the game-winner.
Down 2-1 in the series, he struggled the most in Game 4, which prompted Upshall's tweet. Near the ten-minute mark of the opening period, Kevin Fiala, who returned to the lineup for the first time in the series, shot the puck off Stuart Skinner's pads in a set play, and Nurse failed to pick up the man in front, leaving Gabe Vilardi free to tap in the rebound. In his defence, he was trying to clear the puck off the rebound, but he didn't check for potential danger, and the Kings' forward was free to bury the puck.
Moreover, with less than two minutes to go in the opening frame, the puck was dumped in the Oilers' zone, Nurse whiffed on the clearing attempt, and it bounced to Vincent Desharnais, who also missed, which created another attempt by Nurse to clear the puck out of danger, but again he missed. The puck eventually landed on Anze Kopitar's stick, who was in all alone, and he buried it past Skinner. That play was a failed effort by both defencemen and, unfortunately for the bottom-pairing Desharnais, he did not see much ice for the rest of the night.
---
Latest News & Highlights
---
The final costly mistake of the night was in the third period when Nurse went for a poorly timed big hit in the neutral zone, which created an odd-man rush for the Kings and defenceman Matt Roy went in all alone and scored to make it 4-3 Kings.
Nurse Needs to Find His Game Quickly
This is a case of Nurse trying to do too much, and he's at his best when he makes simple plays in the defensive zone. He's blessed with physical tools, but it's his decision-making that has people questioning his $9.25 million salary. He needs to improve his positioning and judgment in the defensive zone to help prevent goals against.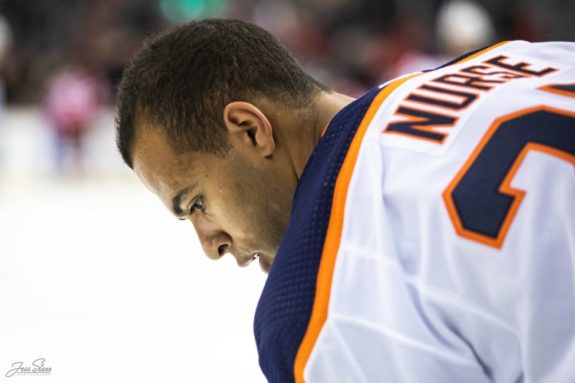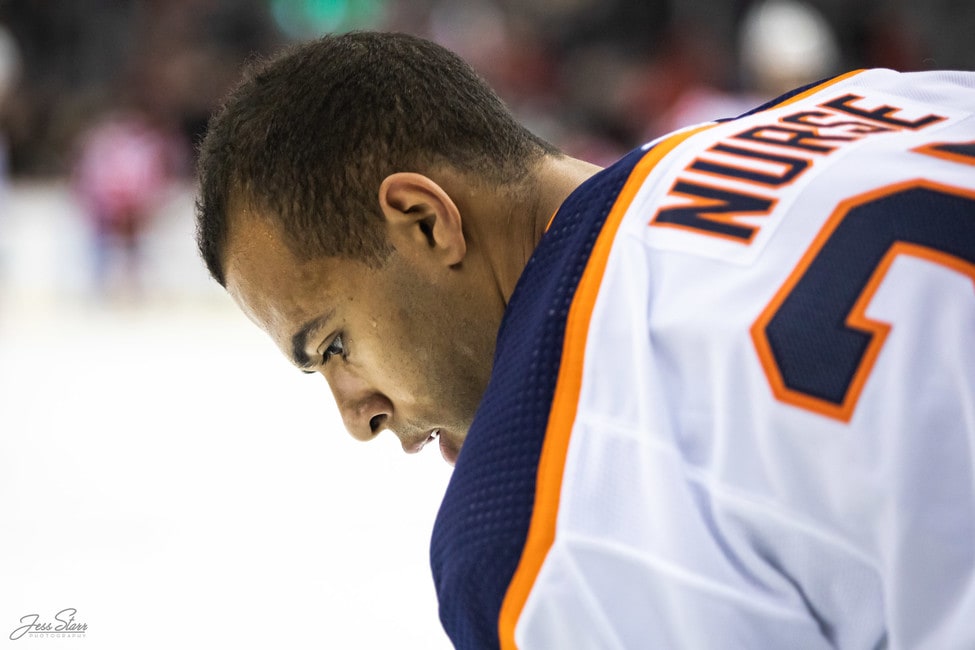 The Oilers rallied for a huge come-from-behind 5-4 overtime win to even the series 2-2, and they had some other players step up, like Jack Campbell, who played in relief of Skinner to start the second period and made his best save of the night (and potentially the season) on Viktor Arvidsson's breakaway, keeping the game 4-3. Also, Evander Kane, who is said to be struggling with an injury, tied the game late, and Zach Hyman, who failed to score in the first three postseason games, buried the game-winning goal with a wrister in overtime.
That said, the postseason is filled with momentum changes, and as we've seen, there can be a different hero on any given night. Nurse has shown he can play better, and mistakes are part of the game, but for the Oilers to have a long playoff run, they'll need him to be more consistent. While many fans may be inclined to side with Upshall's opinion that benching him is the solution, ultimately, it wouldn't be in the team's best interest. But Nurse must deliver a high level of play from here on if the Oilers want win two out of the next three games against the Kings.
What is your assessment of Darnell Nurse's play this postseason? Have your say in the comments below!