Over the past few weeks, we've taken an extensive in-depth look at the Edmonton Oilers prospect pool. While the pool may not be the deepest in the NHL, there's plenty of promise within the pool that makes it one of the more complete groups the franchise has worked with in over 20 years. That's a bold statement, and one that holds quite true when you look at the group this franchise has worked with since the early 2000's.
Related: Oilers Prospect Update: Maksimov & Marody's Torrid Starts
The last time the pool was this well rounded was when Devan Dubnyk, Matt Greene, Ales Hemsky, Shawn Horcoff, Jarret Stoll, and a few others were percolating below the surface and working their way up Edmonton's system. That group eventually led the Oilers to the 2006 Stanley Cup Final. With depth and balance being keys to long-term success and building a contender, is this pool on it's way to getting Edmonton one step closer to a championship?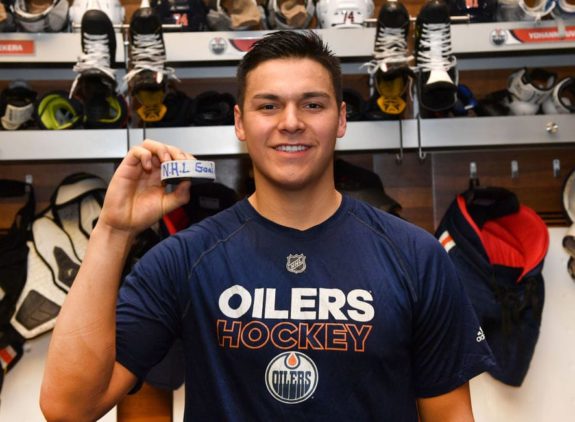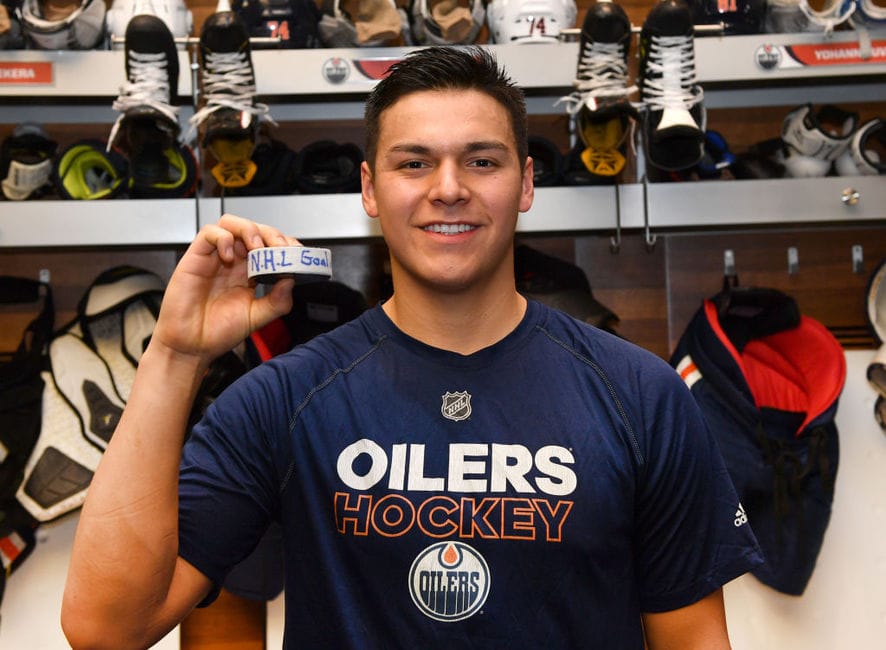 In a sidebar note, if you missed my latest appearance on the Oilers YYC Podcast you can check it out here. Don't forget to like, and subscribe to the podcast which is available on multiple different services. During the podcast we had a heavy discussion on some of the prospects in the pool and whether the Oilers should trade some of these chips to improve the current roster.
Regardless, let's take a look with the latest Oilers Prospects Update which (as usual) comes with updated statistics below as of Oct. 22.
Edmonton Oilers – Top 10 Prospects

Rank
Player
2018-19 Team
GP

GP

G

W

A

GAA

PTS

SV%

1
Evan Bouchard (RD)
Edmonton (NHL)
5
0
0
0
2
Kailer Yamamoto (RW)
Edmonton (NHL)
6
1
0
0
3
Stuart Skinner (G)
Wichita (ECHL)
3
3
2.53
.928
4
Ethan Bear (RD)
Bakersfield (AHL)
2
0
0
0
5
Tyler Benson (LW)
Bakersfield (AHL)
5
1
4
5
6
Cooper Marody (C)
Bakersfield (AHL)
5
2
4
6
7
Ryan McLeod (C)
Mississauga (OHL)
9
1
11
12
8
Caleb Jones (LD)
Bakersfield (AHL)
5
1
1
2
9
Kirill Maksimov (RW)
Niagara (OHL)
12
11
8
19
10
Ostap Safin (RW)
Saint John (QMJHL)
5
1
4
5
Condors Missing Top Defenseman Ethan Bear
Bear yo-yo'ed between the NHL and AHL to start the year and ultimately has just two AHL games under his belt this season. While playing zero games when he was up with the Oilers, he missed the first two games of the Condors schedule. He suited up for two games but has since been out of action with an undisclosed injury. Over the weekend Bakersfield lost a back and forth 5-4 game against the San Diego Gulls.
The 21-year-old was the lone non-healthy scratch for the Condors and hasn't suited up since Oct. 13. When the Ochapowace, Saskatchewan native was playing, he saw time with the second power play unit alongside the likes of Evan Polei, Joe Gambardella, Cameron Hebig, and Josh Currie. With Bear in the lineup, the Condors possess two decent power play teams they can roll out with both himself and Caleb Jones quarterbacking the units.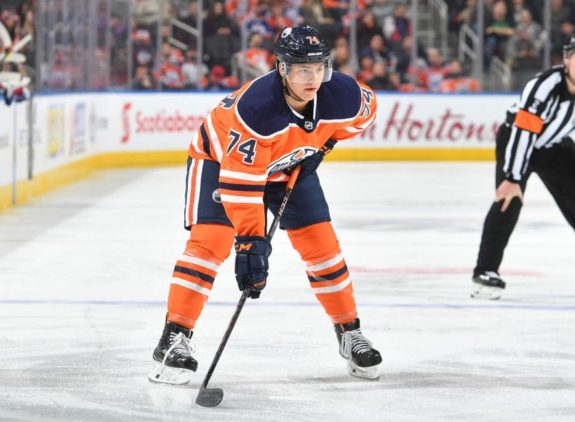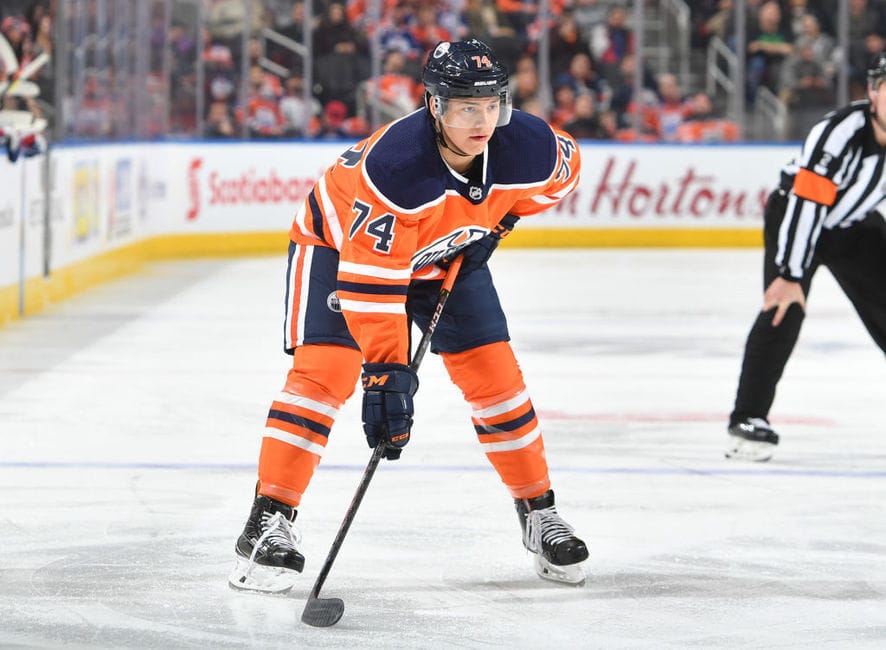 They've since shuffled the deck. All in all, he's produced five shots on goal spread over the two appearances he's had this season. He's by and far the best defenseman the Oilers have in the prospects pool right now, and when he returns, could potentially push for an NHL job with good production. It's no secret the Oilers have a conundrum in regards to their bottom-pairing with Evan Bouchard, Jason Garrison, and Kevin Gravel jockeying for position.
Related: Edmonton Oilers – Top 10 Prospects
If Bouchard ends up being sent back to the OHL's London Knights, it could be an opening for Bear to work his way back up to Edmonton. That's a decision that could come after the next four games. It's probably more likely that Bouchard ends up sticking with the club as it appears he's been earning some more trust and confidence from the coaching staff and seeing second unit power play time. No timetable is known for Bear's return, but he's not the only prospect on the shelf.
Ostap Safin Adjusting to Halifax in QMJHL
One of the commonly voiced concerns last season was the fact that Ostap Safin was essentially on an island by himself with the transition that was going on with the QMJHL's Saint John Sea Dogs. Safin was the lone star on a very young Sea Dogs team after they traded Joe Veleno at the deadline. Safin's on-ice production suffered during the final stretch of the year, and the Sea Dogs weren't within a sniff of a playoff spot finishing 1-9-0 in their final ten games.
Related: 5 Oilers Prospects to Watch in 2018-19
So heading into his final season in junior, a lot of folks were hoping Safin would get traded as a benefit to the player, and hopefully get to a Memorial Cup contender like the Halifax Mooseheads. Well, folks got their wish on Sept. 24 when Safin was dealt to Halifax for a 2021 fourth-round pick. Now, it's time to see some results and if everyone's hypothesis that he'd produce more on a deeper team was right all along.
For those of you wondering, he's now one of two imports for the Mooseheads alongside Marcel Barinka. The 19-year-old Czech Republic native has an impressive range of skills in that he can skate, score, and play a power forward game. It was on display last year where he managed to put up 26 goals and 58 points as a QMJHL rookie. This year he's been slow out the gate since he's been week-to-week nursing a lower-body injury.
Since being traded, he's only got into two games with Halifax and hasn't found a way onto the scoresheet just yet. It's a touch and go situation and Safin apparently isn't even traveling with the team while he recuperates according to Garreth MacDonald, the team's play-by-play broadcaster. No definitive timeline has been set for Safin's return to the Mooseheads lineup.
Stuart Skinner Undefeated to Start Season
With the arrival of Stuart Skinner and Dylan Wells to the pro ranks, Edmonton's goaltending pipeline is as deep as it's ever been. Between those two, Shane Starrett, and Hayden Hawkey, the hope is that one of them can eventually emerge as a true No. 1 goaltender at the NHL level. The closest one to that potential might be Skinner who's fresh off a big year that saw him backstop the Swift Current Broncos to the Memorial Cup tournament.
The Oilers assigned Skinner to the ECHL's Wichita Thunder to start the year, and he's looked good early. The goal was to keep him busy and get him used to the pro game. It's working quite well in their favor as Skinner sports a sparkling 3-0-0 record to go along with a 2.53 goals-against average and a .928 save percentage. Here's the breakdown though.
Wichita has played three of their four games against the Allen Americans and just one against the Idaho Steelheads. Two of those three wins for Skinner came via shootout. In his first appearance, Wichita's opener, he was outstanding stopping 38 of 40 shots en route to a 3-2 shootout win. Dylan Wells cycled into the net before Skinner got back between the pipes for back-to-back games against the Americans.
He had an off-night, looked small in the net, something that's odd for a 6-foot-4 200-pound netminder. The 20-year-old was also beat on a lot of shots by going down too early and having poor lateral movement. His angles were well off and he should've had at least three of those goals back. It was a 6-5 shootout win, followed by a quiet night during a 4-1 win over Allen where Wichita got out to an early lead and never looked back.
Skinner might've faced 27 shots, but not a whole lot of them were from high percentage scoring areas. So it's a bit of good, okay, and rough for Skinner so far, but he's been busy facing 111 shots over those three appearances (an average of 37 shots per night). The Oilers wanted him to get more shots, and he sure is getting tested.
Stay tuned for further updates on the Oilers prospect pool. Let us know in the comment section below if there's any Edmonton prospect that you're intrigued to follow as the 2018-19 season progresses.