Depth on any hockey team means there are a number of suitable players who can take regular shifts, offer productive value and help the team. Until this summer, the Edmonton Oilers haven't effectively filled key positions with depth players, instead letting rookies and underdeveloped prospects take important shifts. For almost a decade, it's been an approach that has hurt the Oilers in the standings and a mistake Oilers General Manager Peter Chiarelli is trying to correct. Depth creates real job competition and provides opportunities for players to earn, instead of being gifted, positions on the roster. Depth is good, but it also means jobs and positions will be lost.  With the recent PTO signing of Kris Versteeg, one player that may be a casualty of this depth is Oilers right-winger Iiro Pakarinen.
Pakarinen's 2015-16 Deployment
Pakarinen had an unlucky start to the 2015-16 regular season. A minor injury forced him to begin that season with the Oilers in the AHL. After four games, he was promoted then stuck with the Oilers the rest of the year. He played 63 games, scored five goals and eight assists for 13 points and was, for the most part, a mainstay on the fourth line averaging just over 10 minutes per game.
In terms of possession, Pakarinen struggled a bit to find chemistry with a variety of forwards. He did, however, manage some productive time with Anton Lander, showing Pakarinen could be a useful forward and provide valuable minutes in a depth role. He also showed that individually, he could be relied upon in certain situations and was viewed as a true professional by Oilers coaches and management. His effort night in and out was never in question.
Pakarinen is Unique at Right Wing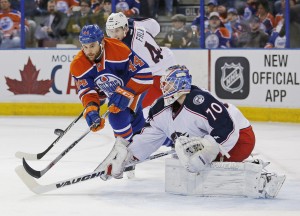 While maybe not unique for a fourth-liner around the NHL, Pakarinen is a bit unique when it comes to right-wingers on the Oilers. While players like Versteeg, Jordan Eberle, Nail Yakupov and a rookie like Jesse Puljujarvi provide more skill over sandpaper, Pakarinen is an energy player meant to wreak a bit more havoc from the bottom-six. Outside of Zack Kassian — who brings a different, more agitator-like kind of havoc to his game — what Pakarinen offers is not a characteristic the Oilers have a lot of at the right wing position.
Pakarinen proved he could not only take the opposition off their game with his physical play but was a defensive help on special teams. He led the Oilers in hits at the position with 152 in 63 games. That placed him third on the team behind only Matt Hendricks and Darnell Nurse. Pakarinen also played more than 73 minutes of short-handed ice time versus the next closest right-winger — being Kassian at just over six minutes. In short, Pakarinen was the only right-winger trusted enough to see any real ice-time a man-down and saw at least ten times more penalty killing time individually than all three other right-wingers combined.
Moving Forward
A balanced team is made up of unique skill sets at all positions. Forwards down the right-side who can only score, but not penalty-kill, block shots or hit won't create a versatile team that can contend or push the play in all situations. In that respect, Pakarinen provides a skill that could save his NHL job.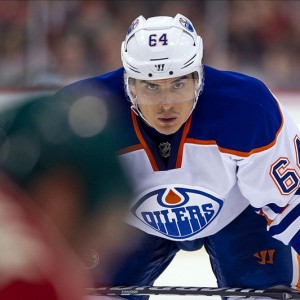 That said, adding a much-needed scoring touch could be what secures his employment with the Oilers long-term. His success will come from his ability to provide intangibles different from his right-wing competition. If Pakarinen can become a fourth-line player that offers Edmonton grit, size, speed and a little offensive production, his position may be secure and instead, a winger the likes of Nail  Yakupov could find himself in an odd-man-out predicament.
Yakupov, perhaps, should already be concerned. He's had a poor showing the last couple seasons and his leash may be only as short as it takes for Pakarinen to prove a level of consistency to his game. While Yakupov's pedigree will likely provide some benefit of the doubt, and any NHL team would be excited to have a 20-goal scorer, Yakupov has had trouble proving he's that player. A Yakupov struggle and a strong start by Pakarinen may be all it takes to win Pakarinen the full-time job.
The Race is On
For the Oilers at right wing, it could be an interesting race between physicality, defense, scoring prowess, and chemistry. Yakupov is meant to be a goal-scorer, but he needs to prove he can do so consistently. Kassian needs to show he's more than just an agitator, bringing a bit of a scoring touch along with some chemistry in a third-line position. Puljujarvi needs to demonstrate he's ready for the NHL and Versteeg needs to show he's a flexible position player who's still got the goods after decent seasons in the NHL. For Pakarinen, he needs to do what he did last year; but do so consistently, with more than one player, all while adding some offense.
If we assume Eberle's job is safe (which it is), the Oilers new depth means there are now five right-side forwards who offer a little something different in their respective games. Those five forwards are playing for three potential openings. Who wins out is yet to be seen, but the depth being added makes it a competition at right wing that benefits the entire organization. Will Pakarinen be the casualty of this newfound depth? Maybe not, but he could be facing the biggest uphill battle of the group.