The 2016-17 OHL Western Conference is shaping up to be an incredible battle of talent with two historic powerhouses leading the way.
Predicting what might happen over the course of an OHL season is far from easy. The OHL is a cyclical league where teams generally rebuild their roster, develop the talent on that roster and then follow with a year or two of dominance before starting again. There are some exceptions where teams will dominate for years, such as the London Knights, but those are rare. With NHL prospects making their respective team's NHL and AHL rosters, trades and injuries, the old cliché of anything can happen really is true. This is what makes predicting the standings so much fun.
With that being said, let's take a look at the OHL's Western Conference and see how this season shapes up through this writer's eyes…
Elite Company for OHL West Crown
1. London Knights – 2015-16: 51-14-2-1, 3rd Western Conference – When you think of OHL contenders, the Knights always seem to come to mind. Even when they lose key players, they find a way to win. This year looks to be no different as they lose 45-goal scorer Aaron Berisha, tough defenceman Jacob Graves and goaltender Brendan Burke to graduation.  On top of that, their dynamic trio of Matthew Tkachuk, Christian Dvorak and Mitch Marner are likely headed to pro hockey. The good news is that they still have power-forward Max Jones, slick over-age forward Owen MacDonald and stud-defender Olli Juolevi returning. They also have Tyler Parsons back in net, some very talented rookies and Dale Hunter behind the bench. The Knights are used to having 45-50 wins per season, regardless of the roster, and there's no reason to believe 2016-17 will be any different.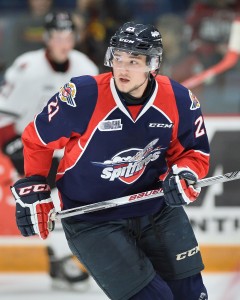 2. Windsor Spitfires – 2015-16: 40-21-6-1, 5th Western Conference – Windsor hosts the 2017 Mastercard Memorial Cup and, after two seasons of rebuilding, the team is looking to get back to the top of the conference. Graduating are forwards Bradley Latour, Mads Eller, Brendan Lemieux and Connor Chatham. However, Windsor replaced them with overage forward Jeremiah Addison, '97-born sniper Julius Nattinen and '97-born grinder Mike Baird. Forwards Logan Brown and Christian Fischer, along with defenceman Mikhail Sergachev, are all at NHL camps early in the season. All three are expected to return, however, which would make Windsor one of the most entertaining offensive teams this season. Should someone stick in the pros, though, make no mistake that GM Warren Rychel and Head Coach Rocky Thompson will ensure their club is among the league's elite after the January trade deadline.
3. Erie Otters – 2015-16: 52-15-1-0, 1st Western Conference – Erie has a lot to prove this season. After the graduation of star Connor McDavid in 2015, Erie was questioned as to whether or not they could compete with the best. Head Coach Kris Knoblauch proved people wrong, earning his third-straight 50-plus-win season. This past off-season, the Otters lost star goaltender Devin Williams to graduation but picked up talented veteran Troy Timpano from Sudbury. Up front, there's a chance Erie could lose two dynamic forwards in Alex Debrincat and Dylan Strome to the pros. Should Debrincat and Strome both return to Erie, the team could certainly give London fits for that top spot. If Erie loses one of them or even both, it's going to be a battle for the club. Knoblauch seems to get the best out of his rosters, though, and that's why Erie is rated so high. You simply can't count them out.
The Battle for Home Ice
4. Sarnia Sting – 2015-16: 42-19-5-2, 2nd Western Conference –Sarnia is another club that's in limbo. In 2015-16, the Sting went for an OHL title, picking up star forwards Matt Mistele and Travis Konecny, as well as goaltender Charlie Graham. When added to stud forward Pavel Zacha and NHL prospect defenceman Jacob Chychrun, it was a dynamic squad that won the Western Division title. They lost Mistele and Graham to graduation, though, and the status of Konecny and Zacha returning to the OHL is up in the air. Both could see playing time with their NHL teams. Should they return, Sarnia is one goaltender away from being a viable contender. However, without them, it's tough to see them winning the division again. They still have offensive forwards Jordan Kyrou and Anthony Salinitri, plus Chychrun on the blue line, but is it enough to get past the higher teams? It's questionable.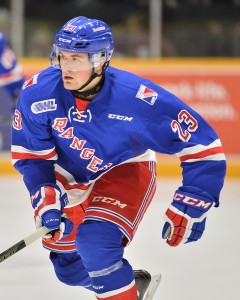 5. Kitchener Rangers – 2015-16: 44-17-5-2, 4th Western Conference –The Rangers are a team that's always competitive. This year will be a test for the organization as they see several veterans graduate and a new staff behind the bench. Graduates include forwards Brandon Robinson and Ryan MacInnis, plus defencemen Miles Liberati and Dmitrii Sergeev, to name a few. However, they have 35-goal scorer Adam Mascherin returning, plus young sniper Greg Meireles and four veteran defencemen who have proven to be reliable on the blue-line. Behind the bench, the Rangers brought in two former NHL veterans in Jay McKee (Head Coach) and Matthew Barnaby (Assistant Coach). They will provide fresh insight and new techniques to this transitioning Rangers club. Kitchener may not be among the elite this season, but competing for home ice may just be enough. The Auditorium is not a fun place in the post-season for visiting teams.
6. SSM Greyhounds – 2015-16: 33-27-7-1, 7th Western Conference – Two years after going to the Western Conference Finals, the Greyhounds find themselves in the middle of the pack. They lost five veterans to graduation, including goaltender Brandon Halverson, but have enough returnees to give them a chance to make some noise. Blake Speers returns after a 74-point campaign, while 45-goal scorer Zach Senyshyn is looking to show Boston they made the right move in the 2016 NHL Draft. The questions for the Hounds are the defence and goaltending, as '97-born Colton White is their veteran on a very young blue-line. In goal, Halverson is heading to the pros, leaving third-year goaltender Joseph Raaymakers in charge. While the Greyhounds will score goals, the jury is out as to whether or not they can prevent them. Raaymakers and his defencemen could be the difference between Sault Ste Marie battling for home ice or simply battling to avoid London or Windsor in the first round.
Four Teams Want Two Spots
7. Owen Sound Attack- 2015-16: 32-25-8-3, 6th Western Conference –The Attack have been a consistent, solid squad since they joined the OHL in 2000-01, missing the playoffs just twice. This season, they lose a lot, but should still have enough to bring fans into the post-season. Graduating are veterans Josh Sterk, Bryson Cianfrone, Jacob Bush, Damir Sharipzyanov and Daniel Dekoning. The Attack will be led by Jaden Lindo up front along with giant winter Matt Schmalz. On the blue-line, it's hard to go wrong with Santino Centorame, Thomas Schemitsch, Tyler MacArthur and Jacob Friend as your top four. In goal, all eyes will be on the '97-born Michael McNiven in what may be his final OHL season. With a generous mixture of rookies and veterans, the Attack could be an underdog team this season and one to watch for come the second-half. They should make the playoffs with ease, but how far they go beyond that is a toss-up.
8. Saginaw Spirit- 2015-16: 24-26-5-3, 8th Western Conference – After nine-straight above-.500 seasons, the Saginaw Spirit have found themselves hoping for a playoff spot during the last two seasons. This season could prove to be much of the same. The Spirit lose some leadership in veterans Connor Brown, Will Petschenig and Cameron Zanussi. While they gained overage defenceman CJ Garcia, it might be a trying year. Veteran forwards Kris Bennett and Matthew Kreis lead the offence, while Garcia, Keaton Middleton and Markus Niemelainen will patrol the blueline. They also have fourth-year goaltender, and New Jersey prospect, Evan Cormier between the pipes. Saginaw could make the post-season, especially with their veteran defence, but it could very well mean a date with London or Windsor in round one.
9. Guelph Storm – 2015-16: 13-49-4-2, 10th Western Conference – After going to the Memorial Cup in 2013-14, the Guelph Storm did a complete rebuild in 2015-16. It was a long year for Storm fans as the team put up a mere 156 goals while allowing 297. As the 2016-17 season gets started, things are looking a bit more optimistic. While the Storm have one over-age player, goaltender Liam Herbst, the team is stocked full of 98, 99 and 2000-born players, including first overall pick in the 2016 OHL Priority Selection, defenceman Ryan Merkley.  This is going to be key this year and next, as the team grows and develops together. Veterans Givani Smith and Garrett McFadden will lead the young team into a battle for the final playoff spot. It will be tough but not impossible.
10. Flint Firebirds- 2015-16: 20-42-4-2, 9th Western Conference – This could be a long year in Flint. After widely publicized off-ice issues in 2015-16, the Firebirds find themselves with a new coaching staff and searching for a new identity. Long-time OHL Head Coach George Burnett takes over as the General Manager of the Firebirds and former OHL players Ryan Oulahen and Eric Wellwood stand behind the bench as Head Coach and Assistant Coach, respectively. On the ice, the Firebirds boast a veteran defence led by Dallas prospect Alex Peters. They have six veteran defencemen, even after star defenseman Vili Sarrijarvi was traded to Mississauga. Those players could prove huge given their goaltending situation is somewhat shaky. Matthew Menna takes the top spot in the crease with just 16 games to his credit. He's challenged for that spot by '97-born free agent signee Garrett Forrest out of the Northern Ontario Junior Hockey League. Up front, '97-born forwards Ryan Moore and Luke Kirwan, as well as '98-born forward Nicholas Caamano, will attempt to do the heavy lifting. It looks like a long year for the Firebirds, but at least they have the management in place to ensure the future is bright.
Predicting what will happen over an OHL season can be an entertaining challenge. This year, it's shaping up to look a bit like 2009 when Windsor and London battled tooth-and-nail through the playoffs. Will that happen again or will an underdog make noise and surprise everyone? That's part of the fun of it all. You just never know in the OHL.