The Edmonton Oilers could return a full roster for next season.
That won't happen, not after the disappointment that was the 2017-18 campaign.
So while there are enough players under contract for 2018-19 to ice an entire team, there will surely be some changes and some new faces in Edmonton's opening-night lineup.
As of now, it's hard to say who Peter Chiarelli will target from outside the organization, but it'll be up to him to put together a more successful puzzle and find those missing pieces.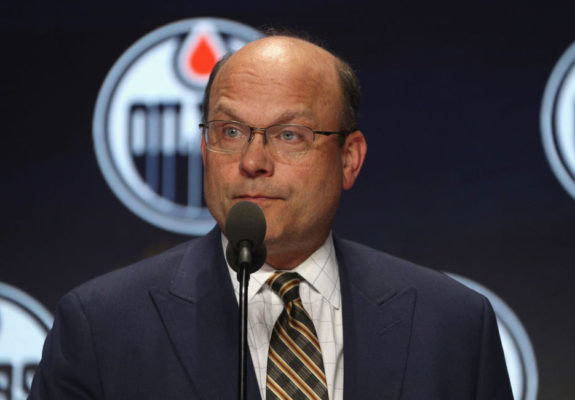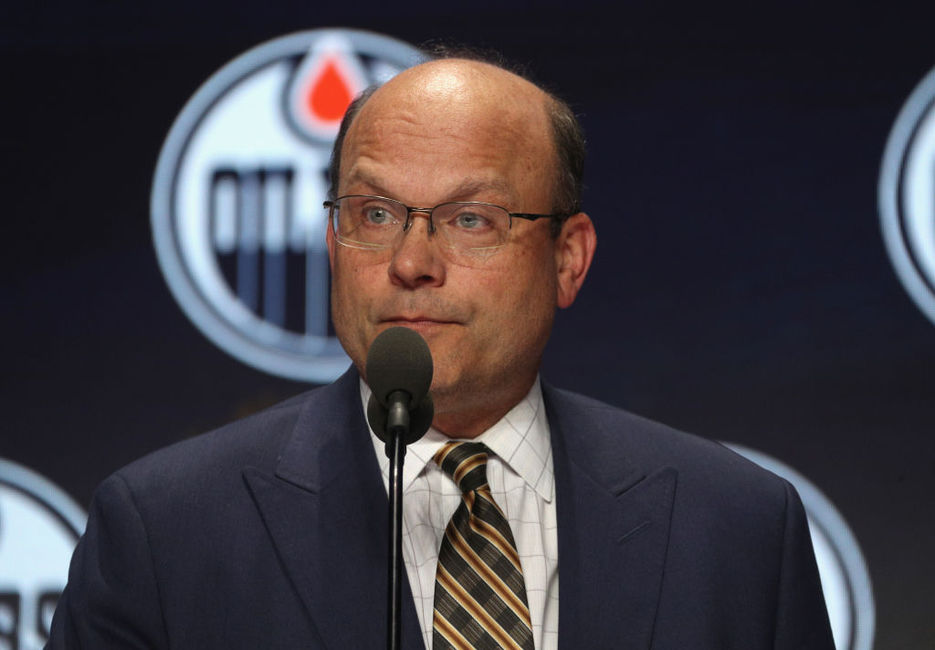 Be it through trades or free-agent signings, the over-under can be set at five for newcomers. That would be counting Kailer Yamamoto if he makes the big club and also Patrick Maroon if he returns to the fold since neither were on the roster that finished this season.
From that year-end roster — and this is a matter of opinion — it would seem a dozen spots are spoken for, if not locked in going forward.
That includes the four centres in Connor McDavid, Leon Draisaitl, Ryan Strome and Jujhar Khaira, the top two left-wingers in Ryan Nugent-Hopkins and Milan Lucic, five defencemen in Oscar Klefbom, Adam Larsson, Darnell Nurse, Andrej Sekera and Kris Russell, plus the starting goaltender in Cam Talbot.
Barring trades or injuries, those 12 are safe bets to be in the lineup for the Oilers' season opener. Beyond that, there are question marks revolving around the 11 remaining spots on the 23-man roster for the curtain-raiser.
Existing Depth Chart
Forwards
RNH
McDavid
?
Lucic
Draisaitl
?
?
Strome
?
?
Khaira
?
?
?
Defencemen
Klefbom
Larsson
Nurse
?
Sekera
Russell
?
Goaltenders
So that's how the depth chart is shaping up with those 12 in position.
Todd McLellan, assuming he's back as the head coach, tends to prefer pairings with his forward lines.
McDavid was flanked by Nugent-Hopkins and Ty Rattie in the later stages and that trio developed impressive chemistry. Chiarelli has since re-signed Rattie for next season and verbally removed Nugent-Hopkins from the trade block, so those three likely get a chance to pick up where they left off. McDavid and Nugent-Hopkins will almost certainly start together as a pairing.
Draisaitl and Lucic have played together frequently — more often than not when McDavid and Draisaitl are separated — and both have big-money contracts, so it makes sense to rely on them as another top-six pairing. That only works if Lucic has a good summer and bounces back.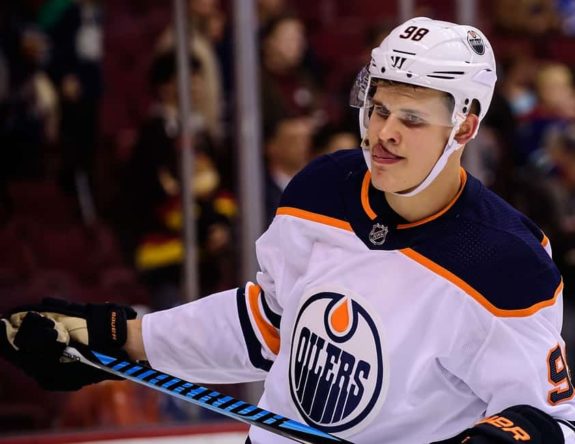 If McLellan sticks to the pairing concept in the bottom-six, look for Jesse Puljujarvi alongside Strome on the third line and Zack Kassian in his familiar fourth-line role next to Khaira — filling two of the righ-wing holes. Puljujarvi could play higher up or work his way up, but he had a decent run with Strome down the stretch, while Kassian is pigeonholed for that spot at this point.
Those two aren't locks, but close to it, and Rattie can also be penciled in for another spin on the top line. That would account for nine of the 14 forwards, looking like this:
RNH
McDavid
Rattie
Lucic
Draisaitl
?
?
Strome
Puljujarvi
?
Khaira
Kassian
?
?
Internal Options
Pontus Aberg is signed cheap for next season, while Drake Caggiula and Anton Slepyshev both need new deals but will presumably be qualified and extended for another year. So those three could flesh out the lineup in place of the question marks, but they didn't prove enough after the trade deadline to solidify their spots.
Therefore, they will be part of an open competition in training camp with upwards of a dozen others, including the aforementioned Yamamoto and the likes of Tyler Benson, Cooper Marody, Colin Larkin, Cameron Hebig, Brad Malone, Patrick Russell, Joseph Gambardella, Mitch Callahan, Ostap Safin and Kirill Maksimov. Iiro Pakarinen, if qualified, and Joey LaLeggia, if re-signed as a pending unrestricted free agent, could also be in that mix again.
As mentioned, there will be external acquisitions between now and September to create further competition, but the status quo could look something like this:
RNH
McDavid
Rattie
Lucic
Draisaitl
Slepyshev/Aberg/Caggiula
Slepyshev/Aberg/Caggiula
Strome
Puljujarvi
Slepyshev/Aberg/Caggiula
Khaira
Kassian
Pakarinen/Malone
We already know that's not a winning lineup, not the makings of a playoff team up front, so there will have to be something of a shakeup. The majority of those prospects won't be ready to step in either or provide enough consistency over 82 games.
Otherwise, they could try something like this:
RNH
McDavid
Rattie
Lucic
Draisaitl
Yamamoto
Benson
Strome
Puljujarvi
Slepyshev/Aberg/Caggiula
Khaira
Kassian
Slepyshev/Aberg/Caggiula
That almost looks better, with Yamamoto and Benson bumping two of Slepyshev, Aberg and Caggiula to the press box as healthy scratches. Still, a few outsiders would appear necessary to ice a playoff-contending forward group.
Back End in Better Shape
There are still quality concerns on defence, but quantity is no longer an issue.
The Oilers have accumulated plenty of depth on the back end, but they would like to add another top-four blueliner to pair with Nurse — preferably a smooth-skating, puck-moving, power-play quarterback with a booming shot. That's not asking for too much, right?
Those types don't grow on trees, but Edmonton needs to pluck one from somewhere. The need for a shooting threat on the power play is imperative in order to improve with the man advantage.
Granted his shoulder was part of the problem, but Klefbom couldn't hit the net nearly enough and accuracy has never been his strength. Nurse isn't the answer there either — at least not yet.
Sekera and Russell wouldn't be on the top unit for any other team in the league and thus shouldn't be cast as such in Edmonton.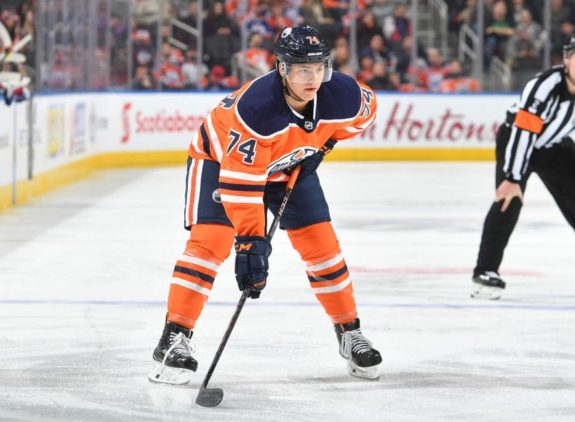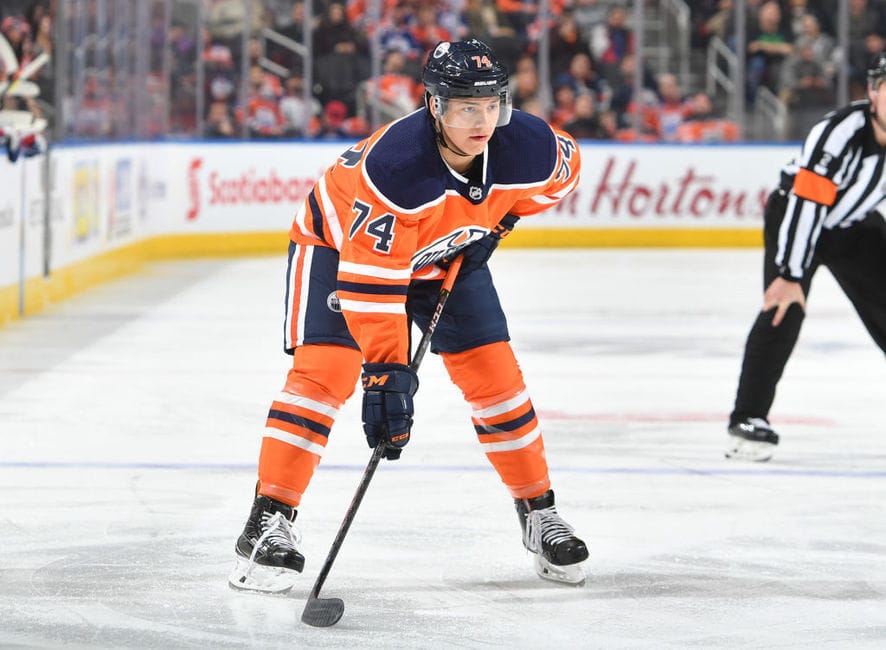 Ethan Bear might be the best fit based on his late-season audition, but that was a small sample size and it wouldn't be wise to rush him into full-time duty if he's getting overwhelmed defensively. Bear is another guy who needs a strong offseason in order to battle Matt Benning for a roster spot.
| Klefbom | Larsson |
| --- | --- |
| Nurse | Bear/Benning |
| Sekera | Russell |
That would be OK if everyone was healthy, but only OK. Not good and definitely not great. Mediocre at best. And more of the same, which seems unlikely.
Caleb Jones and Ryan Mantha could have similar upside to Bear in an offensive role down the road, but they won't be NHL-ready out of camp.
Eric Gryba and Ryan Stanton are still under contract for next season as possible press-box fillers, if needed, while William Lagesson projects as another defence-first type when he returns to North America. Ben Betker is a restricted free agent who may or may not be qualified but is likely going to be a career minor-leaguer.
The sons of former Oilers, Dillon (Craig) Simpson and Keegan (Kevin) Lowe, are both pending unrestricted free agents who, like LaLeggia, could also be retained for Bakersfield.
Upgrading Goaltending?
Talbot needs to rebound next season, which also happens to be a contract year for him.
Al Montoya is signed through 2018-19, projected to be the backup, but there has been talk about the Oilers shopping for another netminder who could better challenge Talbot for a bigger workload.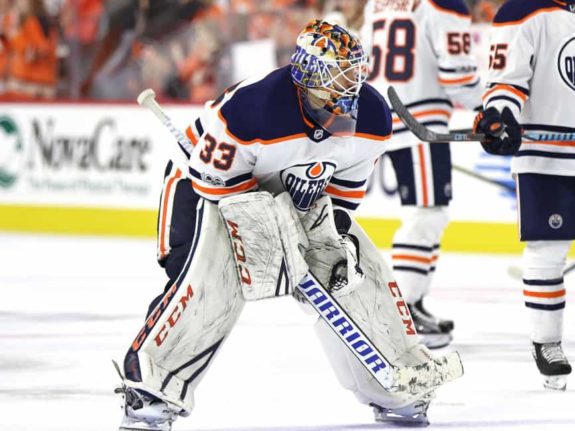 There will be plenty of options to consider pursuing — as there always is — but Chiarelli has made no guarantees to Montoya about his role for the future. Edmonton could be looking to the KHL to beat the free-agency rush, with Mikko Koskinen and Pavel Francouz as under-the-radar (but unproven) possibilities.
Nick Ellis, Shane Starrett, Dylan Wells and Stuart Skinner are all trending reasonably well in the goaltending pipeline but none of them are expected to see NHL time next season.
Final Thoughts
Long story short, Chiarelli has work to do and several veterans need to bust their butts this offseason to ensure they come back better — bigger, faster, stronger . . . specifically faster.
The Oilers could ice a full roster right now and return the same coaching staff, but if they got off to another predictably slow start, all kinds of heads would roll.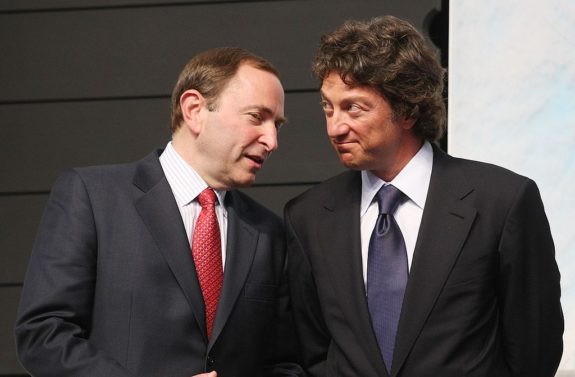 Chiarelli and Bob Nicholson can't risk that, and Daryl Katz won't tolerate more of the same or another lost season without playoffs. The owner wants to make the most of McDavid's best years, so Chiarelli needs to find a way to make that happen.
It should be another interesting offseason of unrest in the former City of Champions but, as of today, here is the roster that Edmonton is working with:
Forwards
RNH
McDavid
Rattie
Lucic
Draisaitl
Slepyshev/Aberg/Caggiula
Slepyshev/Aberg/Caggiula
Strome
Puljujarvi
Slepyshev/Aberg/Caggiula
Khaira
Kassian
Pakarinen/Malone
Defencemen
Klefbom
Larsson
Nurse
Bear/Benning
Sekera
Russell
Benning/Gryba/Stanton
Goaltenders