Four of the first five games in the first-round tilt between the Washington Capitals and Columbus Blue Jackets have gone to overtime. With each game having been decided by the slimmest of margins in bonus time, the wave of late games is beginning to have profound effects on fans in both markets who have been staying up well past their bedtimes.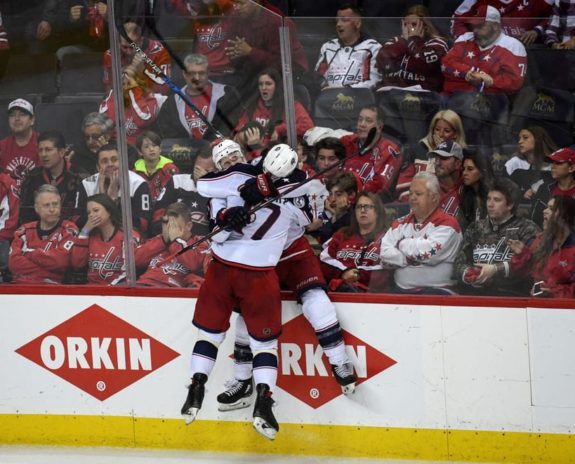 "The morning after the first overtime game, I hit my snooze button a few times," said Caps fan Tristan Frostbrook. "The morning after the second overtime game, I hit it several times. But Wednesday morning, I threw my alarm clock clear across the room. It's still stuck in the sheetrock."
It's been excruciating and draining for the players as well.
"I can't even feel my legs anymore," said a weary Seth Jones, the Jackets' stud defenseman who has played every second of overtime in every game thus far. Jones then tried to get up off the bench but faceplanted into the dasher boards. "I'm good!" he quipped with a thumbs-up gesture to the cameraman.
Double Overtime
Forget about the fact that Tuesday night's double-overtime thriller in Columbus was an exhausting, emotional night for the players in the ice. The Blue Jackets had an opportunity to push the Caps to the brink of elimination and take a commanding three-games-to-none lead in the best-of-seven series. One lucky bounce or timely rebound was all that stood in their way.
But it was Caps forward Lars Eller who drove the net on an odd-man rush, ricocheting a ping-ponged deflection off Zach Werenki's clearing attempt from a Sergei Bobrovsky rebound off a Brett Connolly shot that crossed the line. It was a game of hot potato with a puck.
The Caps didn't care how the puck went in, just that it went in and the game was over. "It was a real ugly OT-winner goal," said Eller. "I had a feeling it was going to be one of those. It doesn't make the win less sweet."
Eller's goal was the 29th playoff overtime game-winning goal in franchise history. It was their fifth double-overtime goal. It was the longest postseason game in Blue Jackets history.
When Eller was asked if his team had something against winning in regulation, he simply replied, "No. I don't know. It's the playoffs. Weird things happen." He then leaned back in his locker stall and fell sound asleep, snoring before the next question could even be asked.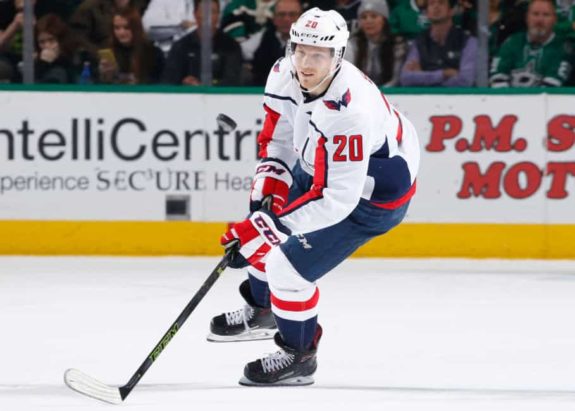 Like death and taxes, the Caps losing early in the playoffs has become predictable. Over the past decade, they've found an uncanny ability to crush the spirit of both themselves and their fans. Before Eller potted the goal, they were headed to new territory…on an unprecedented league-wide scale. Had the Caps lost Game 3, they would have become the first team in NHL postseason history to lose the first three games of a series in overtime.
Game 5 Goes to OT
In a rare insightful move by the NHL to cater to their sleep-deprived fans and players, the start time for Saturday's Game 5 of Capitals-Blue Jackets in Washington was set for 3:00 p.m. ET. "The thought is, when the game hits the fourth overtime, it'll be prime time programming," said an NBC broadcasting scheduler.
Alas, Game 5 ended in just the first frame of overtime. Nicklas Backstrom deflected Dmitry Orlov's shot at 11:53 to send the sellout crowd in Washington into a frenzy. "It's been a long week and a half," said Backstrom, with multiple IVs of Gatorade and Pedialyte going into each of his arms and legs. "It's all good. It's the playoffs."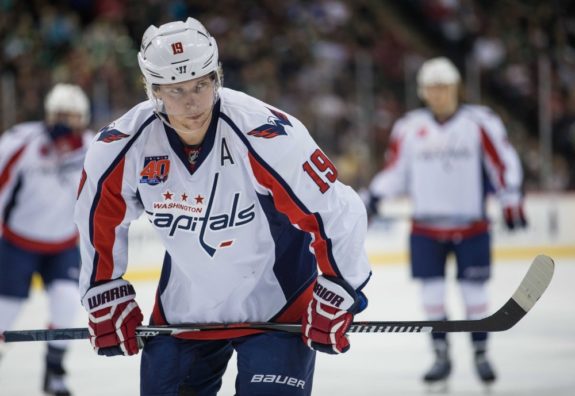 The grind is really taking its toll on minds and bodies. "I think it's maybe 80 percent mental and 90 percent physical," said Jackets forward Cam Atkinson. "You just try to stay focused and… uh… wait, what did you ask? Who are you?"
Weary Fans and Media
The late games on school nights have been rough for teachers and students as well.
"While the Caps are still alive in the playoffs, we're adding a nap period on the following day," said a school teacher from Stoddert Elementary. "Both teachers and students are encouraged to bring their own pillows."
Tom Gulitti, a regional writer for the NHL who covers the Caps, is starting to feel the games wearing on him. Though exciting, he's exhausted working so much overtime.
For those who have covered playoff games that end in regulation, what's that like?

— Tom Gulitti (@TomGulittiNHL) April 18, 2018
A few years ago, the Chicago Blackhawks played in triple overtime Game 2 of the Western Conference Final. It ended after 1:00 a.m. local time and was the longest game in franchise history. In a sign of solidarity with fans that no doubt stumbled into their offices and schools the next morning, the team issued a fill-in-the-blank pardon note for employers and teaching faculty.
Setting the Stage for Game 6
As the teams and the fans in their respective cities prepare for a crucial Game 6 Monday night, some are just praying the games end in regulation. They're already walking around like sleep-deprived zombies.
"I can't take it much longer," said a bleary-eyed Caps fan who runs a local bakery. "I have to be up to make the donuts starting around 3:00 a.m. I was so tired this morning that I fell asleep making them. After dreaming of scoring the winning goal, I awoke with a start to find all of my fresh peanut crullers stuffed into my hair net on the counter."
The John Tortorella guarantee pic.twitter.com/m8fOYuYKAu

— Brady Trettenero (@BradyTrett) April 21, 2018
With the teams so evenly matched, don't be surprised if Game 6 goes to overtime. According to Blue Jackets coach John Tortorella, his team will be back in Washington for a Game 7. He then had just enough energy left to walk away from the podium and slide on a onesie before boarding the team's charter back to Columbus.
The winner of this best-of-15 series will face either the Pittsburgh Penguins or the Philadelphia Flyers. If they can stay awake.
*Relax. It's satire.
---
Enjoy more 'Off the Crossbar' columns.
---