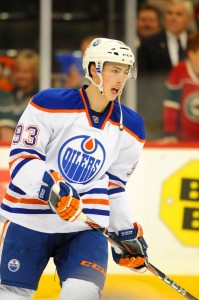 Last season, Oilers forward Taylor Hall had his season cut short because of surgery required to fix a torn labrum in his shoulder. The surgery was successful, and Hall has looked to be no worse for wear, having a strong campaign with 14 goals and 44 points in 40 games. Shoulder issues have always been a concern for Oiler players. Ales Hemsky, Shawn Horcoff, and even Sheldon Souray when he was on the team have all dealt with a similar problem. (Weighed down with trying to carry the team on their backs, perhaps?)
Unfortunately, the disturbing trend in Edmonton continues, as Ryan Nugent-Hopkins will see his season end because of the same shoulder problem that Hall had. He's going to be re-evaluated, but it looks as though surgery is the right course of action. Apparently, Nugent-Hopkins has had this problem for a while, which may explain his poor production (just four goals on the year). In an interview today, RNH revealed that his shoulder hasn't been right, dating all the way back to his second year of Junior.
"Most of the time, I felt it, it was sudden movements and jerks. I didn't feel it too much during the season. It's something that doesn't fix itself. It has to be taken care off. It's something that's been nagging at me for a couple of years." (Yahoo.com)
If he gets the surgery, Nugent-Hopkins would likely be out six months, and may miss the start of next season. Hall and Horcoff can sympathize with their teammates' plight.
"It's a tough surgery and a tough recovery process, but I'm definitely glad I got mine done. I feel a lot better" – Hall. "It gives you a confidence that it's solid again. I think it's going to be good for him." – Horcoff (Oilers Twitter)
The Oilers meanwhile, have won just once in their past eight games, and continue their free fall in the standings. The recent management change will hopefully bring about a culture change in this organization, and Yahoo sports columnist "Puck Daddy" so astutely brought up, one would hope that change starts with how the team handles the injury problems of their young stars.
"This is the second year in a row I've asked this about an Oiler. When Hall's surgery was announced, he explained hat he'd been battling through the shoulder problems for an entire presidential term. How the Oilers can let their franchise player play on a shoulder that was "wearing away", then fail to learn their lesson and do the exact same thing the following year with their other franchise player is beyond me." (Yahoo Sports)
The team had to know that RNH was having shoulder issues. Perhaps their smoke screen playoff push delayed the decision? Problem is, however, was that it seemed pretty evident early on in the season that this team wasn't postseason material, and preserving the health of a franchise cornerstone should be a priority. There must be more we don't know. But we're not the head of an NHL team, and as President of hockey ops Kevin Lowe pointed out earlier this week, he knows what he's doing.