When considering the Philadelphia Flyers' possible draft selections for the upcoming draft, forget Seth Jones for just a minute.  Forget that the Portland Winterhawks defenseman is practically a lock to go first overall and that the Flyers' hopes of landing him are slim, thanks to a recent string of winning streaks.
Instead focus on more reasonable first round draft selections.
With Philadelphia's playoff hopes now completely over, it's time to look ahead to the offseason and how the team might best build towards an immediate competitive future.  It's not too often that the Flyers miss the playoffs – in fact it has happened just twice in the last 19 seasons.  We now wait and see if there will be any kind of major shakeup for both players and staff, something the Philadelphia did plenty of the last time they failed to make the playoffs in 2007.
So how does this team right the ship and get back to being a legitimate contender?
Well there's little doubt that general manager Paul Holmgren will once again open his wallet this offseason and see if he can land a big named free agent to address this team's issues.  There's a good possibility that the Flyers will have their sights set on Keith Yandle, a 26-year-old defenseman the Phoenix Coyotes have recently tried shopping due to his $5.25 million cap hit.  Other more risky options are available for the Flyers but with such a young nucleus, the draft could prove to be very important.
The Flyers are a mess, there's no way of sugarcoating it.  This season the orange and black lacked the ability to score, had a defense suitable for most American Hockey League teams and remember that goaltender controversy Holmgren fixed a couple of years ago – well, it's back.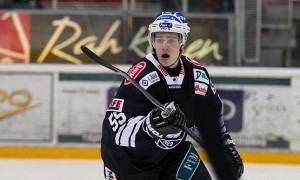 With all these issues, there's likely a long list of candidates on both sides of the puck – and perhaps even in net – that the Flyers are evaluating in the hopes of getting the most bang for their buck with what will likely turn out to be a top seven pick.  There's one major need that Philadelphia has to address at the draft and it comes at the defensive position and while several good players could be available when the Flyers pick – players like Darnell Nurse and Nikita Zadorov – there's one that could be a perfect fit for the orange and black.  His name is Rasmus Ristolainen.
Ristolainen, 18, is a puck-carrying defenseman who currently plays with Turun Palloseura in the Finnish league SM-Liiga and has all the attributes Philadelphia needs from its next blueliner.  At 6-foot-4, 207 pounds, he's already built like an NHL defenseman and his size allows him the ability to throw his weight around, though he's not a big time hitter by any means.  He's certainly not afraid to get physical in front of the net and in time could play with the kind of tenacity the Flyers – especially their blueliners – have been known for in the past.
His size certainly doesn't limit his mobility either.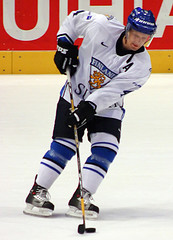 The most appealing attribute of Ristolainen would have to be his ability to carry the puck, as he could very well be the best defenseman in the draft when it comes to puck movement, something that killed Philadelphia this season due to the departure of Matt Carle to Tampa Bay.  And Ristolainen moves the puck with the same kind of confidence.  The disadvantage of his strong puck skills is that the Finnish youngster has a lack of defensive awareness.  Ristolainen still needs a great deal of work when it comes to where he should be positioned on the ice, as well as where his opponent is often positioned.
He'd definitely be a solid addition to the Flyers' powerplay, which is ranked third in the league this year, since he's able to cycle the puck with some effectiveness, despite not having a howitzer of a shot.  The goal would be to groom Ristolainen into a powerplay quarterback and spending a year in the company of Kimmo Timonen – at one time one of the best quarterbacks in the league – could be beneficial, unless the team felt a year in the minor leagues would be more useful for their prospect.
That could be one of the biggest issues the Flyers face if Ristolainen – who is currently expected to be picked somewhere between No. 5 and No. 10 overall – falls into their laps.  It's not 100-percent that he's NHL-ready, something Philadelphia is certainly looking for, but that's not necessarily bad given how young the team's core is.
The new amnesty rule of the collective bargaining agreement should help Philadelphia shed some money – no matter who gets the boot – this offseason and give them room to test the free agent market in July for a defenseman, which is absolutely needed.  Ristolainen wouldn't be the missing piece to the Flyers' puzzle, but certainly an important one in building a legitimate contender and I believe is the best defenseman not named Seth Jones for Philadelphia at this year's draft.
You can follow Ed on Twitter – @PhillyEdMiller.