The Edmonton Oilers are a better team than they were last season. Taking a look at the standings, it's difficult to argue otherwise. Yet, for some reason, the Oilers have always had this tendency to play to the level of their competition. They play poorly against the lower quality teams and better against the higher quality ones. This season, it's becoming increasingly evident, this phenomenon is a real problem.
Oilers So Far This Season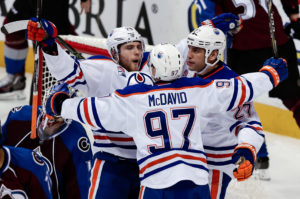 To date, Edmonton has played their best hockey against teams nobody expected them to beat. Versus Washington, Chicago, St. Louis, and Anaheim, there was a level of competition and confidence the Oilers showed which lent itself to the belief, this season, they weren't to be denied. These are some of the strongest teams in the NHL and in many cases, not only did the Oilers beat them, Edmonton severely outplayed them.
However, against the Arizona's, Buffalo's, Dallas' and Toronto's of the NHL, the Oilers have lacked hustle, enthusiasm, heart and an ability to keep up. These are winnable games the Oilers are losing and Edmonton is giving away points in a season where every point counts. They're having disastrous periods of hockey, putting themselves behind the eight-ball early and playing catch-up only to steal a single point in games that two points should be a virtual lock.
Should the Oilers keep up this style of hockey, the season could turn quickly. It can't be expected that the good teams won't finally beat the Oilers. It's inevitable. That's what makes them good teams.
Is It Arrogance?
What is lending itself to this phenomenon in Edmonton? What is it about the weaker teams in the NHL that seems to rattle the Oilers?
Are the Oilers arrogant? With their elite level skill, and the fact that they have a player like Connor McDavid, do they take these weaker teams for granted? The answer is, they shouldn't.
While the Oilers have a much-improved record on the season, there are teams in the Pacific Division nipping at their heels. Calgary is on a run and winning games, Los Angeles and San Jose are always formidable opponents and have games in hand on the Oilers and Edmonton hasn't played nearly well enough over the last decade to warrant any sort of holier-than-though attitudes. It won't take much more than a few games where Edmonton doesn't earn the "Bettman point" to be overtaken and wind up on the outside looking in.
[irp]
Is It Coaching?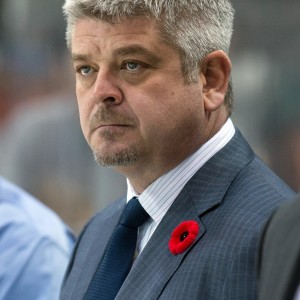 Many look for excuses when trying to figure out something that is more difficult to comprehend. The first thing you do is say the team's not good enough. If that were true, Edmonton wouldn't be beating the more impressive NHL squads. Others will blame the coaching staff and their desire to constantly change lineups at odd times.
There is some reason to wonder about the choices behind certain players getting benched and others not, but again, the Oilers can and have beaten stronger teams with players not producing or inferior lineups on the ice.
The reality is, coaches and matchups aren't reasons for excuses. Coaches don't tell players like Milan Lucic or Jordan Eberle to glide back on defense. Matchups don't dictate the level of effort that should shine through some of the most offensive gifted players in the NHL. Coaching doesn't get you the type of inconsistency shown by a team like Edmonton.
The Forrest Gump Phenomenon
The reality is, there isn't a good way to explain what's happening with Edmonton and the more basement type teams in the NHL. It's a Forrest Gump phenomenon, in that, like a box of chocolates, you never know what you're going to get out of the Oilers.
I don't understand how we're this inconsistent. Lose 5. Win 3. Then lose 3 again. Not going to make the playoffs with this trash

— Hasnain Tariq (@LetsGoOilers93) November 30, 2016
This team is young, in a lot of ways, inexperienced and still learning. Professional hockey is hard. Every team, even the ones with the fewest points are good and can beat any other team on any given night. If it were a case that the Oilers didn't care, Edmonton wouldn't be 14-10-4. They'd be among the bottom of the NHL standings where fans have seen them in the past.
Until the Oilers learn to play every team with the same level of enthusiasm, determination and vigor that they do for the top-tier teams they know they have to work their hardest to beat, this is a trend that may continue. Until the group as a whole can come out with the attitude that they have to set the bar higher to beat every team, they may not beat any team.
Fans can only hope the team figures it out because Edmonton plays multiple games against some of the NHL's lowest ranking teams. Good teams put away the weaker ones. Victories in games against lesser talent, as well as victories over those below them in their own division, will mean the difference between making the playoffs and not.
I don't think anyone would suggest Edmonton doesn't want to make the playoffs. It's simply a matter of how. Not setting the bar too low and winning games against the bottom ten teams in the NHL is a great place to start.
Jim Parsons is a senior THW freelance writer, part-time journalist and audio/video host who lives, eats, sleeps and breathes NHL news and rumors, while also writing features on the Edmonton Oilers. He's been a trusted source for five-plus years at The Hockey Writers, but more than that, he's on a mission to keep readers up to date with the latest NHL rumors and trade talk. Jim is a daily must for readers who want to be "in the know."
Other content contributions include: NHLtradetalk.com, The Sportster and hosting weekly video casts, THW News and Rumors Rundown, plus Oilers Overtime.
For interview requests or to provide content info, follow Jim on Twitter or his social media accounts. They appear under his photo on articles like this one.