It's no secret that the Edmonton Oilers are shopping Nail Yakupov.
He asked for a trade last season and Peter Chiarelli was trying to move him even before that request went public.
There just hasn't been much of a market for Yakupov — until now, that is.
With the regular season right around the corner and teams getting a better understanding of their depth chart, some potential buyers are emerging. Heck, it could even turn into a bidding war for the enigmatic Russian winger who went first overall in 2012 but hasn't hit his stride in the NHL and now needs a change of scenery.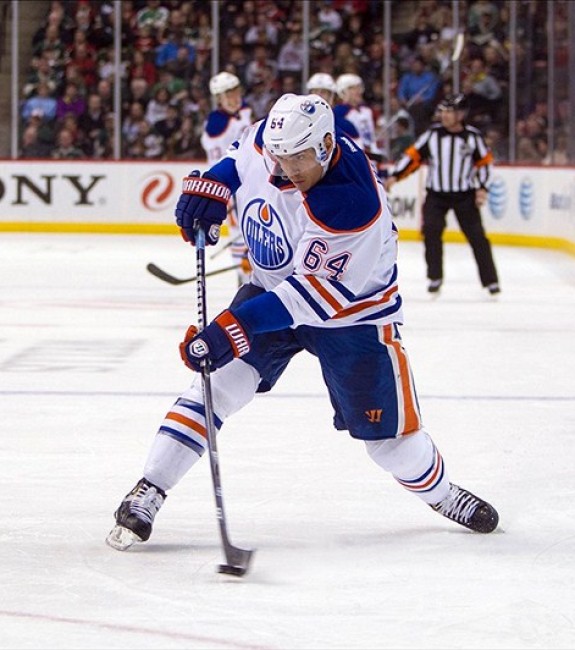 The rumour mill is churning and the Chicago Blackhawks are the team everybody is talking about, but as many as eight clubs could have interest and the ability to offer something of Edmonton's liking.
The Oilers would want a right-shooting defenceman capable of running their power play, with a booming point shot if possible. Edmonton could also use a second-round pick since its selection will be forfeited to Boston as compensation for hiring Chiarelli as general manager last year.
Failing that, the Oilers might consider swapping Yakupov for another right-winger, possibly an exchange of reclamation projects. Or even a left-handed defenceman with a proven track record on the power play, but the last thing Edmonton needs is another lefty.
Taking that into account, here are the eight teams that make the most sense as trading partners for the Oilers and as the best fits for Yakupov going forward.
Carolina Hurricanes
Ryan Murphy fits the bill for the Oilers but — like Yakupov — hasn't lived up to the lofty expectations as a first-rounder. The 12th overall pick from 2011 has yet to establish himself as a reliable NHLer and has been passed over by several others on Carolina's defence.
The Hurricanes already have Justin Faulk quarterbacking their power play, with Noah Hanifin likely to grow into that role as well. Carolina also drafted Jake Bean at 13th overall this year and he'll be another dynamic offensive blueliner in a few seasons.
With Jaccob Slavin and Brett Pesce emerging last season — both leapfrogging Murphy on the depth chart, keeping him in the minors — and with Roland McKeown and Haydn Fleury enjoying strong preseason showings, the writing could be on the wall for Murphy in Carolina. Especially now that he's suffered a training-camp injury (lower-body) and is expected to miss three or four weeks to start the regular season.
This deal could work as a 1-for-1 swap. However, the Hurricanes could also use a veteran defender — Ron Hainsey is their only rearguard born in the '80s — so maybe Mark Fayne becomes part of the package.
The Oilers could then sign Eric Gryba on the cheap since he's been solid as a training-camp tryout. And Kris Versteeg would also likely get a contract as Yakupov's replacement.
Ottawa Senators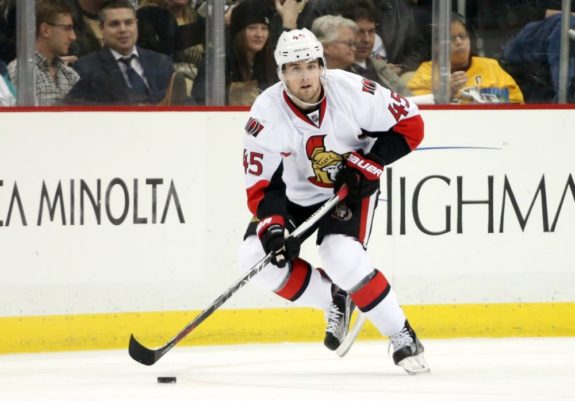 Chris Wideman has been underwhelming in the preseason and probably won't be among Ottawa's top six in the starting lineup.
But he looked pretty impressive for Team USA at the world championship this spring and led all AHL defencemen in scoring two seasons ago — racking up 61 points, including 19 goals, over 75 games in 2014-15.
Wideman followed that up with 13 points, including six goals, in 64 games with the Senators as an NHL rookie last season. He's already 26 years old — turning 27 in January — and has four professional seasons under his belt. Wideman shoots right and has had success on the power play, so he meets that criteria for the Oilers.
The Senators are down a winger with Clarke MacArthur suffering another concussion in training camp, so Yakupov could fill that top-nine void better than the trio of prospects currently auditioning in Matt Puempel, Ryan Dzingel and Phil Varone.
Yakupov for Wideman is fair enough, but again there is potential for a bigger trade here.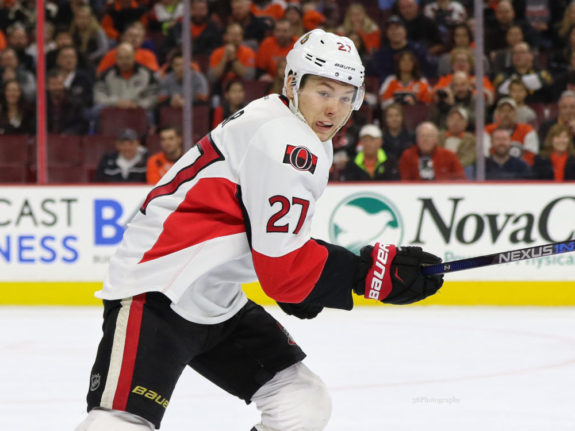 The Oilers covet Curtis Lazar from his junior days in Edmonton and his NHL career has been slow to start in Ottawa — with seasons of 15 and 20 points, twice limited to six goals so far. Lazar is battling mono right now and has yet to suit up for the Senators in the preseason, so it's unclear where he'd slot into the depth chart under new coach Guy Boucher.
The Senators were interested in signing Benoit Pouliot when he was a free agent, but Edmonton offered an extra year and he accepted that contract. Pouliot is from Alfred, Ont., less than an hour drive from Ottawa. The Senators already brought Derrick Brassard home in an offseason trade, so perhaps Pouliot will be next. He would plug that MacArthur hole perfectly.
Edmonton would probably need to retain some salary in this 2-for-2 — Yakupov and Pouliot for Wideman and Lazar — but, unlike Eugene Melnyk, Oilers owner Daryl Katz has been more than willing to take a financial hit if it helps Chiarelli improve the roster. So that shouldn't be a roadblock.
Chicago Blackhawks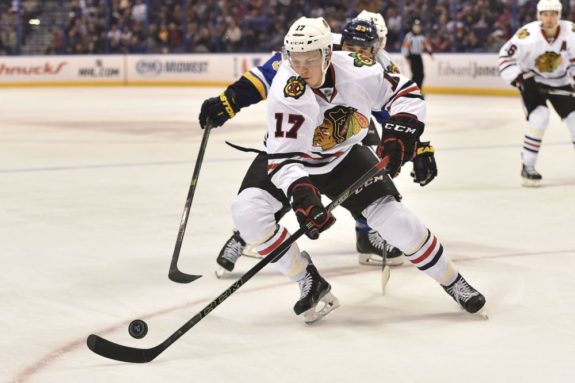 Ville Pokka was a surprisingly early cut from Chicago's training-camp roster, sent down to the minors again despite representing Finland at the recent World Cup of Hockey. He was originally an Islanders prospect — a second-round pick (34th overall) in Yakupov's draft year, 2012 — and came to the Blackhawks as the key piece in return for Nick Leddy.
Pokka doesn't appear to be in Chicago's plans anymore, not with the signing of Michal Kempny, who was solid for the Czech Republic at the World Cup, and with Gustav Forsling stealing the spotlight in training camp as a 20-year-old who seems to be sticking.
Pokka is more of an all-around type and might not have as much offensive ability as Murphy or even Wideman, but he still projects as a future top-four, right-shooting defenceman. Pokka's skill-set is somewhat similar to Oscar Klefbom's, albeit a poor man's version. Pokka did produce 45 points, including 10 goals, in the AHL last season — up from 30 and eight the previous campaign. There is still a lot of upside with him.
Yakupov could take off in Chicago. The Blackhawks have a couple openings on the wings in their top nine and have been trying several different prospects in those spots. Yakupov can play either side but is better as a left-shooting right-winger. Chicago is planning to move Marian Hossa down the depth chart in hopes of balancing its lines, so there is an opening alongside Jonathan Toews.
Joel Quenneville is also experimenting with Artemi Panarin on the left side of Toews — potentially splitting up Panarin and Patrick Kane — so Yakupov could patrol the right side and perhaps even have a Russian linemate. Or Yakupov could play left wing with Kane and another Russian, centre Artem Anisimov. There would be no shortage of options for Yakupov in Chicago.
Yakupov for Pokka could address a need for both teams, but Edmonton might also consider local product Mark McNeill — a good-sized, right-shooting centre and a first-round pick (18th overall) from 2011. The Oilers might have selected McNeill at 19th that year but lucked out by landing Klefbom instead. McNeill hasn't developed nearly as well for Chicago — only playing one NHL game to date — but needs to clear waivers to be sent down again, so he's likely available on the trade block.
McNeill did score 25 goals and 48 points in 64 AHL games last season, so he might be NHL-ready for Edmonton. That said, there are conflicting opinions over whether the Oilers would actually consider McNeill in the present.
https://twitter.com/SportsnetSpec/status/784087807392223232
Yakupov should be worth more than McNeill, but the Oilers apparently couldn't get a second-round pick in return at the draft. Now the market is heating up and maybe the Blackhawks would do McNeill and a second-rounder in 2017 for Yakupov and Bogdan Yakimov, a big centre who bailed on Bakersfield to return to Russia and the KHL this season. The Oilers probably still prefer Pokka as a 1-for-1.
Columbus Blue Jackets
David Savard is the name of interest here. Savard, first and foremost, as a right-shooting, power-play defenceman who could become expendable for Columbus with last season's acquisition of Seth Jones, a healthy Ryan Murray and top prospect Zach Werenski, plus Jack Johnson to round out the top four.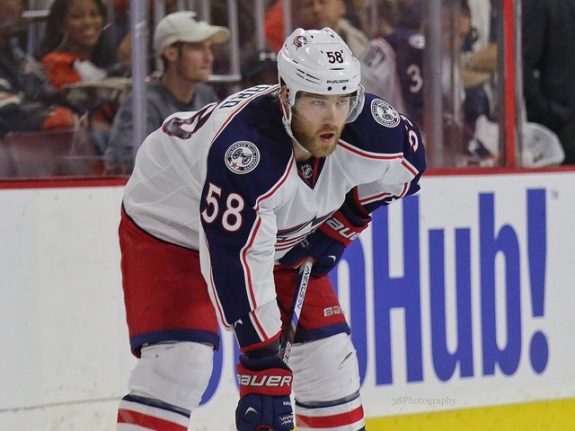 The Blue Jackets aren't hurting for forwards either, but Yakupov's potential and pedigree could still be enticing to Jarmo Kekalainen, who has given several players second chances — including Sam Gagner this season. Many still believe Yakupov has the tools to be a 30-plus goal-scorer in the NHL, it's just the toolbox that needs some refining. He's a hard-worker and driven to succeed, so it's a gamble that could pay off for Kekalainen.
Savard has five years left on his contract with a cap hit of $4.25 million, so that's too much money for Columbus to have invested in a third-pairing guy. But Savard would play second pairing and top power play in Edmonton, which could make him good value at that salary.
Problem is, Yakupov won't fetch Savard alone. Columbus would probably want a defence prospect added from Edmonton and might ask for Jones' younger brother, Caleb, who just signed his entry-level contract this summer before returning to junior. Yakupov and Caleb Jones for Savard is still a deal that Chiarelli would have to consider.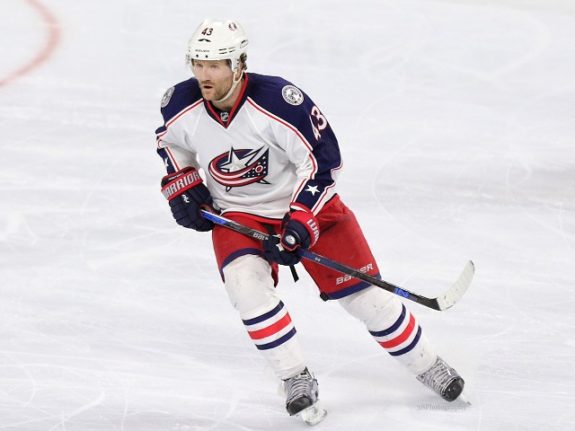 Chiarelli might also kick tires on Scott Hartnell, who was being shopped all summer but has since reactivated his no-move clause. Hartnell has three seasons left on his contract — counting this one — at a cap hit of $4.75 million. Pouliot also has three years left at $4 million. Both are left-wingers, but Hartnell is four years older and has harder miles on his body. Hartnell hails from Alberta, is a little more rugged and has twice scored 30 or more goals whereas Pouliot has yet to net 20. Hartnell has nine 20-plus-goal seasons on his resume, including three in a row leading into this season.
Hartnell must be slowing down, though, because he's perceived to have negative trade value. If that's the case a 2-for-2 of Yakupov and Pouliot for Savard and Hartnell might balance out. The only issue is Hartnell's no-move clause — not that he wouldn't waive it for Edmonton, but would he waive it again for the Las Vegas expansion draft? The Oilers would want that in writing as part of this deal to avoid having to protect Hartnell when that time comes.
Florida Panthers
Alex Petrovic for Yakupov was rumoured around the time the Oilers traded Taylor Hall for Adam Larsson. Petrovic plays a similar shutdown style to Larsson — not at the same level obviously — so that chatter died down out of redundancy. However, it might be worth revisiting if Florida would entertain swapping defence prospects in a 2-for-2 — Linus Hultstrom for David Musil.
The Panthers signed Swedish free agent defenceman Linus Hultström. https://t.co/w0rek0pWFy pic.twitter.com/9yRNaGbS1w

— Sportsnet (@Sportsnet) May 3, 2016
Hultstrom didn't crack the Panthers' roster out of training camp after signing a two-year contract in the spring. He tied for the scoring lead amongst defencemen in Sweden's top league last season with 31 points, including 12 goals, in 52 games. Hultstrom shoots right and turns 24 years old in December. He'd be another prime target for Edmonton.
Petrovic played his junior just down the road in Red Deer and would be well known to Bob Green, the Oilers' director of player personnel and a former WHL GM.
Yakupov for Alex Petrovic…would ya do it?

— Dustin Nielson (@nielsonTSN1260) July 19, 2016
Yakupov could provide the Panthers with a much-needed offensive boost. Florida's top-six spots are spoken for by Jaromir Jagr, Jonathan Huberdeau, Jussi Jokinen and Reilly Smith, but the bottom six is wide open. Yakupov would be an upgrade on Jared McCann, Colton Sceviour and Jonathan Marchessault — arguably a significant upgrade. Jagr's years have got to be numbered now, so Yakupov could become a bigger part of Florida's future as well.
Musil is 23 years old and a left-handed, stay-at-home type. He plays a simple-but-physical game — much like Petrovic — and actually produced two assists in his four-game stint with Edmonton last season. The Oilers are extremely deep on the left side, so Musil will otherwise be back in the minors this season.
It would be worth the phone call from Chiarelli to new Panthers GM Tom Rowe — the worst he can say is "no."
Detroit Red Wings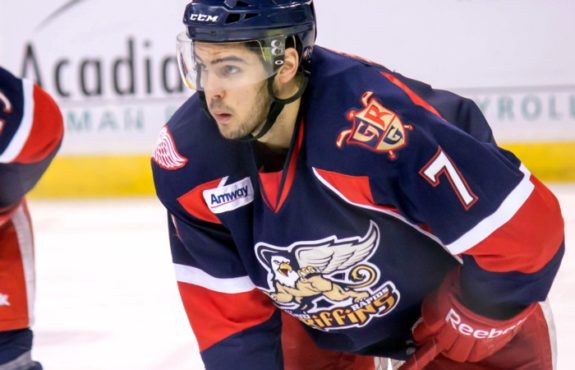 Ryan Sproul is really intriguing, if unproven. He's a right-handed defenceman — a second-round pick (55th overall) from 2011 — who seemed to take his game to another level in the AHL last season. Sproul was producing at a point-per-game clip in the playoffs — with nine points, including two goals, in nine games — after tallying 35 points, with 12 goals, in 75 regular-season games under former Oilers coach Todd Nelson in Grand Rapids.
Sproul could be another Adam Clendening — the Oilers took a chance on him last season — but Sproul is a bigger body, listed at 6-foot-4 and 206 pounds, with a skill-set that can be tough to find. Sproul now needs to clear waivers and will likely be among Detroit's final training-camp cuts if he's not traded in the coming days. So it's possible that Edmonton could claim him for free — and Chiarelli should be all over that — but Ken Holland might pose some trade scenarios in the meantime. Holland is another GM who could see past Yakupov's struggles to date.
Holland has a similar player to offer Edmonton in Tomas Jurco — Detroit's other second-rounder (35th overall) from 2011 — who hasn't found a role with the Red Wings and is presently recovering from back surgery. Jurco will be sidelined until November and probably won't have a roster spot waiting for him when healthy.
The Red Wings sent Jurco to the minors last season and he ripped it up with five goals in as many games, totalling nine points and earning AHL player of the week honours. He's got a ton of skill but hasn't been able to translate that success to the NHL so far.
Detroit, knowing Sproul could be lost for nothing on the waiver wire, might be inclined to make a 2-for-1 trade with Edmonton — Sproul and Jurco for Yakupov. Chiarelli should probably say "yes" if the above deals don't come to fruition.
Dallas Stars
Don't forget Dallas. Don't sleep on the Stars. They have plenty of injuries to forwards and plenty of defence prospects to peddle, albeit mostly lefties.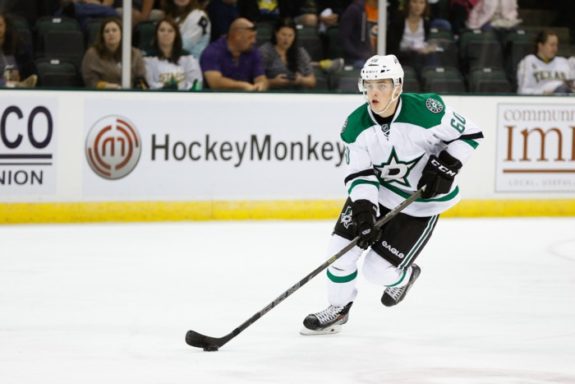 Among the righties, Julius Honka would top Edmonton's list, but he's probably untouchable — especially for Yakupov. Stephen Johns and Niklas Hansson are also right-handed, but they aren't really power-play types, so the Oilers would probably pass on those two.
The lefties include Esa Lindell — a better version of Pokka, but again likely untouchable from Dallas' perspective — plus Jamie Oleksiak, Patrik Nemeth, Esa Lindell, Ludwig Bystrom and Mattias Backman. Oleksiak and Nemeth are NHL-ready, but their skill-sets are fairly similar to Darnell Nurse and Brandon Davidson. Edmonton seems comfortable with that pairing to start the season and it is more about finding Andrej Sekera an upgraded partner on Fayne or Gryba.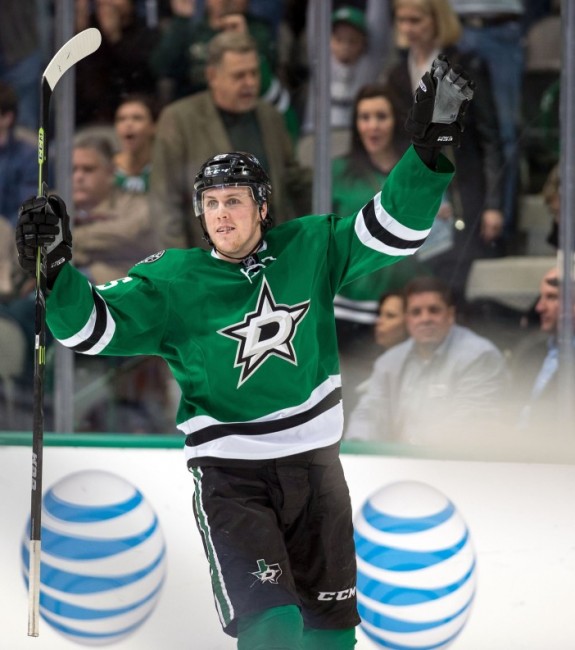 Unless the Stars are desperate enough to discuss Honka — which they won't be — then the Oilers might be better off asking about a forward.
Brett Ritchie is a right-winger who has been held back by injuries but hasn't been a regular for the Stars even when healthy. He's a power-forward project — 6-foot-3, 215 pounds — but with more offensive upside than Zack Kassian in a bottom-six role.
Yakupov for Ritchie is fair value, but the Stars might also be avoiding Russians right now after Valeri Nichushkin bolted for home as a restricted free agent. Nichushkin's absence also decreases the chances of Dallas trading Ritchie. And the Oilers' preference is presumably to trade Yakupov to the Eastern Conference, so there might not be much common ground with the Stars. Still, they can't be ruled out, especially if Honka's name enters the conversation.
Philadelphia Flyers
Last and probably least on Edmonton's negotiation list, the Flyers could offer a left-handed NHL defenceman with an offensive skill-set or the second-round pick in 2017 that the Oilers are seeking.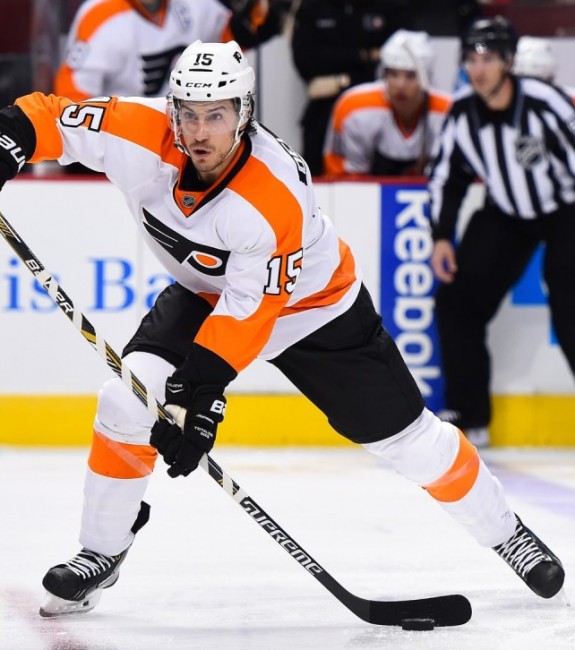 Michael Del Zotto is entering a contract year as a pending unrestricted free agent next summer. He's earning $3.875 million this season and won't likely have a future in Philadelphia, with Shayne Gostisbehere quarterbacking the power play and top prospects like Ivan Provorov and Travis Sanheim on the cusp of playing similar roles. Provorov will probably make the Flyers out of camp rather than returning to the WHL and Sanheim could be called up sooner than later after some AHL seasoning. He might even get a look immediately, now that Del Zotto is expected to miss the first month of the regular season with a lower-body injury sustained during camp.
Del Zotto is left-handed, but he's better than any of Edmonton's current power-play options. So is Mark Streit, another lefty nearing the end of his career — turning 39 in December. Streit was hurt last season and didn't look like the player he used to be at the World Cup, but he put up 51 points, including nine goals, just two seasons ago. Streit is also a UFA after this season, set to make $5.25 million in the final year of his current contract.
Streit is, or at least was, the better power-play quarterback between the two, but Del Zotto is only 26 years old and still in his prime.
Philadelphia is taking a long look at 2015 first-rounder Travis Konecny as a top-six forward — and he's not disappointing in the preseason — but the Flyers might take a patient approach with him, sending Konecny back to junior and trading for Yakupov to fill that hole for the time being.
It's funny how hockey works sometimes. A couple months ago, the Oilers would have been hard-pressed to get a third-round pick for Yakupov, and now a second-rounder doesn't seem like enough. Yakupov is suddenly in demand again and good on Chiarelli for hanging onto him through the summer, but the time is right to cash in that asset. Something is going to go down before next Wednesday's season opener — it's inevitable, if not imminent — and it could very well be one of these trades.