The Edmonton Oilers were planning on going into 2013-14 with a firmly established top six group of forwards.
Taylor Hall, Jordan Eberle, Ryan Nugent-Hopkins, Sam Gagner, Nail Yakupov and the newly acquired David Perron were expected to comprise the group, with Nugent-Hopkins and Gagner as the top two centres.
It would allow another offseason acquistion in Boyd Gordon to establish himself as the third line centre, and provide some healthy competition for the fourth line centre spot.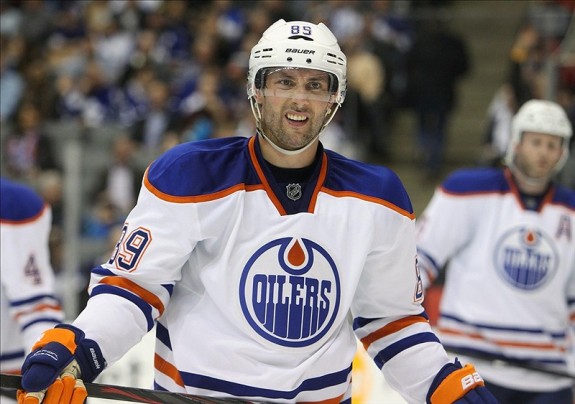 A monkey wrench has been thrown into those well laid plans and now the Oilers are facing the prospect of having neither of their top two centres in the lineup to start the season.
Nugent-Hopkins is expected to be out until early November and Gagner is now out indefinitely with a broken jaw after taking a reckless stick to the face from Vancouver's Zack Kassian. The good news is that they are both expected to be back before long and shouldn't be out for an extended period of time. It does, nonetheless, leave the Oilers with some question marks to open the new campaign.
The Taylor Hall Experiment
One such solution is the idea of trying Taylor Hall in the middle and see what they have there. It's an idea that's been thrown around in the past, and with the recent injuries there's no better time to try it. Especially now when Hall can get his reps in during training camp.
Hall's skill set would suggest he is better suited to the wing, however his elite skating ability should play well at any position. Oiler fans have visions of 1983 and the Oilers moving all-star winger Mark Messier to centre. I think history has shown that move worked out well in the Oilers favour.
Hall is not Messier however, and the league has changed in thirty years. If anyone can adapt though, it's Hall, and he seems open to the challenge. One thing he does bring that neither RNH or Gagner do, and that's some size and strength. Hall is not a monster by any stretch, but at 6'1″, 200lbs, he is big by Oiler standards.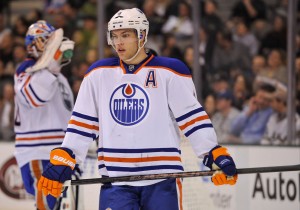 Time will tell if the experiment proves a good one, and there is likely the chance that he will go back to the wing when RNH and Gagner return.
The Star's Jamie Benn was an example of a winger moved to centre a couple of years ago, and adapted to the position quite well. However even he is being returned to his wing spot with the additions of Tyler Seguin, Shawn Horcoff and Rich Peverley this offseason.
It's a worthwhile experiment though, and if there is even a hint that Hall could provide what Messier did, it will be certainly a productive one.
A Balanced Attack
The two injuries may also force the Oilers to go with a more balanced approach. If it were one or two of their top six wingers out of the lineup, there is potential depth to cover that. The team does have Ales Hemsky, Ryan Smyth, Ryan Jones and Linus Omark in their bottom six, all of which have played a top six role at one time or another. However, losing their top two centres is a much more limiting problem.
Even moving Hall to the middle, there isn't another from their top group of forwards that can slide over to the middle. I'm not sure they'd even want to as starting with an inexperienced Hall is one thing, but doing the same with both of their top lines could spell disaster.
More likely is they spread out the offence over three lines. With the expectation that Hall will start at centre, that leaves a group of Boyd Gordon, Mark Arcobello, Anton Lander, Will Acton and possibly Ryan Hamilton to fill the remaining three centre ice slots. None of which scream top six forward.
Originally the latter four names were all battling for one or two fourth line spots, now it appears as many as three or four could make the opening night lineup.
The other option is playing Smyth at centre, as he did occasionally for Ralph Krueger last season. Such a move is possible but unlikely to start the season, as Smyth was not overly effective at the position.
Short Tem Fix
The Oilers were certainly hoping not to be without their top two centres to start the season, however it is out of their control.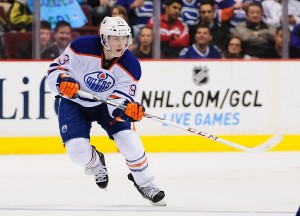 The good news is any tinkering and makeshift lines should only be a short term issue. Nugent-Hopkins is expected to miss the first month at most. While 14 games (in October) is significant, if it gives them a completely healthy RNH it's worth it.
Too often he laboured last year and was hampered by a lingering injury. A healthy, productive first line centre is worth waiting 14 games for rather than rushing him and having him go on the IR again later in the year.
Gagner, being out indefinitely will likely not miss too many games. One would think once the swelling goes down, he'll be fitted with a face shield and should hopefully only miss a handful of games. That is assuming there are no other lingering effects such as concussion issues. There has been no reports to suggest that which is good news. Everyone remembers how Sidney Crosby had his season disrupted by a puck to the face and the accompanying concussion issues. The Oilers are certainly hoping that won't be the case with Gagner.
The Oilers will look to overcome the losses and get off to a good start, as Oiler fans have high expectations and will give the team few breaks this season.
 _____________________________________________________________________________
Follow Carl on twitter @maloney3383 and Google+ for more articles.
The NHL regular season schedule was released on Friday. Check out our partners at TiqIQ for the best deals on Edmonton Oilers tickets for all 2013-14 games.