This is a guest post by Neal Livingston. You can find him at TendtheFarm.com.
2013-14 American Hockey League Season Previews
OKLAHOMA CITY BARONS
Coaching Staff: Todd Nelson, head coach; Gerry Fleming, Rocky Thompson, asst coaches
Affiliates: Edmonton Oilers (NHL) Bakersfield Condors (ECHL)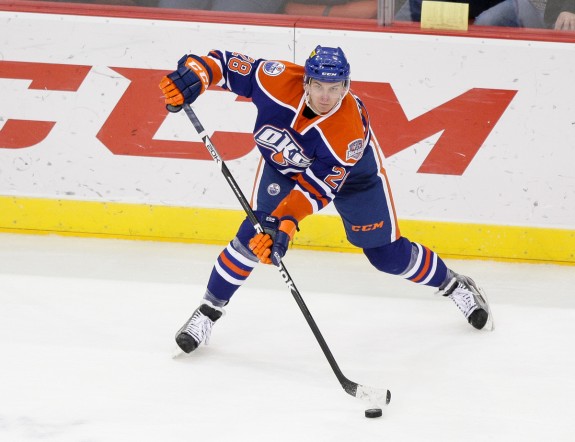 A wise old man once said, "It's not that I'm smart, it's just that I stay with problems longer." That smart man was Al Einstein, an Oilers fan 30 years too soon. If you've followed Edmonton Oilers hockey over the last four years you understand this quote, and the subtle jab it provides. As the team embarks on a voyage in the post-Steve Tambellini world, we are graced with the presence of Craig MacTavish, who himself has stuck with the problem far longer than most. His tour of duty replacing a sullied GM began with a broad statement that was played out over the summer months – "…we have to do some bold things". So far they've not been entirely bold, but they've not been tepid either. He's been assessing NHL needs, saying the right things, moving the right assets, and being open and honest with the masses along the way. Yet there are some bold things happening at the minor league level where the prospect becomes the focus of the organization rather than wins, losses, Calder Cup appearances, and "good" AHL teams.
"It's incumbent on everyone in that locker room to provide the kind of working environment we want … a productive, hard-working, non-complaining culture," MacTavish said in a recent interview at the team website, "I'm going to be diligent in my decision-making in terms of weeding out the complainers. We want guys who want to be here, who want to come to work every day. The competitive environment that is going to be created in training camp is going to have a real residual effect on the rest of our year."
"It's really up to leadership to provide that framework of what the expectation is of our hockey team. I know, as a player, that's the type of environment I wanted to work under. I wanted to play with guys who came in and went to work every day."
Strong words from the new GM, and that same sentiment will be handed down to the Oklahoma City Barons when they begin their fourth training camp in late September. Along with the new push for leadership, hard work, and no complaining, the prospects will become an integral part of the equation of success. Gone are the days of "will they pan out or won't they" instead replace that feeling with "let's make them or else". Prospects currently in the pipe will be asked to step up. Newly drafted prospects, and first year pros will be asked to be ready to fight for spots. That's a good thing for the Oilers, and likely an interesting thing for fans of Barons hockey in OKC.
In the wake of a GM moving forward, key Barons have left the organization for various reasons, but on their own terms. Finnish winger, Teemu Hartikainen, has joined Ufa of the KHL after receiving a a two-way offer, but even more likely additional time in the AHL in his fourth year. He chose better money, and a chance to work on the things Barons/Oilers coaching staffers think he needs to work on. Likewise, Toni Rajala, another Finnish forward with better than AHL skill was placed on unconditional waivers as he's chosen to play in Europe in the coming years. Rajala, too, chose a path outside of the blue and copper for better pro playing time, and maybe a bit more cash. The sad narrative here is that both Finns have NHL qualities that teams desperately seek, and perhaps they'll be back, but for now they'll move out of the organization that drafted them after seeing things quickly favor other types of players.
The Barons have not been without their signings in the offseason both in the AHL-only category, and NHL two-ways.
We start where teams start when they build "from the net out".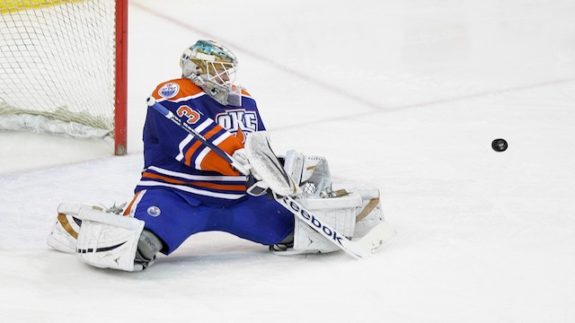 Goal
Young Olivier Roy will play back up to newly signed, and former Dallas Stars prospect, Richard Bachman. Blessed with two great goaltenders in the previous three seasons in Martin Gerber and Yann Danis, the Oilers again want some protection for their prospect in Roy as they sign Bachman as the likely candidate for #1 AHL tender.
Nestled below Roy in the depth chart is Tyler Bunz. The Medicine Hat alum has a vastly different approach to goaltending than Roy, and that's not an entirely bad thing. Bunz is laid back, more loose, less strategic. Look for him to play early season minutes with the newly connected ECHL team, the Bakersfield Condors.
Defense
On defense, youth continues to rule the day. Alex Plante and Colten Teubert, two not-so-sturdy towers of the blue line have parted ways with the Oilers, and instead they'll be replaced by recent draft picks, most who've not played more than one full season.
The group includes the Slovakian string bean, Martin Marincin, who moves the puck very well, and benefited from a half-season paired with Justin Schultz a year ago.
Brandon Davidson, whose remarkable story of overcoming testicular cancer will forever be etched into our minds, will take on a heavy role in OKC as he continues to leapfrog his way up the depth ladder.
Another kid making huge paces in the right direction whom also has battled good health is Taylor Fedun. You'll recall a femur break in the 2011-12 preseason shut him down for an entire calendar year. His time with the Barons in 2012-13 saw the skater we all hoped he would be. NHL scouts noticed his progress as well.
Then there's Oscar Klefbom, the prospect drafted in 2011, is a Swedish dream for Oilers fans. But is he ready to take on NHL minutes? He's the clear front runner to snatch an early career NHL spot, but his game has some rough edges. Stints in Oklahoma City will be forthcoming.
Philip Larsen, acquired from Dallas in a deal that sent Shawn Horcoff to the Stars, is a player most AHL Barons fans are familiar with. He might surprise most, and start the season in the NHL. However, Corey Potter might have a thing or two to say about that if/when he can stay healthy long enough to prove his value.
The depth of defense is good. It's young, feisty, and ready to grab attention from the start of the season. This is a group worth watching.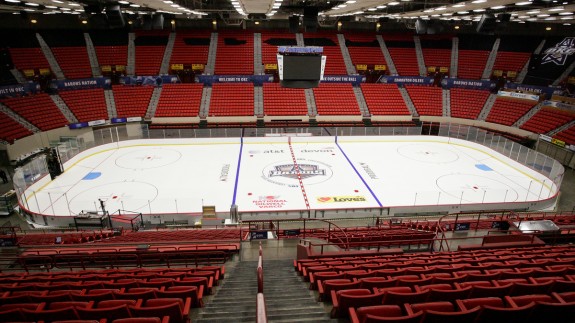 Offense
Offensively it's a season of questions for OKC, and maybe wild expectations for Edmonton. Ryan Martindale, Tyler Pitlick, Curtis Hamilton, and Cameron Abney are all playing in their final entry level contracted seasons. Each forward has had subpar beginnings to their pro careers, and some have been sidelined with brutal injuries. With the bulk of this group healthy (minus Hamilton; who's still recovering from ACL surgery), it's time to put up or shut up, or so they say.
Dallas Eakins was plucked from the Toronto Marlies as the Edmonton Oilers new coach, and with him came Will Acton and Ryan Hamilton, two guys that he is really quite fond of. Both provide somewhat of skilled positions for the Oilers whether it's penalty killing or team leadership, but both are above-AHL type players, but certainly not huge NHL minute guys.
Likewise, Andrew Miller, a recent Yale graduate, has entered the good graces of Oil Country, and who knows, he might pan out to be the next Mark Arcobello. The Barons offensive juggernaut of Arcobello remains at somewhat of a dividing line in his career. While Eakins and MacTavish are fond of his skills, he's struggled to put together the magical pieces that he's discovered at the AHL level.
In a twist of fate, the Barons might retain one of the most gifted prospects they have ever farmed in Linus Omark. Seemingly banished to Switzerland by the previous Oilers GM, Omark is back, and has signed a one-year deal, but of the two-way variety. The majority of main stream writers believe Omark plays in Oklahoma City to start the season, but there are still a few, like myself, who finds Linus' game to be the cure that ails the third line of the Oilers. This is a guy that scored five goals plus another in the shootout against a team coached by Dallas Eakins while he was with Toronto, so don't discount his potential. If he finds minutes in the AHL look for him to be on a top scoring line, and produce in bulk. He's heavily motivated, a few years wiser, and willing to drink the MacTavish kool aid.
Behind the Bench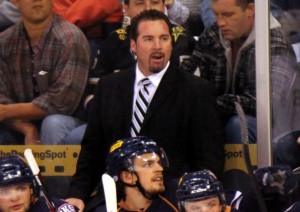 Behind the benches the coaching staff remains the same. Todd Nelson, who has had three consecutive post season appearances, with back-to-back Western Conference Final appearances, was seemingly passed over for the Oilers head coaching position. He made peace with that, but remained consistent in his claim that he was disappointed to not be given the opportunity. So Nelson himself will have to surrender a bit of control over his own squad in OKC simply to appease the organizational focus on prospects. This might mean fewer wins.
And so fans in Oklahoma will make the attempt to be perfectly fine with losing more if it means prospects get a good, hard, long look. Which is tough to swallow when the attendance marker keeps falling towards devastating depths. Three seasons in the books, and attendance numbers have plummeted. A sign of the times in OKC? Yes. Competition with relatively new NBA team in tow? Yes. And if you think casual sports fans want to watch a minor league hockey team lose more than it wins, I've got that ocean front property that everyone raves about.
So the outlook and mantra for the season, at least from a follower of the team, simply becomes hopeful optimism. Which really is two words that should be written as one. But as Albert Einstein reminds us, even if the Barons have their problems, it is our duty to stick with them. Which, believe you me, is easier said than done. Godspeed Barons fans.
For more of Neal Livingston on the Barons check out Tend The Farm:
www.tendthefarm.com
twitter: @TendTheFarm
facebook: Tend The Farm
instagram: TendTheFarm
Ross Bonander is a freelance health writer and book editor. He is the editor of 13 quotation collections– six of them hockey-related, including his most recent, Modern Hockey Quotations. His homepage is RossBonander.com.