Peter Chiarelli clearly wants to put his stamp on the Edmonton Oilers' roster prior to their season opener.
The team's new general manager is off to a good start by adding three defencemen in free-agent signing Andrej Sekera and trade acquisitions Griffen Reinhart and Eric Gryba; plus two goaltenders in Cam Talbot, who was highly sought after, and Anders Nilsson, who is returning to North America with upside; and two depth forwards in Lauri Korpikoski, swapped for Boyd Gordon, and Mark Letestu, another free agent inked to be Gordon's cheaper replacement.
Those were all nice touches, and Chiarelli's next move might be to trim the fat on defence by buying out Nikita Nikitin and/or captain Andrew Ference once Justin Schultz's contract situation is sorted out.
If he stopped there, most would consider this a successful off-season, highlighted by selecting Connor McDavid first overall in the entry draft and hiring Todd McLellan as the new head coach.
(RELATED: Oilers Likely Finished Upgrading Blueline)
(RELATED: 5 Trade Targets to Improve Oilers Defense)
Chiarelli Not Done Yet
Chiarelli has hinted that he's content with the roster as is, but that could be a smokescreen for him to fade from the spotlight. Deep down, Chiarelli might be determined to add one more piece to the puzzle before training camp begins. A significant piece that hasn't graced Edmonton since Chris Pronger left town.
That's right — a big-name blue-liner, a true top-pairing guy to put the Oilers over the top and turn them into legitimate playoff contenders in the ultra-competitive Western Conference.
Those players don't grow on trees, and although Darnell Nurse could develop into one, he's a few years from reaching a dominant level in the National Hockey League. The Oilers can't afford to wait that long, to continue building from within as also-rans and essentially waste McDavid's cheap years before he inevitably signs a mega-deal (assuming he lives up to the hype). With McDavid in the fold, Edmonton has been thrust into win-now mode, but that won't be happening without a proven stud to anchor the back end.
Chiarelli, being the smart Ivy Leaguer that he is, surely realizes this and therefore must remain on a mission to address that need sooner than later.
Work Don't Stop Here
Chiarelli isn't chilling at his summer cottage. Nor is he on a beach with his cellphone left indoors. The only way he'd be on a golf course is if he's playing 18 with a rival GM whose roster features a potentially available rearguard worthy of keeping that company. Chiarelli isn't even hanging at The Druid, his new favourite watering hole, making small-talk with the locals — not unless he's conducting an informal poll of their favourite defenders to target.
All kidding aside, I don't know any of this for a fact, nor do I have insider information on Chiarelli's whereabouts or his intentions. But I envision him hunkered down in his office, still doing everything in his power to land this elusive element of almost every championship team.
After all, this is serious business, and a necessity for the Oilers to take that next step towards becoming a dynasty again. One step at a time, of course.
The Wish List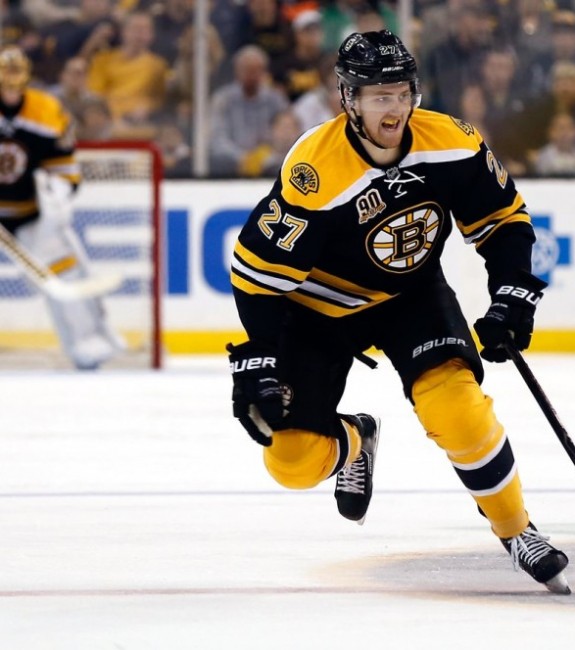 Chiarelli didn't get the top guy on his wish list in Dougie Hamilton, who was instead dealt to the rival Calgary Flames on draft weekend. Chiarelli wanted nothing more than to bring Hamilton with him from Boston to Edmonton, but the Bruins were demanding an arm and a leg, with Don Sweeney insisting Chiarelli include his first-born child too. Well, actually it was that kid named Nurse, and when Chiarelli resisted — and rightfully so — Sweeney swiftly sold Hamilton for pennies on the dollar. Perhaps out of fear that Chiarelli would get his man one way or the other, with rumours of a planned offer sheet that the Bruins couldn't afford to match. Hamilton, having just turned 22 years old and standing 6-foot-5 with a smooth-skating offensive style, would have been the perfect fit to grow with Edmonton's core group.
That whole ordeal had to rattle Chiarelli's chain. He went on the record admitting the Oilers were in dogged pursuit of Hamilton and had made a substantial offer, seemingly a better one than the three-pick package that landed him in Calgary.
Nevertheless, that's old news now. Chiarelli rebounded to make those aforementioned moves, including the signing of Sekera, who becomes Edmonton's No. 1 blue-liner on paper as of today but is a No. 3 or 4 on a Cup-contending team like he was previously with in Los Angeles. Sekera is a welcomed addition, but he's not the kind of impact player the Oilers have been longing for on the back end.
The Short List
Assuming the likes of Drew Doughty, P.K. Subban, Victor Hedman, Erik Karlsson and Oliver Ekman-Larsson are untouchable, who are the biggest difference-makers that might actually be available?
The Oilers, or at least their fan base, have long been obsessed with Nashville's Shea Weber, but he still seems like a pipe dream even with his bloated contract brought on by Philadelphia's offer sheet a few years back. Alex Pietrangelo in St. Louis — at 25 years old and 6-foot-3 — might be the closest thing to a Hamilton clone, but it's far-fetched to suggest the Blues would contemplate parting with him.
Brent Seabrook, Kevin Shattenkirk, Seth Jones, Brent Burns. Those are more realistic possibilities, with Shattenkirk a teammate of Pietrangelo and Jones an understudy of Weber.
Brent Seabrook
Seabrook is gaining the most traction in trade rumours, ever since Bob Stauffer — the most connected media member in Edmonton — floated his name on Twitter earlier this month.
Getting asked a lot about Cody Franson. Useful 2nd pairing right shot D. But, another Sports Corporation client is the one to watch IMO…

— Bob Stauffer (@Bob_Stauffer) July 8, 2015
…Brent Seabrook has been a vital cog to the 'Hawks dynasty. Will need an extension like the Phaneuf deal. Stud D and a leader

— Bob Stauffer (@Bob_Stauffer) July 8, 2015
Seabrook is a three-time Stanley Cup champion with Chicago and the Blackhawks would prefer to keep him as part of their long-term core. But Seabrook is slated to be an unrestricted free agent next summer and warrants a sizeable raise for his contributions toward those titles. Several teams, including the Oilers, would be willing to sign Seabrook to the Dion Phaneuf contract of seven years at $7 million annually. The Hawks have already been forced to trade Brandon Saad and Patrick Sharp due to financial constraints, and Seabrook could be next to price himself out of town if he's seeking that kind of salary and term. Chicago, even with its deep roster and enviable prospect pool, wouldn't risk losing Seabrook for nothing next July. If Stan Bowman can't get an extension in place within the next month or two, Seabrook could be shipped out much like Nick Leddy was prior to this past season.
Strangely, Chicago took back salary in both the Saad and Sharp deals, with the latter coming in the form of defenceman Trevor Daley. That may have spelled an end to Johnny Oduya's days as a Blackhawk, but it also fueled the speculation that Seabrook might actually be available on the trade block.
Seabrook is a poor man's Pronger, an all-around defender capable of contributing at both ends of the ice and logging workhorse minutes. Seabrook also possesses the leadership intangibles that the Oilers would want in their next captain. Being the proven winner that he is, with an Olympic gold from 2010 in addition to his Cup rings, Seabrook has to be topping Chiarelli's list now that Hamilton has been scratched off.
That's only my opinion, and I've been banging the Seabrook drum since mid-May when I suggested trading for him in my off-season to-do list: 5-Step Plan to Restoring Success.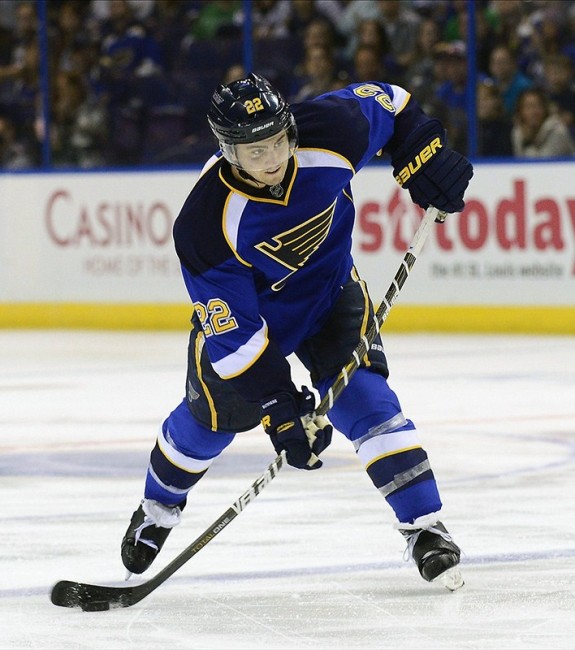 Kevin Shattenkirk
Shattenkirk's name has also surfaced, presumably for financial reasons, with the Blues perhaps shopping him now to maximize their return. He has two years left on his current contract — paying $4.3 million in 2015-16, then $5.2 million for 2016-17 — and if St. Louis doesn't plan on extending Shattenkirk past that point, this might be the best time to move him and avoid a Seabrook situation next summer with the clock ticking down to free agency.
Shattenkirk is a puck-mover first and foremost, more offensive than Seabrook but not a defensive liability by any means. Shattenkirk is basically what the Oilers were hoping to get in Schultz, when they won his free-agent sweepstakes coming out of college in 2012. Shattenkirk, 26, is only a year older than Schultz, who just turned 25 this month, so Edmonton would gladly make that swap and sweeten the pot to seal a deal.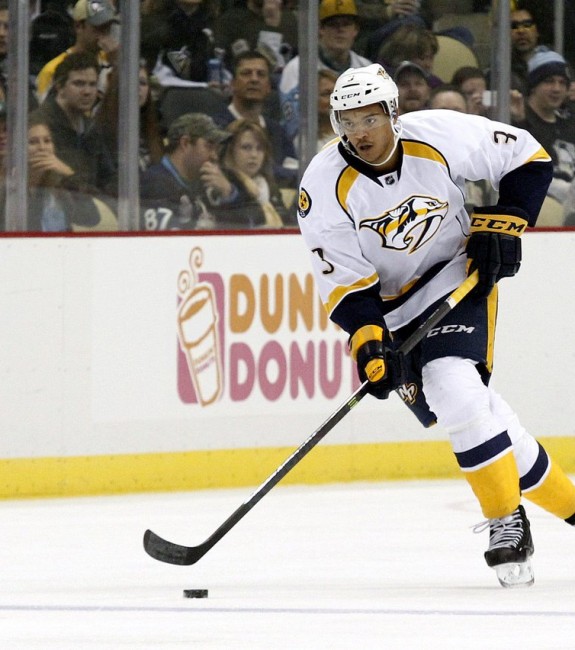 Seth Jones
Jones only turns 21 in October, but he's already oozing potential through two NHL seasons. He could be on the verge of a Hamilton-type breakout in 2015-16. Hamilton went from seven goals and 25 points in 2013-14 to 10 goals and 42 points in 2014-15. Jones, who is 6-foot-4 and skates even better than Hamilton, had eight goals and 27 points in 2014-15. The comparison is a good one.
The vast majority of teams would never consider moving Jones, but the Predators boast arguably the deepest defence corps in the league led by two Norris candidates in Weber and Roman Josi, who are both locked up through at least 2020. Jones could land Nashville a coveted young forward like Leon Draisaitl or Nail Yakupov, and those names would certainly get David Poile's attention if and when Chiarelli called him up to talk trade.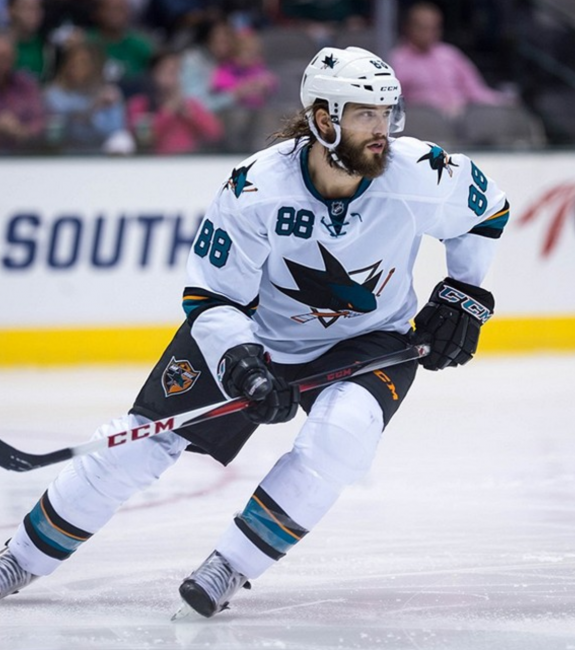 Brent Burns
Burns also fits the bill as a target based on his age (30), size (6-foot-5) and history with McLellan, who has coached him for the past four seasons in San Jose and most recently with Team Canada at the world championship where they won gold this spring, along with Oilers wingers Taylor Hall and Jordan Eberle. Chiarelli is a big Hockey Canada guy too, so that familiarity assures Burns is on Edmonton's radar.
The Sharks might be less willing to part with Burns, especially after signing free-agent defenceman Paul Martin specifically to pair with him. San Jose also traded its first-round pick in the 2016 draft to acquire goaltender Martin Jones, so Doug Wilson won't want to do a futures deal involving Burns. He evidently sees the Sharks getting back into the playoffs this coming season under new coach Peter DeBoer, but if it was Eberle coming back in a package for Burns, Wilson might be tempted to pull the trigger. The sense on the other end is that Edmonton wouldn't be offering up Eberle, but if Wilson was persistent and push came to shove, Chiarelli might cave as well. This one is a long-shot compared to the previous three.
The Long List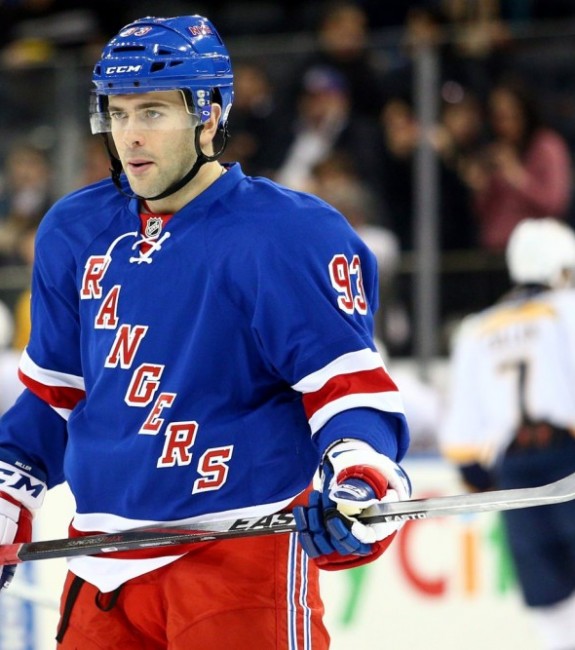 Keith Yandle and Dustin Byfuglien are two more names to throw out there. Both are in the same boat as Seabrook, unrestricted free agents after the 2015-16 season. The Oilers would want to ensure a long-term extension is negotiable before acquiring either of them, but Edmonton has long been linked to Yandle and Byfuglien is another intriguing option.
Yandle is probably too expensive for the Rangers to retain, and while some will argue he's too offensive-minded to be a No. 1 — the same could be said of Shattenkirk and Burns — the Oilers can pair those types with stay-at-home man Mark Fayne or even Sekera, who is mobile but takes care of his own end with great efficiency.
Byfuglien is a beast, an imposing figure with a booming shot. His foot speed might hold him back at times and his conditioning is suspect to say the least, but his physicality would make Edmonton a tougher team to play against. Winnipeg probably doesn't move Byfuglien prior to the season, but if the Jets get off to a slow start, then he'll be one of the bigger names available and the Oilers will be kicking tires if they haven't already filled that void.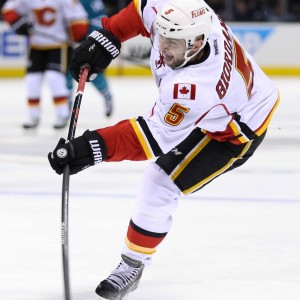 Three less likely pending UFAs would be Colorado's Erik Johnson, Calgary's Mark Giordano and Vancouver's Dan Hamhuis. Johnson would be ideal, perhaps even better than Seabrook, but the Avalanche are already thin on defence and won't be looking to move him. That extension will get done. So will Giordano's, with the Flames making their heart-and-soul leader a top priority. Even if those talks somehow broke down, Brad Treliving would never in a million years entertain the idea of trading Giordano to Edmonton.
Vancouver GM Jim Benning, who is in the midst of a puzzling off-season, hasn't discussed an extension with Hamhuis to date. That suggests he'll be traded, likely at the deadline in March, but don't expect Benning to deal him within the Pacific Division. Granted, he just shipped Kevin Bieksa to the Anaheim Ducks for futures, but Benning's preference would be to send Hamhuis to a Cup contender from the Eastern Conference. Hamhuis does have a no-trade clause and may prefer to stay in the West. That situation could get interesting, but chances are the Oilers make a move before the bidding begins on Hamhuis. If not, then Chiarelli might make an offer considering Hamhuis also played a big role on Canada's gold-medal team this spring. Hamhuis wouldn't be a 'wow' addition, but he probably wouldn't cost more than picks and/or second-tier prospects. It would be a buy-low option, providing Ryan Nugent-Hopkins has gotten over their scrap from last season.
Trading For Potential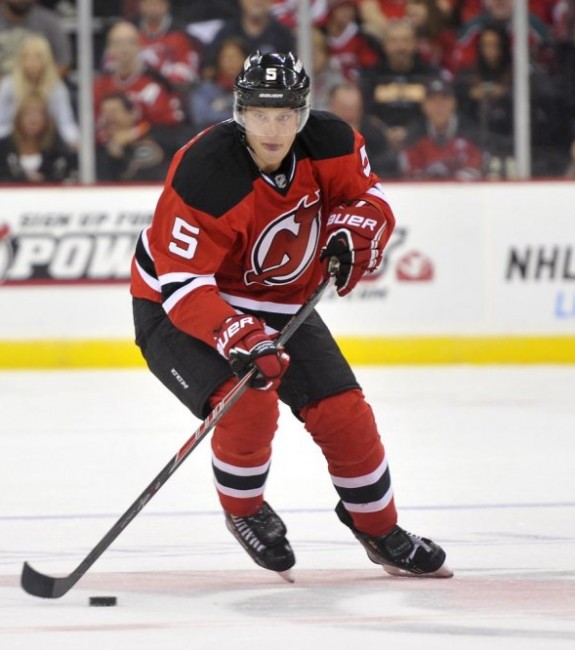 Hamilton and Jones sort of fall under this category, but they are the cream of the crop with no real risk of busting. Their stock is only going to rise — the sky is the limit, really — making them worth the gamble and an overpayment if necessary.
Jones is on another level, but New Jersey's Adam Larsson headlines the next wave of up-and-comers. The Devils are deep in young defencemen and the Oilers strongly considered picking Larsson first overall ahead of Nugent-Hopkins 2011. He'll be 23 in November and after struggling to stick in the NHL his first few seasons, Larsson emerged as a regular in 2014-15, scoring three goals and 24 points in 64 games. He stands 6-foot-3 and skates well, therefore meets the desirable criteria. New Jersey lacks elite skill up front, so a forward like Draisaitl or Yakupov would be enticing to Ray Shero even though his drafting tendencies indicate a preference toward building from the back end. In his Pittsburgh tenure, Shero used three straight first-rounders on defencemen in Joe Morrow (23rd in 2011), Derrick Pouliot (8th in 2012) and Olli Maatta (22nd in 2012). If Larsson is available, and if Edmonton is giving up Draisaitl or Yakupov, the Devils likely need to add a little something.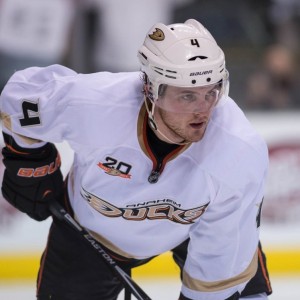 The Ducks are another team rich in young rearguards with Cam Fowler (23), Hampus Lindholm (21) and Sami Vatanen (24). Plus they have Shea Theodore (26th in 2013), Marcus Pettersson (38th in 2014), Brandon Montour (55th in 2014) and now Jacob Larsson (27th in 2015) on the way. Anaheim also acquired Simon Despres (23, 30th in 2009) at this year's trade deadline and he played above expectations throughout the Ducks' playoff run, so Bob Murray may hear out Chiarelli's trade pitch. Fowler played junior with Hall and might make the most sense from that trio, but the only issue with Anaheim's youngsters is that they aren't overly big. Lindholm is the tallest at 6-foot-3, but he's quite lean and plays more like Shattenkirk than Seabrook. Vatanen is a power-play specialist and isn't capable of handling heavy minutes at even strength, so he wouldn't do much to solve Edmonton's woes. All worth mentioning, though.
A third team that could potentially spare a younger defender — or another younger defender in this case — is the New York Islanders. Chiarelli already grabbed Griffen Reinhart from their prospect stable just last month, but it might be worth dialing up Garth Snow's number again. The Islanders have Leddy and Johnny Boychuk locked up long-term and just recently extended Thomas Hickey for two more years, plus they are at least six deep in drafted defenders led by 2013 first-rounder Ryan Pulock. In terms of targets for Edmonton, there's Travis Hamonic, who turns 25 next month and has a skill-set similar to Seabrook, or Calvin de Haan, a 24-year-old who has yet to fully hit his stride in the NHL but projected to be a Pietrangelo type coming out of junior.
Trading for that potential comes with varying degrees of risk, and most these young guys aren't going to be immediate difference-makers for the Oilers. Or at least not game-breakers like those on the short list.
The Last Resorts
Chiarelli's fallback might be a monster of a man that he knows better than anybody else. That being Boston captain Zdeno Chara, but Chiarelli probably won't circle back to the Bruins any time soon. There are hard feelings over Sweeney's handling of the Hamilton trade, so Chiarelli certainly wouldn't pay a premium for the 38-year-old Chara. Think a package of Teddy Purcell, Ben Scrivens and a third-round pick would make for a good conversation starter? It would make for a good laugh for anybody eavesdropping or the flies on the wall, that's for sure.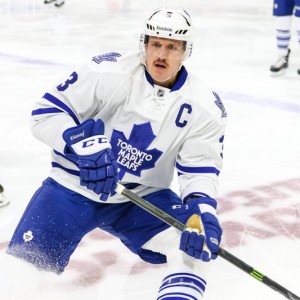 Phaneuf's name has made the rounds ad nauseam in Oilers Nation, with most wanting to steer clear of the Toronto Maple Leafs captain. Both for his burden of a contract and for concerns over his character, believing he'd be more hindrance than help. But at last check, Phaneuf was still being shopped and the Leafs are likely willing to retain a good chunk of his salary — maybe as much as $2 million annually, making him a $5-million player. At that cap hit, and if Toronto is also willing to take back salary in the trade, such as Ference or Nikitin, then it might be worth bringing the 30-year-old Phaneuf home to Edmonton. He should still have some good years left in him, but if there was a deal to be done on that front, you'd think it would have gone down by now.
Or perhaps Chiarelli might have a more surprising name in mind. Florida's Brian Campbell (36), Philadelphia's Mark Streit (37) and Detroit's Nicklas Kronwall (34) are three veterans who haven't come up in the rumour mill, but who have handled No. 1 minutes over the course of their careers. The Oilers would obviously prefer a younger option to complement their core, but beggars can't be choosers when it comes to that calibre of player. If any of that trio were made available tomorrow, Chiarelli would be wise to inquire about their services. Not overpay, but inquire.
Since we're already spitballing, the likes of Marc-Edouard Vlasic in San Jose, Jared Spurgeon in Minnesota, Toby Enstrom in Winnipeg and Karl Alzner in Washington could be seen as less expensive, under-the-radar targets.
Spurgeon is from Edmonton and the youngest of that bunch, turning 26 in November. Ryan Suter is firmly entrenched as the top dog on Minnesota's blue-line — he probably deserved a mention among that initial batch of untouchables — and the Wild have several youngsters nipping at Spurgeon's No. 2 heels, including former first-rounders Mathew Dumba and Jonas Brodin, plus NCAA signings Christian Folin and Mike Reilly, who is quite similar to Spurgeon in terms of playing style.
Alzner is also from Western Canada, played his junior in Calgary, and is turning 27 in September. He seemed to have offensive upside coming out of the WHL but has been cast mostly in a shutdown role throughout his NHL career.
Vlasic is 28 and blossomed into an Olympic-calibre defenceman under McLellan and his assistants who have followed him from San Jose to Edmonton. Vlasic helped capture gold in Sochi last year, so he's been in a winning environment, but he's another defence-first guy that won't strike fear into the opposition.
Enstrom is the oldest among that grouping, turning 31 in November, but he could also be the most available if the Jets are serious about re-signing Byfuglien. The Oilers would prefer a bigger body than Enstrom — Tyler Myers or Jacob Trouba please, but Kevin Cheveldayoff says no — so consider Enstrom another last-resort suitor.
Edmonton could also dip back into the free-agent pool for Cody Franson or Christian Ehrhoff, but that only happens if the Oilers find a taker for some of their current defencemen. Or unless they buy out both Nikitin and Ference, which is possible but improbable. Right now, the Oilers have nine defencemen competing for spots, including seven on one-way contracts. That's counting Reinhart and Nurse, who wouldn't be hurt by starting out in the AHL and working their way up to the big league.
Back on topic, we're scraping the barrel a bit by going to these depths. You could argue that those last six names — Vlasic, Spurgeon, Alzner, Enstrom, Franson and Ehrhoff — are second-pairing guys on a contending team. They are, for the most part, in the same range as Sekera. In other words, not at an elite level.
The Return Package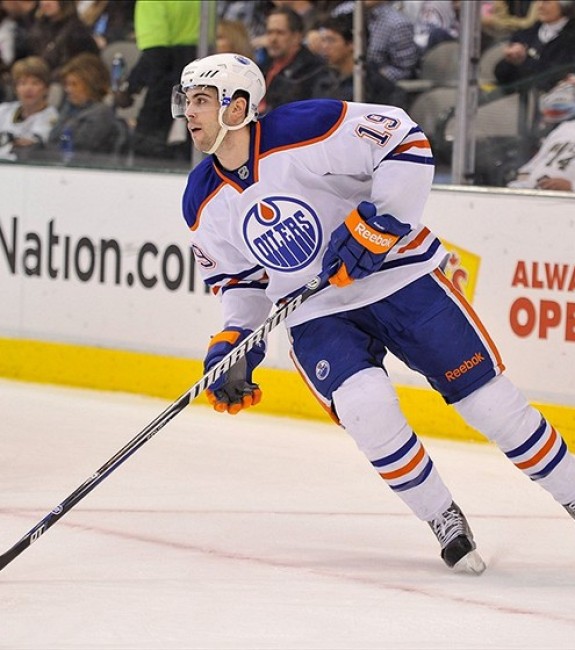 Everybody wants something for nothing, but the reality is, you need to give to receive. Especially when it comes to top defencemen, often perceived as the toughest asset to acquire via trade.
So what do the Oilers have to give? Or, more appropriately, what are they willing to give?
McDavid, Hall and Nugent-Hopkins are non-starters. Add Nurse to that list because if Chiarelli wasn't willing to give him up for Hamilton, then Nurse almost certainly won't be made available for these other guys either. Trading a budding young blue-liner for a more developed version of the same player doesn't push the Oilers that much further ahead in the big picture. To that end, Reinhart is very unlikely to be moved as well, considering Edmonton just brought him into the fold. And Oscar Klefbom, a first-rounder from 2011 who put up 20 points in his first full season with the Oilers, probably isn't being offered up by Chiarelli, at least not in the initial proposal stage.
That leaves Schultz, but his value took a hit under Dallas Eakins' reign as coach and the Oilers would be selling low if Schultz was moved this summer. He wouldn't be seen as a centerpiece in a deal for anybody from the short list. Maybe for a few of the last resorts, or a couple near the bottom of the long list. Schultz did manage 31 points last season and improved after Todd Nelson took over behind the bench, so some teams would be still be interested and perhaps see untapped potential in him.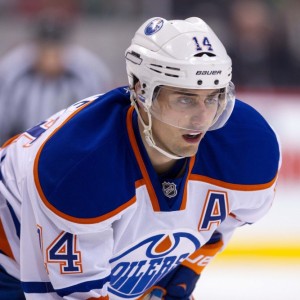 For the short-list guys and a good chunk of the long list, it's going to cost one of Draisaitl, Yakupov or Eberle. And that is probably Edmonton's preferred order, as to who Chiarelli would be most willing to give up. Not that any of them are expendable. Draisaitl is very open to shifting to the wing, which makes him even harder to part with, but his trade value may never be higher. Yakupov is a former No. 1 overall pick who has yet to live up to that billing despite showing glimpses of the dangerous goal-scorer he could become as early as this coming season. Eberle has great chemistry with Nugent-Hopkins and a reputation as a clutch player from his junior days. You don't hear Eberle's name in too many trade rumours coming out of Edmonton — not lately anyway — so that's telling of his worth to the Oilers going forward. But Chiarelli does have a history of trading top young forwards — see Phil Kessel in 2009, Blake Wheeler in 2011 and Tyler Seguin in 2013, the latter reluctantly because of matters out of Chiarelli's control. So none of those three — Draisaitl, Yakupov or Eberle — should consider themselves safe.
Don't be surprised if Chiarelli tries to throw in Ference on every deal. Edmonton might need to retain half of Ference's salary for that to happen, but remember that Chiarelli didn't even offer Ference a contract to stay in Boston when he was a UFA in 2013. Ference was a fan favourite in Beantown from their 2011 Stanley Cup win, but Chiarelli knew he was on his last legs back then already. Chiarelli does have respect for Ference as a man, so moving the 36-year-old out rather than buying him out makes for a more dignified parting and a less awkward transition in terms of captaincy under McLellan. Ference deserves that much, for having been such a good trooper off the ice in the city of Edmonton, which also happens to be his hometown.
When it comes to future draft picks, Edmonton's brass appears very open to, and aggressive in, making moves for the present. Chiarelli traded the 16th and 33rd overall selections in this year's draft for Reinhart, and he probably wouldn't hesitate to include the 2016 and/or 2017 first-rounders for the right upgrade on defence. Thinking this year over next year, it's a refreshing outlook in Oil Country.
Drawing Conclusions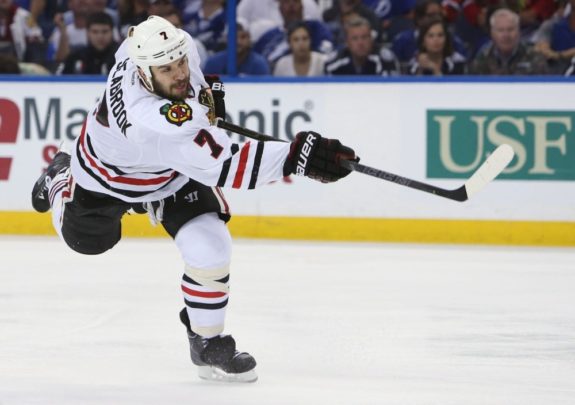 It's no secret that the Oilers would still love to add a bona fide No. 1 blue-liner. Easier said than done, but Chiarelli is doing his best to deliver the bold moves his predecessor, Craig MacTavish, promised to no avail.
Edmonton's roster remains a work in progress and the defence is definitely unfinished business. Chiarelli wants his Chara, in his prime. MacT wants his Pronger, from the 2006 playoffs. They would both settle for a Kevin Lowe circa the mid-'80s, which brings us back to Seabrook, who is a modern-day version of the former Oilers player, captain, coach, general manager and president of hockey ops. Before the Lowe haters balk at that comparison, realize that he was a six-time Stanley Cup champion and seven-time NHL all-star.
The Oilers could very well be zeroing in on Seabrook — be it now, at the trade deadline or next summer in free agency. Backed by owner Daryl Katz's deep pockets, Edmonton could step up with a long-term commitment that locks up Seabrook until he's 37 years old. The sense is the Oilers believe he's worth it, whereas the Blackhawks maybe don't. Stan Bowman and John Quenneville might feel Seabrook has endured hard miles at 30, much like Phaneuf, and will be on the decline in a few years time. But if Seabrook's addition could get the Oilers trending upward in the immediate future and end their decade-long playoff drought, it would be money well spent over the long haul.
Ultimately, time will tell what Chiarelli is working on, but rest assured he's still hard at work today.
Larry Fisher is a sports reporter for The Daily Courier in Kelowna, British Columbia, Canada. Follow him on Twitter: @LarryFisher_KDC.