With the 2014 NHL Draft in the books the Edmonton Oilers went off the board on several picks and even took a few players that were in their second and even third years of draft eligibility.
It wasn't a strong draft and had a lot of long-shots that could be moldable projects which were taken over sure-things in the later rounds. The biggest news of the day was that the Oilers have finally resolved a major franchise issue that has plagued the team since the early to late 90s by drafting Leon Draisaitl.
The Oilers going forward have an intriguing combination at center with the ability to roll out a skilled center in Ryan Nugent-Hopkins and a big strong center in Leon Draisaitl to go up against the tougher competition in the Western Conference.
The Oilers also took two goaltenders and a couple players that have committed to playing in the NCAA next season. A benefit to this is allowing those projects to take a longer development curve and not rush them into the professional ranks where they could be hindered. A great example of this recently was the drafting and development of defenseman Dillon Simpson who emerged as one of the better defenseman in the NCAA and is now ready to turn pro.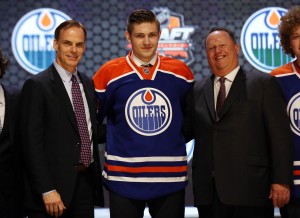 Photo Credit: (Bill Streicher-USA TODAY Sports)
Below is a synopsis on each pick and some future outlooks:
---
C – Leon Draisaitl
Round 1 – 3rd Overall
(WHL – Prince Albert Raiders)
Draisaitl finally gives the Oilers their long awaited second-line center with size and strength. A huge reason Draisaitl's stock went up so high this season was because he was able to produce while playing for a very subpar team in Prince Albert that he and fellow teammate Josh Morrissey (2013 – 13th Winnipeg Jets) willed into the playoffs. He had a 38G 105PTS season for the Raiders.
Long term Draisaitl has been compared to Anze Kopitar for a multitude of reasons. Draisaitl is 6'2, 209 lbs entering the draft and could fill out to 6'3, 229 lbs by the time he's done growing. He's also got great puck-skills and will be an enviable playmaker the Oilers will possess in their lineup. With Ryan Nugent-Hopkins and Draisaitl the Oilers will also have a great complimentary 1-2 punch for the next several seasons.
The center position that has plagued the Oilers for decades is no longer a problem, in fact it's becoming a strength now. Expect Draisaitl to start the year in Edmonton next season.
The Draisaitl effect will cause the next domino to fall with Sam Gagner. The Oilers who have been shopping Sam Gagner for quite some time will have to decide if they want to shift the former 6th overall pick in 2007 to RW or trade him completely. Watch for a Gagner/Nail Yakupov battle in training camp to decide who starts the season as the second-line RW.
Leon Draisaitl (@Drat_29) became highest drafted German, picked 3rd by @EdmontonOilers after Ekblad and Reinhart. http://t.co/3kbPBjIXti

— IIHF (@IIHFHockey) June 28, 2014
---
D – William Lagesson
Round 4 – 91st Overall
(Sweden Jrs. – Frolunda)
Photo credit: Bildbyrån
After taking the big German center in the 1st round, the Oilers didn't have a pick for the next two rounds until they finally got to use the 91st pick on Lagesson.
The Oilers traded their 2nd round pick (33rd overall) to St. Louis which they used on Ivan Barbashev. This completed the David Perron trade for Magnus Paajarvi and now Barbashev. The Oilers traded their 3rd round pick which bounced around between Los Angeles and Columbus before making it's way to Detroit which they then used on former NHLer Pierre Turgeon's son Dominic.
Thus the Oilers really had to make their 4th round pick count since it was essentially their second pick in the draft. In Lagesson the Oilers get a defenseman who rose from his midterm ISS ranking of 40th to a final ranking of 18th among European skaters. Lagesson is a bit of a project that could eventually pan out as a second-pairing two-way defenseman with a great shot who isn't afraid to mix it up physically. He's a
"He makes a good first pass and has some hockey sense but I can't emphasize how much he wants to battle and compete. One-on-one he's a warrior. It doesn't hurt that he's coming over here to get used to the ice surface. He's probably going to college after Dubuque." – Edmonton Oilers head scout Stu MacGregor
Lagesson will need to work on his skating if he hopes to translate to an NHL blueline. He has some intriguing offensive capabilities and could eventually help out a PP. He was 3rd in SuperElite J20 scoring this season and can move the puck with composure out of high pressure areas.
It's worth noting that just a few picks later at 94th St. Louis took arguably one the best goaltenders out of Europe in Ville Husso who was also available to the Oilers.
With a 6'3 209lb frame, Lagesson could very well become a bruising defenseman for the Oilers blueline core. Again a bit of a project but he could eventually turn into a useful piece for the Oilers blueline several seasons down the road.
— IIHF (@IIHFHockey) June 28, 2014
Oilers draft Swedish D man William Lagesson with 1st pick in round four. He's off to play in USHL this year and go US college route.#Oilers

— Jim Matheson (@NHLbyMatty) June 28, 2014
---
G – Zach Nagelvoort
Round 4 – 111st Overall
(NCAA – University of Michigan)
The Oilers haven't drafted and developed a NHL starting goaltender since. The closest they have come to a long-term capable NHL goaltender they drafted was Devan Dubnyk 14th overall in 2004. Sure Jeff Deslauriers (2002 – 31st overall) and Jussi Markannen (2001 – 133rd overall) had a cup of coffee in the NHL but to find the last true drafted and developed starting goaltender in Oilers history you'll have to go to the 1981 draft when they selected Grant Fuhr (1981 – 8th overall).
Since then the Oilers have struck out and it hasn't gotten much better over the current rebuild. Olivier Roy (2009 – 133rd overall) has been traded. Tyler Bunz (2010 – 121st overall) has struggled as a pro since transitioning from the WHL where he was won the Del Wilson Trophy (Top Goaltender WHL) in 2012 for the Medicine Hat Tigers. Samu Perhonen (2011 – 62nd overall) is no longer with the organization. That leaves Laurent Brossoit who was brought in via trade this season from Calgary as the defacto top goaltending prospect in the system.
Enter Nagelvoort.
CULT OF HOCKEY: #Oilers draft 20-year-old netminder Zach Nagelvoort at #111 http://t.co/kN73IDzemn by @BruceMcCurdy

— Bruce McCurdy (@BruceMcCurdy) June 28, 2014
Nagelvoort adds some size to Oilers future goaltending hopefuls with a 6'2 190lbs frame. He had a great season for Michigan where he held a 2.20GAA and 0.929SV%. But the most impressive stat might be a 63-save performance in March against Penn State that holds as the new record for most saves by a Wolverines goaltender. He's been passed over in two drafts already and was in his last year of eligibility which may have more to do with a lack of exposure having spent the last three seasons prior in the NAHL. Nagelvoort is a project like Lagesson and the Oilers may get exposed for reaching with this pick. They've been off the mark alot on goaltenders in recent drafts and it's still early to see what they have in the 20-year-old. He projects to stay in college for another season or two before turning pro. It's worth noting that Brent Moran of the OHL Niagara Ice Dogs (CSS ranked 3rd among NA goaltenders) was still available and the Oilers passed instead to take the 20th ranked NA goaltender. Moran ended up going to the to Dallas Stars at 115th overall.   It's still early to say what the Oilers have with the rangy goaltender who was the 20th ranked goaltender available and taken much earlier than expected. Nagelvoort could project as a future NHL goaltender of some sort but it's still a project none the less.
Here's a side by side of Zach Nagelvoort and Robbie Moore – Nagelvoort in the U-M record book with 63 saves. #GoBlue pic.twitter.com/6tpnGqrMc5 — Michigan Hockey (@umichhockey) March 21, 2014
---
C – Liam Coughlin
Round 5 – 130th Overall
(BCHL – Vernon Vipers)
One thing the Oilers have struggled with over the years is having under-sized forwards that have shown little to no difficulty knocking off the puck. GM Craig MacTavish and head scout Stu MacGregor have been addressing this issue going forward adding players in the draft that have some size. Coughlin is one of them.
Like Nagelvoort, Coughlin wasn't in his first year of eligibility (2nd year) and will be going the college route (Boston University) next season after playing Junior A in the BCHL for the Vernon Vipers.
At 6'4 200lbs Coughlin has good size and a decent scoring touch. He was 3rd on the Vipers in scoring this season with 45PTS in 53GP.
"Coughlin is a winner; the USHL's Clark Cup champion Dubuque Fighting Saints agree, taking him 30th overall in that league's draft." – Kirk Leudeke, New England Hockey Journal
He's still another long-shot and the hopeful outlook is that he becomes a useful depth player for the Oilers down the road. Organizationally speaking Greg Chase (2013 – 188th), Jujhar Khaira (2012 – 63rd) and Bogdan Yakimov (2013 – 83rd) still project to be stronger players down the road who have the inside edge on a player like Coughlin at this time.
The Oilers selected Coughlin while leaving a sentimental favourite in defenseman Dysin Mayo of the hometown WHL Edmonton Oil Kings. Mayo played a offensive role on the Oil Kings squad that won a Memorial Cup this season.
Still he's an imposing figure the Oilers would love to role out on the third and fourth lines eventually behind RNH and Draisaitl.
#Oilers select Liam Coughlin from the BCHL. He will turn 20 in September. 6'4, 200 pound centre. Not listed in @ScoutingService black book

— Jason Gregor (@JasonGregor) June 28, 2014
---
C – Tyler Vesel
Round 6 – 153rd Overall
(USHL – Omaha Lancers)
The Oilers scouting staff sees their current depth on the wings as a strong suit. Thus they didn't take a single winger in this draft believing that Mitch Moroz (2012 – 32nd), Anton Slepyshev (2013 – 88th), Jackson Houck (2013 – 94th) and the rest of the group they've taken over the past few seasons will make up an organizational strong suit going forward.
Taking another center late in the draft the hope is that the undersized scoring sensation in Vesel will be able to become a offensive force for the Oilers down the road. He stands at 5'11 168lbs as a skill forward coming out of the USHL Omaha Lancers via the Shattuck-St.Mary's program that churned out Sidney Crosby and Jonathan Toews most famously.
Tyler Vesel is also a 94 birthdate, he's 20 already. 71 points in 49 games. Nice numbers but once again 20

— Dustin Nielson (@nielsonTSN1260) June 28, 2014
Vesel has already committed to the NCAA University of Nebraska-Omaha and is another Oilers prospect that give it the old college try before turning pro. The hope is that Vesel will add to his frame and be able to utilize some strength as much as his evasiveness to protect the puck as a pro. The skill is there with Vesel and it's an intriging prospect going forward. Who else was available? Again some sentimental Oil Kings in Brandon Baddock (projects as a 4th line center),Aaron Irving (projects as a third-pairing defenseman) and Memorial Cup MVP Edgars Kulda (projects as a 3rd line LW)
---
G – Keven Bouchard
Round 7 – 183rd Overall
(QMJHL – Val d'Or Foreurs)
The second of two goaltenders taken in this draft Bouchard was the 10th ranked goaltender among North Americans and slipped to the wallows of the 7th and final round of the draft. Bouchard is the current backup for the Val d'Or Foreurs behind St. Louis prospect Francois Tremblay who lost in a heartbreaking triple-overtime game in the semi-finals of the 2014 Memorial Cup tournament.
Expect Bouchard to get some more starts next season. He's a 6'2 205lbs goaltender that at best projects as an NHL backup. 
MacGregor: Frederic Chabot involved in Keven Bouchard pick He had to "fight with" MacT to get the two Gs taken http://t.co/exLZ0c8WBJ

— Romulus' Apotheosis (@RomulusNotNuma) June 28, 2014
Still Bouchard has the intangibles that made Chabot vouch hard for him. MacGregor felt swayed enough on the fact that Bouchard is a hard-working goaltender looking to improve and has a good head on his shoulders. Bouchard is also quite competitive and MacGregor felt he will put in the work going forward and that was enough for him to get MacTavish to use the final pick on Bouchard.