For Penguins fans, Evgeni Malkin and James Neal have been an exciting pair to watch over the past few seasons. They've been one of the best duos in the NHL and when they were both healthy, they created havoc for opponents. But this past season, we saw James Neal suspended for five games and fined for dirty, questionable plays. If he didn't have Malkin by his side, he was unproductive. And, in 38 playoff games with Pittsburgh, Neal scored just 11 goals, 6 of which were scored in 2013. Simply put, Neal's price-tag just wasn't worth the performances he was giving. And thus, he's no longer a Penguin.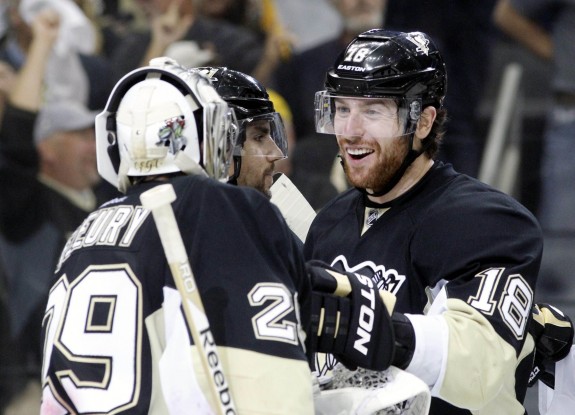 Good-Bye Neal
Neal played three and a half seasons with Pittsburgh and scored 89 goals in his time with the club. He was a great fit during his first full season with Malkin and put 40 goals in net that year, a career best for him. Fans fell in love with him and many thought it was the beginning of a special era of 71 & 18 dominating from the second line.
Players have to develop chemistry with their line-mates; but they have to still be valuable even when those players aren't on the ice. James Neal was not worth what the Penguins were paying him when Malkin wasn't on the ice. Malkin made Neal a better player and without an elite center man, Neal is just a pretty good winger, not an elite winger.
But even worse, James Neal failed to be a difference maker when it mattered most; the playoffs. Last postseason, he scored just 4 points and received 24 penalty minutes. For a scorer, that's egregious. The Penguins relied on Neal's goal production, and it disappeared, and therefore, Neal wasn't a priority to stay a Penguin.
Who Will Replace James Neal?
It's a common story line in Pittsburgh, "Who can play alongside Malkin?" Neal was the go-to, and now with him gone, who will play with him?
James Neal is a Nashville Predator now and Patric Hornqvist & Nick Spaling are Pittsburgh Penguins.
Hornqvist is in his prime and is a very good Swedish hockey player. He's a consistent 20 goal scorer and is a hard-nosed player. He'll be a very good fit alongside Brandon Sutter or Evgeni Malkin.
James Neal career high in goals before he came to Pittsburgh – 27. Hornqvist matched that twice, once putting up 30…in Nashville

— Sean Griffin (@griffTHW) June 28, 2014
Nick Spaling is a special young player. He's listed as a center, but Predators Insider Josh Cooper says that "James Neal can score, but Nick Spaling can do everything." Spaling will fit well into a bottom 6 position with the Penguins with his versatility. He's young and with the right guidance, could prove to be a great pick-up for Penguins new GM Jim Rutherford.
What about James Neal isn't replaceable?
Neal scored goals and took penalties. Often times, he was more of a liability than an asset. He was dynamic on his great days and destructive on all the other days. Once fans see that his goal production WILL be made up by new-comers such as Hornqvist, and others who will step up, they'll see that Neal being traded away is a good thing. Not only because it frees up cap space, but because it got rid of a playoff liability, something that the Pens organization can't do quick enough.
Moving Forward
Everything is changing in Pittsburgh. The front office is under new leadership, the bench has been taken over by a first time NHL head coach. James Neal is gone and only 12 players are signed to a contract for next season. The Penguins have their work cut out for them and now that the NHL Draft is behind them, they must get to work on contract negotiations. Matt Niskanen is very interested in Minnesota; the Penguins cannot afford to lose him. Rather, they need to cut ties with Brooks Orpik and other older players like Joe Vitale and Taylor Pyatt.
Rutherford has to put a team together that is hard-nosed and ready to compete for a Cup. Crosby and Malkin are in their prime; time is dwindling for them to lead their clubs to another Championship. They don't have time to rebuild, and therefore, Rutherford has to act swiftly.
All in all, Neal trade is good for the Penguins. But there's a lot more moves to come. As the Penguins like to say, "Buckle-Up Baby."
Be sure to join the conversation on Twitter using the hashtag #THW.