The New York Rangers have started off the offseason strong, buying out Brad Richards. This was a move that many people new was inevitable and nonetheless is still a relief to see come to fruition. Richards contract was an albatross toward the end and from the time he signed it Rangers fans stressed about the reality of paying a forward over 40 more than 6 million a year. This offseason sees some of the integral parts of the Rangers, offensively and defensively, hitting the market as both unrestricted and restricted free agents. Management has done a great job of building this team which had its greatest success last year and they must do all they can to hold onto this same lineup. With many tough decisions for Glen Sather between now and the puck drop in St. Louis on October 9, here is a list of the best moves to build on a successful year: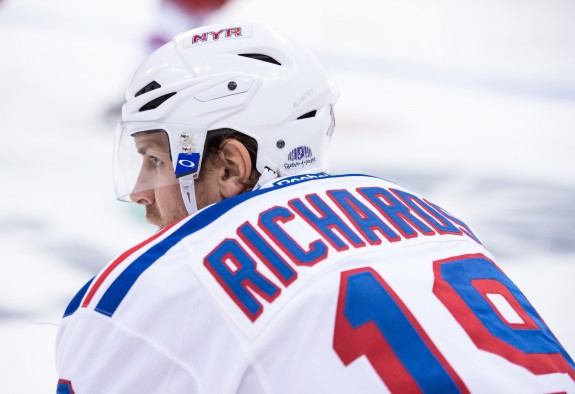 Find A Replacement for Richards:
With the good comes the bad. Buying out Richards was a great move for the Rangers now and going forward but it does come with the responsibility of finding a replacement to center a line likely comprised of Hagelin and St. Louis that was very strong once St. Louis came to New York. Not only do they need a center for that line but should look to replace his offensive output (51 pts) which was third most for the team last season. So far Paul Stastny has been the name associated with the opening and as one of the biggest free agents and one of the most appealing landing spots it is a great fit. The Rangers should have a back up plan however because though Richards was overpaid he leaves a huge void in the 5-on-5 and playoff offense that must be filled.
Keep the Zucc, Brass, Pouliot Line Together:
The breakout performance of the season (besides Ryan McDonagh) was by the line of Zuccarello, Brassard and Pouliot. An undrafted and undersized forward, a young role player and a draft bust combined to elevate each others games and become the most reliable unit for the Rangers while individually all having career years. All three were top 10 on the Rangers in points with Zuccarello leading the team. All this sounds great but the downside is that all three are free agents this summer. The bright side is that only Pouliot is unrestricted and therefore the only player with a solid likelihood of being lost to another squad. It is hugely important for the Rangers to keep this high energy, high output line together for their ongoing success and it should be a high priority. Unless Pouliot has unreasonable demands, it is worth giving him a slight raise and a few years of job security in order to see what these three can do with a full season and offseason to work together.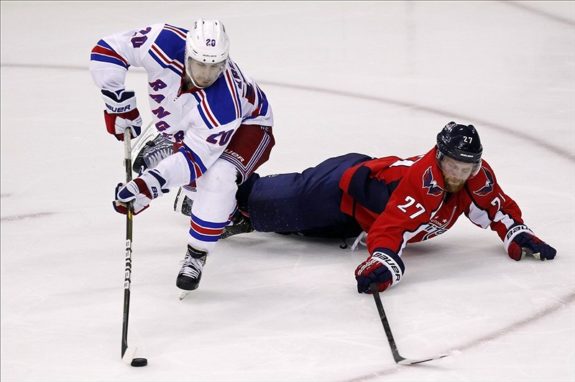 Lock Up Kreider:
Chris Kreider can be an All-Star in this league and should be treated as such. After breaking out with an unheard of playoff performance he has added to his resume a solid season with 37 points in 66 games while battling health issues. With his first contract negotiations the team must remain firm but make sure he is in blue next year and going forward. Likely they will attempt a bridge contract much like they did with Stepan this year. Hopefully doing so proves to be less of a headache with Chris than it was with his line mate. With two more years at a slight raise in pay, Kreider can play his way into the big contract we all hope is on the horizon.
Secure A Third Line Defense:
Defense has been a calling card of the blueshirts and they have as much of a luxury of a strong unit with depth now as they have in a while. With two lines worth of solid defense set in McDonagh, Girardi, Staal and Klein (who played on the third line but could handle second line workload), the Rangers have four other defenseman with some level of NHL experience to pick from and fill the final two spots. Stralman and Moore were reliable all year and Diaz and Falk have proven serviceable when given the chance. Though it would be ideal to keep the same unit together, reports say that talks with Stralman have not gone well. That is unfortunate but no big deal when you have the defensive depth of the Rangers. The best decision would be to promote from within rather than go outside for help if a deal cannot be reached with Stralman.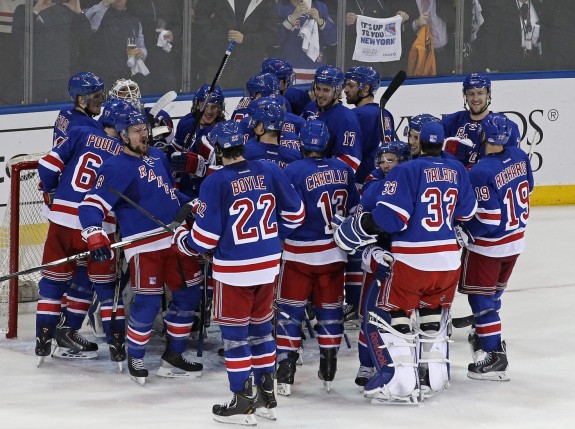 Don't Fix It, It's Not Broken:
The Rangers are often among the most active teams in the offseason. Following a disappointing year this can be encouraging but reaching the finals this year was far from disappointing and for that reason the Rangers must stick to what is working. When names like Dan Boyle are being connected with the team it is tough not to have nightmares of Scott Gomez and Wade Redden (who finally is off the books this year!). This policy most directly connects to being lured in by big names that we don't have spots for and the rumors surrounding Rick Nash. Nash was unable to score at the level we expected last year or during the playoffs but patience is a virtue and Nash contributed in many other ways though the puck wasn't bouncing his way. You have to like the oversized forwards chances of success if next playoffs he leads the league in shots. In any scenario where the team can fill a spot from within rather than outside it should heir on the side of continuity and chemistry. That is consistently the mark what the Rangers hope to be, champions.