The Compliance Buyout is a chance for teams to cut dead weight from their roster. It's like giving you the chance to return that hideous sweater a relative got you for Christmas. You're happy they spent money on the gift. But, really, you're looking for the first chance to dump it and get the cash back so you can spend it on something better.
These five players must be bought out before the June 30th deadline for their teams to get their upcoming salary off of the books. Not only will they give cap relief. But, they will also get a chance to prove themselves on another club; like Ilya Byzgalov did for the Minnesota Wild last season.
Please note that these are not in any particular order. And, that the Philadelphia Flyers have already used both of their compliance buyouts. Sorry, Flyers fans, you're stuck for now with being over the cap by $236,429 and with a contract paying Vincent Lecavalier $4.5million until 2017-18. Also, all numbers and cap numbers are provided by Capgeek.
Jeff Carter, C/LW, Los Angeles Kings $5,272,727 saved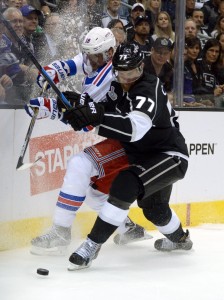 Jeff Carter was a key part to the Kings two Stanley Cup victories in the last three seasons. However, his cap hit of $5.27 million until 2022 is what should earn him a buyout. His numbers in 2014 were good with 50 points in the regular season and 25 in the playoffs. Both were good enough to slot him as one of the Kings top scorers.
However, since scoring 46 goals in 2008-09 Carter has failed to come close to that mark again. His closest goal production was 36 two seasons later. Since then he's slipped to 21 goals in 55 games in 2011-12, 26 the following year in a strike-shortened season and then 27.
He became expendable when Los Angeles resigned Marion Gaborik to a $4.875million contract through the 2021. Gaborik should fit into that second line winger spot that Carter filled.
Brad Marchand, LW, Boston Bruins $4,500,000 saved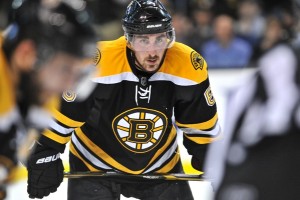 The Boston Bruins come into the 2014-15 season right on ceiling of the salary cap. There are a number of high-salaried players on their roster like: Milan Lucic $6million, Patrice Bergeron $6.5million and David Krejci $5.25million. However, all three of these players are key pieces to the Bruins roster.
Marchand, on the other hand, is not. He is a talented forward that will find a top-six roster spot on another club. Also, his production over the last four seasons has been consistent. But, where Marchand has come up short has been in the postseason.
Since winning the Stanley Cup in 2011, scoring 11 goals with eight assists for 19 points, he has failed to score more than five goals and eclipse 15 points. Last postseason he only found the scorers sheet five times in 12 games.
Bryce Salvador, D, New Jersey Devils $3,166,667 saved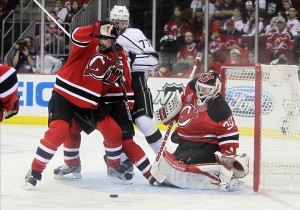 This buyout is because of three factors. First, he's 38 years old. With a slew of young talent flooding the Metropolitan Division, and the Eastern Conference, having a slow-footed defender protecting your blue line is not the best way to go.
Second, he hasn't had a productive year for the Devils since 2008-09. Since then, he's been a plus-18 in 2011-12, which is good. But, in 2012-13 he was a minus -12 and last season a -2 in 40 games. His ice time has fallen off as well, as he failed to log more than 25 minutes in 38 of those 40 games.
And third, this Devils team is strapped for cash. They only have an average of $1.6million to spend on their opening day roster. Dumping the aging defender will almost triple this number and give them the room they desperately need.
Brad Stuart, D, San Jose Sharks $3,600,000 saved
Brad Stuart, like Salvador, is a victim of age, production and his team being up against a cap wall. The Sharks aren't as bad as the Devils; as their average cap room when their opening night roster is set could see them with about $2.855million in cap space.
But, since coming back to the Sharks in 2012, Stuart has seen his production fall short to his career averages. He's failed to record more than 11 points, hasn't been over a plus four in both seasons and in the playoffs has recorded just three points in two years.
With other aging stars on the Sharks this team has to look at getting younger fast. It's time to cut Stuart loose and look towards spending that money on a younger free agent, or looking towards their American Hockey League club.
Cam Ward, G, Carolina Hurricanes $6,700,000 saved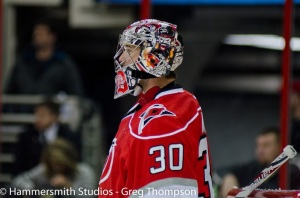 This is the biggest compliance buyout here with Ward due to make $6.7million this season and then $6.8million the following year before becoming an unrestricted free agent. Now, the Hurricanes could ride Ward out and hope that he can regain the form that led this franchise to its only Stanley Cup.
However, that does not look like it is going to happen any time soon. Since the 2011-12 season, Ward has seen his goals against average and save percentage climb each year. What's worse is that since reaching the Eastern Conference Finals in 2009 he hasn't been able to get Carolina back to the postseason.
The Hurricanes look to have about $1.67 available in cap space once their 23-man roster is set. Dropping Ward would free them up to take a run at a cheaper veteran as a stopgap while a younger goaltender is being groomed.
Agree or Disagree? Let me know on Twitter: @tjmcaloon
I've devoted most of my life to being a Pittsburgh sports fan. Currently, I live in Austin with my wife Sarah and our dogs Clooney and Maggie.. But, I had the pleasure of taking in all that is Austin, TX – mostly the Texas Stars American Hockey League franchise – for the past 4 years.