The Nashville Predators placed Derek Roy on waivers. For whatever reason, he wasn't providing what they expected of him. Maybe another team would decide he could help them. But alas, no one did, as Roy passed through waivers, and was headed to the AHL. Perhaps he would have preferred that assignment, because not long after Roy cleared, news broke that he had been traded for. By the Edmonton Oilers. The first reaction to the deal was the disbelief that the Oilers would trade for a player they could have claimed for free. They had space to add a contract, so why give someone up for Roy? The player headed the other way to Nashville is Mark Arcobello, otherwise known as the happiest guy in the league. The Oilers claimed Matt Fraser earlier in the day, so adding on yet another contract wasn't something they wanted to do. Therefore, a trade was the best solution. Fare thee well, Mr. Arcobello.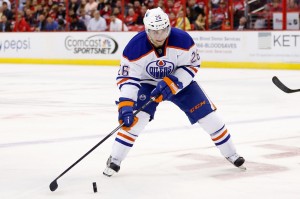 Roy is an NHL Player
The next reaction to the deal? The Oilers got the worse player. Roy is older, he's more expensive and his stats are terrible this season. Roy has one goal and nine assists in 26 games. That's ugly. Arcobello has seven goals and five assists in 36 games. Not terribly better, but he clearly can light the lamp a little more. So what were the Oilers thinking? We like Mark Arcobello. He's a good soldier. He's had some nice moments in an Oilers uniform. But he's at best, an AHL call-up. He's the guy you bring in when there's an injury. He isn't an NHL centerman on any contending team in this league. He's a veteran of 78 NHL games, at age 26.
Derek Roy on the other hand has played 692 NHL games, and 49 more in the playoffs. His stats have slipped dramatically the last few years. Really, he's been kind of terrible lately. He's played on five different teams since 2012. A change of scenery wasn't the answer, therefore there is little hope he can regain the form he had with the Sabres. His career high in goals and points were way back in the 2007-2008 season. You might say that his best days are behind him. But there's something very important about Derek Roy that cannot be denied. He's an NHL player. He might be a terrible one. He may not score any goals. But he is a legitimate NHL centerman. He has experience. He belongs on an NHL roster. Granted not a good one, but one nonetheless.
Will Derek Roy make a Difference?
The trouble the Oilers fans are having with Derek Roy is that he isn't good. They don't feel he's that much better than Arcobello. And at the moment maybe he's not. In fact he hasn't been the same since a quad injury that has hampered his play. So is this just another temporary fix to appease the masses? Craig MacTavish clearly wants guys who can play consistently at the NHL level, hence why he brought in Fraser and then made this trade. It could be more band-aid solutions to fix a team's depth that is looking extremely shallow. Can we really expect Derek Roy to help?
The answer is no. Roy won't make the Oilers a playoff team. He's not going to even be back here next season. But MacTavish is tired of his team losing, and perhaps acquiring players with real NHL resumes may buy him at least a few more wins. Roy makes $1 million, while Arcobello cost them $600,000, so financially it's not a huge difference. The Oilers got a guy who has faced NHL opponents for a long-time. He might give them something more than what they have. A lot more? No, likely not. But he is a depth centerman, and that's something the Oilers need. Granted, all he brings to the table that Arcobello didn't was experience. But let's just keep the perspective that Arco is an AHL caliber guy, and the Oilers already have enough of those. Even though Derek Roy was about to become one of those as well before the trade was made. MacTavish has a plan. Probably.
Marcy, a former hockey player, is a hockey correspondent on CTV News and TSN radio. She began her career as a Sports Journalist in 2009 and has been part of The Hockey Writers since 2010, where she is currently a senior writer and editor.