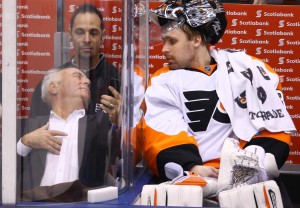 Early in this young NHL season, there have been numerous trade rumors surrounding the Edmonton Oilers. Not uncommon when a team that is supposed to (but wasn't ready to) take the next step forward in their development. Not uncommon when it seems like the decisions management has made over the past few years aren't coming together. Not uncommon when a 4-11-2 start to the year in a very tough Pacific division means that the season is getting dangerously close to becoming lost.
First Nail Yakupov was rumored to be on the block. Then the Flyers declared their interest in Jordan Eberle. (The Flyers are interested in pretty much every player in the NHL so that should be taken with a grain of salt). Many people around the hockey world even thought that the Oilers should shop around for a goalie, Ryan Miller for example, to help shore up a weak position. Yesterday, the Oilers did make a couple of moves. Both of which were somewhat unexpected.
Ilya Bryzgalov
He was one of the best back-ups in the league for the Anaheim Ducks, and captured a Stanley Cup ring with them in 2007. He seemed almost too good to just be a back-up, so the Phoenix Coyotes brought him in as their starter. He didn't disappoint, posting solid season stats and two playoff appearances. Then, the Philadelphia Flyers did what they always do, which is sign players to enormous expensive contracts that can't possibly end up working out, and Ilya Byzgalov found himself in goaltenders hell.
Philadelphia is a goalies wasteland, and it certainly was that during Bryzgalov's tenure. But his stats weren't as horrible as many would believe. Perhaps he needed time to get used to a less defensive system, or perhaps the Flyers were just really bad. In any case, Bryzgalov was bought out before this season started and has been looking for work ever since. Then the Oilers looked at their goalie situation and perhaps thought it couldn't get much worse.
While in Philly, Bryzgalov had more problems than just his on-ice performance. Most of his career was spent in relative anonymity in the Western Conference, but the bright lights of HBO's 24/7 revealed some very quirky aspects to his personality, the possibility that teammates didn't like him, and the subsequent backlash of a fanbase when things went wrong.
But the Oilers are desperate. They don't care what might happen by bringing in such a personality to an already fragile dressing room. They need wins. And he has somewhat of a proven track record. If we ignore his years as a Flyer, of course. It's a one-year contract in the three-million dollar range. The deal becoming official, however, hinged on one minor thing.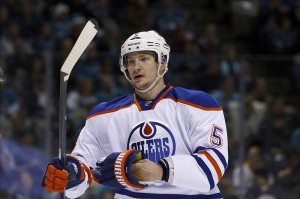 Ladislav Smid
Sometimes a player divides a fanbase. Half will love him, half won't. On some nights, Ladislav Smid is the hardest working guy on the ice. He hits, he skates, he sticks up for his teammates. But some people can watch the exact same game and say that Smid is at best a bottom pairing defencemen who often looks disinterested, is prone to turnovers and has zero offensive upside. Either way, he isn't an Oiler anymore.
Edmonton needed to get Smid's salary off the books to make room for Bryzgalov, so who did they trade him to? Well their biggest rival of course. Smid and his $3.5 million dollar cap hit is now property of the Calgary Flames, who are ripe with injuries, and just needed some warm bodies. In return, the Oilers got a couple of decent players in Roman Horak and goalie Laurent Brossoit.
Oilers Done Dealing?
According to the GM, this isn't the start of something. The Oilers needed a minor shake-up and an improvement in the crease, and this is what they came up with.
"As bad as our record is, I see plenty of progress and maybe more important plenty of potential in this hockey club. Certainly no moves imminent and hopefully none for quite some time." – Craig MacTavish (CBC)
Despite still being paid by the Flyers, Bryzgalov is clearly desperate to get back to playing in the NHL considering he agreed to come to a city who's weather is less than favorable.
Well, Ilya, good luck living in the North Pole. Hopefully for his sake Edmonton has more parks than Winnipeg.
"You don't want to go to Winnipeg, right?" Bryzgalov said after the Coyotes lost to Detroit. "Not many people live there, not many Russian people there. Plus it's cold. There's no excitement except the hockey. No park, no entertaining for the families, for the kids. It's going to be tough life for your family." (Yahoo Sports)
But, clearly his love for hockey now outweighs his love to stay warm in winter.
Signing Bryzgalov is a low-risk move for the Oilers, unless you count losing a defenseman who you probably weren't going to re-sign and possibly bringing a headcase into the dressing room. Let's give Bryz the benefit of the doubt here, though. He has shown that he could be a legitimate number one goalie in this league. And no one else on the Oilers has stepped up to take that role. So now begins the Bryzgalov era in Edmonton. Fantastic soundbites likely await.
Marcy, a former hockey player, is a hockey correspondent on CTV News and TSN radio. She began her career as a Sports Journalist in 2009 and has been part of The Hockey Writers since 2010, where she is currently a senior writer and editor.