HERSHEY – Like last Sunday, the Hershey Bears (3-4-2-1) were in a situation to close out a game in the third period and they didn't do it.  They failed to protect a one goal lead in the third period once again, but this time they were victorious in a ten round shootout win over the Bridgeport Sound Tigers (3-5-1-1). The Bears found the net six times in the shootout during their 3-2 victory, finished off by Dane Byers' shot in the tenth round found twine past Bridgeport goalie Anders Nilsson (36 saves on 38 shots).
"The guys had some good moves," Hershey forward Garrett Mitchell said of watching the shootout from the Bears' bench. "It sucks, you're sitting there and it (would be) a tough way to lose after a hard fought game. For us to come out with the win, it's a huge momentum boost for us going into tomorrow night."
Hershey Bears goaltender Philipp Grubauer (2-3, 2.51 GAA, .914 SV %) was sharp in net for the Bears, recording 35 saves on 37 shots. The German native shutdown the Sound Tigers' Brett Gallant in the final round of the shootout to secure the Bears' victory. The Bears picked up their second home win of the season, improving to 2-2-1-1 at Giant Center though six games.
"I don't want to say we expect it," Mitchell stated. "At the same time he's been there for us, we're very fortunate that we have two great goalies."
"We got to find ways to win," Hershey Bears head coach Mike Haviland expressed after the game. "That's the big thing now. That's maybe what turns us here, the long shootout."
New York Islanders' prospect Ryan Strome notched the tying goal with 2:59 left in regulation, firing a shot past Grubauer. The first year AHL forward finished with six shots on goal on the night, including a tally in the shootout.
"That's a hell of a shot," Mitchell said. "Gruby would want it back I think, but it's a heck of a shot. That's something I think we can learn from."
"It's a line that had 28 points coming in," Haviland said of the approach in slowing down the Sound Tigers' first line of Strome, Mike Halmo and Anders Lee. "We talked about having a shutdown line, but we really matched up Schilling and Strachan against them basically all night. They make plays and they're really tricky in the offensive end."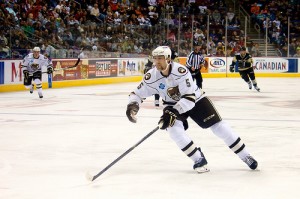 Hershey grabbed an early 1-0 lead just 18 seconds into the game, scoring on their first shot, when Captain Dane Byers fired his fourth goal of the year on a slap shot past Nilsson. Defenseman Tyson Strachan and forward Casey Wellman earned assists on the Bears' quick strike. With the goal, Byers increased his point streak to a team season high of five games. Hershey's Captain has four goals and one assist during that span.
"We opened up the game with a great first shift," said Haviland. "Score a goal and then I thought we sat back a little bit there and we kind of got going again. It's a big confidence booster I think for this group, we needed it. We needed to start to the weekend right and you got to come back and do it again tomorrow night against a good Binghamton team."
"I think he's playing with a lot of confidence," Haviland said of the leadership by example displayed by Byers. "He's scored a couple goals, he's had some huge hits, he's fought and I think he's pretty comfortable on and off the ice. He's confident with the puck and he's still finishing checks, he's a power forward who's got a good touch. I think he's been our most consistent line up front."
Two fights highlighted the physical play in the opening stanza, with Joel Rechlicz squaring off against Brett Gallant of Bridgeport  and Brandon Segal squaring off against Nick Larson 11:37 into the frame. The Sound Tigers outshot Hershey 13-9 in the period, as first line forwards Ryan Strome and Mike Halmo combined for five shots on goal.
The teams shared power play goals in the early part of the third period, with forward Ryan Stoa capitalizing for Hershey and winger Joe Diamond scoring on a breakaway for the Sound Tigers.
"Winning is a habit," Haviland said. "Once you start to win you start feeling confident, you start feeling good about yourself. You start just to play the game. If we're going to make mistakes we want to make them aggressively."
"When you win the pressure goes away from you. When you're finding ways to lose or get things tied up and you don't find a way to win in overtime I think you start to grip the stick tighter and you start to question everything and even yourself."
Hershey returns to the ice Sunday night with a matchup against the Binghamton Senators (8-4).
Game Notes
Attendance: 8,408
Bears Injuries: Defenseman Julien Brouillette and forward Jamie Johnson
Hershey Healthy Scratches: Forwards Nicolas Deschamps, John Mitchell, T.J. Syner and defenseman Patrick Wellar
Hershey improved their record to 34-23-8 all-time record against the Bridgeport Sound Tigers
The Bears are 2-0-0-1 when outshooting the opponent
Hershey Lines
Derek Whitmore-Ryan Stoa-Brandon Segal
Dane Byers-Jeff Taffe-Casey Wellman
Nathan Walker-Peter LeBlanc-Garrett Mitchell
Josh Brittain-Matt Watkins-Joel Rechlicz
Chay Genoway-Connor Carrick
Cameron Schilling-Tyson Strachan
Tomas Kundratek-David Kolomatis
Three Stars
Ryan Stoa (goal, three shots on goal)
Dane Byers (goal, three shots on goal, plus one)
Anders Nilsson (36 saves on 38 shots)
You can follow Matthew on twitter @m_speck and email him at mspeck21@yahoo.com with any questions or comments.
Matthew Speck covers the Washington Capitals organization for The Hockey Writers. He provides coverage of both Washington at the NHL level and prospect related content. Matthew also covers local sports for the Lebanon Daily News in Central Pennsylvania. You can email him at mspeck21@yahoo.com with any questions or comments.