By Mike Miccoli
Before the season began, I considered Dougie Hamilton to be the Bruins' seventh defensemen on the depth chart.
What a mistake that was.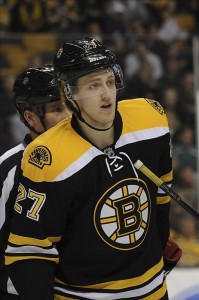 To be fair, this had been coming for some time. Hamilton had put together a string of solid games in his sophomore season that included a goal and two assists in his last three games prior to Saturday's 3-1 victory over the Toronto Maple Leafs. Once Adam McQuaid left the game due to a lower-body injury in the first period, that's when Hamilton really stepped up.
"Right away you just say, quick shifts," said Hamilton. "You've got to expect that you're going to play a lot, so you have to know that you're going to be right back out there."
Hamilton was second in time-on-ice for the Bruins with 24:43, only behind Zdeno Chara's postseason-like 28:04. The extra shifts were a benefit for the second-year defenseman who spent some time as a healthy scratch to start the season.
"I like it better, personally," said Hamilton. "When you know you're going to play a lot, you just keep going out there and you don't really have to sit on the bench too long. I thought everyone stepped up and we played well as a defensive group."
In addition to his ice time, Hamilton's performance in all three zones, including his strong play on Toronto's blue line, was a big reason why the Bruins' were able to maintain such consistent momentum and pressure with the puck.
One monster shift in the first period came with the Bruins' top line of Milan Lucic, David Krejci, and Jarome Iginla entering the zone at 7:51 and maintaining possession until James Reimer covered the puck at 5:47. Hamilton rushed down from the point and faking out a Toronto defenseman and firing one of the two Bruins' shots on net. The heads-up play from the defenseman was reminiscent of fellow young-blueliner Torey Krug's slick moves.
"He's played really solid for us and offensively continues to make good decisions, good plays, and very aggressive," said Claude Julien. "Defensively he's becoming better and better all the time. He's a young player, he's a 20-year old, but with experience. He's starting to flourish and he just has to keep going that way."
In his own zone, Hamilton was just as good, uncharacteristically spending time on the penalty-kill with Krug as a partner, with McQuaid injured and Johnny Boychuk in the penalty box. Going forward, with McQuaid's status still unknown, Hamilton should expect to see even more time and added responsibility–a welcomed sight for the 20-year old who is building momentum in his second year as a pro.
As he gets better and transitions his game to the NHL, Hamilton builds trust with his coach and teammates. It's evident that he's well on his way to becoming a top-four defenseman for the Bruins and if his recent play tells us anything, he's just getting started, capitalizing on a roller coaster of a rookie season.
"I think everything," Hamilton answered when asked what parts of his game he has worked on improving. "I think very defensively, and around the net and in the corners with stuff, I think I got stronger. I think just more confidence, more comfortable with the guys, and just having been here for half a season last year. I think it just makes it easier being comfortable."
In Saturday's win, amongst other things, Dougie Hamilton looked quite comfortable.
Mike Miccoli covers the Boston Bruins for The Hockey Writers and has been a credentialed member of the media for all Bruins' home games for the past five years. As a former player, coach and official, Miccoli has been around the game of hockey since the age of three. Along with his work on THW, Miccoli has also been published in the New England Hockey Journal, Improper Bostonian magazine and on BostInno.