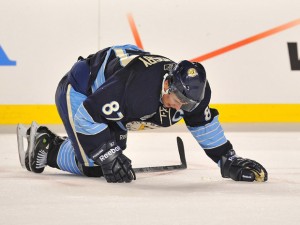 There is an epidemic in today's NHL.
Stars are dropping left and right and it is taking away from the game's overall appeal.
Sidney Crosby hasn't played for the better part of two years due to concussions. Chris Pronger is out for the year, same reason. Claude Giroux was out with a concussion. Danny Briere too. Don't forget Toews is currently out due to the "C" word. Pierre-Marc Bouchard on IR. Jeff Skinner, last year's Calder Trophy winner, missed 16 games. Why? You guessed it, both were concussed.
Now, Pittsburgh Penguin's star defenseman Kris Letang received his second concussion of the year after getting hit in the head by Dallas Stars' Eric Nystrom in a game last Wednesday.
The league has decided not to discipline Nystrom, sending a message to the rest of the league that not all hits to the head are created equal, so keep at it.
With all these star players missing time, it means the fans are forced to watch a game that isn't as good or exciting as it should be.
The NHL is not the NFL. Not in revenue. Not in popularity. And not in protecting their star players, which in turn, is the same as protecting the product they put on the ice. The same product they are trying to sell to the fans or would-be fans.
In football, a hit to the head is a hit to the head. Intention is not factored into the discipline decision. This ensures that the star players, namely quarterbacks and wide receivers, who help sell tickets and merchandise by being on the field…stay on the field. The NFL protects its interests.
The NHL, however, subscribes to the "Old-time hockey" theory. A theory that seems to have been skewed over the years and is more outdated than floppy discs and VHS tapes. It seems that hockey's brass would rather protect and keep around their "tough" and marginally talented players than ensure their skill players stay on the ice.
Sidney Crosby sells tickets and jerseys. Some fourth line winger doesn't.
Old-time hockey used to mean playing a tough, physical game. Giving it everything you had. Fighting for the puck in the corners. Going to the net. Toughing out injuries. Never wanting to quit on your team and respecting your fellow player. Lets say that again…Respecting your fellow player.
Somewhere along the way, however, old-time hockey has brought on a meaning of getting blind-sided and not whining about it.
Playing tough, physical hockey doesn't mean leading with your elbows or hitting a guy in a vulnerable position. It doesn't mean launching yourself into a man at full speed. It doesn't mean knowing you are out-skilled by another player, so the only way you can compete is by crossing the line.
Player's respect for one-another seems to be at an all time low. This is reflected in most team's injury reports.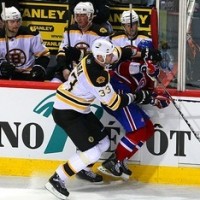 There is a difference between playing tough and playing reckless. Steven Stamkos and Phil Kessel manage to play tough without dueling out concussions. Same with Sidney Crosby and Evgeni Malkin. Same with Patrick Kane too, and so many others.
All of them are star players. All of them are tough players. None of them are dirty players. These are the players who truly encompass the old-time hockey definition. Nothing they do takes away from the game.
Those who hide behind 'old-time hockey' when hits like Nystrom's happens like to say things like, "It was a clean hit. That's the game of hockey."
The problem with this is that they are right. Right now, sadly, that is the game of hockey. Hits to the head are part of the game. They shouldn't be.
A clean hit shouldn't put a player's life or career at risk. In today's NHL they can.
The league claims that they are trying to remove these hits from the game. They need to take a page from Nike's book and "Just do it".
Outlaw all head shots, be they intended or accidental.
Will there be the occasional player that gets suspended after a purely accidental play? No doubt. However, this also guarantees that you won't drop the ball on the guys that knew what they were doing. Sometimes extremes are necessary when trying to change a culture.
Strict enforcement will help players keep better control of their hits, as well as make them think twice before they decide to not play the puck, as Nystrom chose not to do, and instead opt for torpedoing themselves into another player. Hip checks aren't the problem. The problem stems from the player who comes from the opposite side of the ice, full speed, in order to deliver a flattening hit.
These types of hits usually are blind-sided and uncontrolled. They leave no time for the hitter to alter their body if needed and are only meant to be devastating.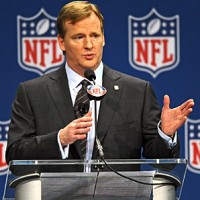 The NFL dealt with all kinds of backlash from players and fans alike when they instituted their firm stance on banning head shots. Now, cracking down on those who violate their rule is a part of their game. Just ask Pittsburgh Steeler James Harrison.
The NFL is not worried about being fair. The NFL is worried about the safety and well-being of its players and, probably to a greater extent, the viability of its product.
It doesn't help the NHL that Crosby wasn't at the All-Star game, or in last year's playoffs, or on any nationally televised games. What it says to those would-be fans is, "look at how goonish and dangerous our sport is."
The distorted view of old-time hockey, and the refusal for some players to change, is moving hockey closer to the UFC rather than the NFL in the minds of sport fans.
It's not like player's can't change. Look at Matt Cooke. Last year he was considered to be on of the dirtiest players to ever play the game, and rightly so. His 129 penalty minutes last year solidified that view. Cooke has a total of 26 penalty minutes this season. Change is possible.
Will the league ever take the hard stance it needs to? We may need to wait a generation or two for personnel changes within the league's head offices where younger, more progressive thinkers could have a say.
Until then fans can only hope that their star players don't get injured and their favorite sport doesn't loose complete relevance.