The Penguins approached 2015-16 with a blue line that was and still is draped in uncertainty and inconsistency. Despite Mike Johnston's focus on the defensive side of things, Pittsburgh has been one of the worst defensive teams in the league throughout the first seven weeks of the regular season. Even during wins, such as their victory last night vs. the Minnesota Wild, the Penguins' defensive corps hasn't been great. To be honest, they haven't even been average.
Here lies the issue with Olli Maatta's injury, which is now being classified as a week-to-week situation. Outside of the fact that it's extremely depressing to see this kid having to deal with yet another occurrence that was at least serious enough to land him in the hospital overnight, the Penguins are recognizing their biggest fear. It was widely assumed this summer that if Pittsburgh were to suffer an injury to either Maatta or Kris Letang, they wouldn't be able to survive. Well, here we are.
Adding to the impact of a possible long-term absence for Maatta is that Derrick Pouliot, a top-four hopeful prior to the start of camp, played poorly in the preseason and found himself in the AHL. While I imagine we'll see him called up very shortly to at least serve as a seventh defenseman, the Penguins currently have no replacement for Maatta. They already tried Ian Cole on the top pairing and that experiment failed in a big way.
Penguins now Dealing From Area of Weakness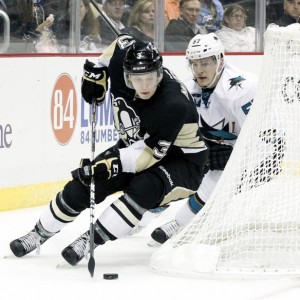 Pittsburgh is currently 11-7 and while they clearly haven't played great hockey, they also aren't in danger when it comes to Metropolitan Division standings. They're keeping pace, which prior to this injury meant that they could remain patient while searching out a deal. That's probably no longer the case.
The hope is that Adam Clendening will be able to fill the void admirably. However, he isn't ready for a top-pairing role. Cole already proved that he isn't going to work there, which leaves Rob Scuderi, Ben Lovejoy or Brian Dumoulin. Dumoulin's play has earned him a shot but will he be able to handle those duties? Will Mike Johnston give him the opportunity to try?
Teams will hone in on the Penguins if they struggle to recover from the injury. They'll know that Rutherford is in a desperate situation and that the Penguins don't have bargaining power due to their immediate need. There is no estimated time right now for how long Maatta will be out but hearing that it's week-to-week is quite concerning. That's a grim outlook for the youngster, as well as the Penguins' blue line in general.
I recently discussed that the defensive trade market is shaping up nicely for the Penguins. And, with Tyson Barrie's name finding it's way to the rumor mills, things have become even more intriguing. The question though, is can Rutherford pull off a trade without selling the farm, considering everyone knows the dire situation in Pittsburgh? I'm not jumping to conclusions yet and I'm willing to see how this current lineup handles the absence of Maatta. However, if I was a betting man, I'd put my money on a trade coming very soon. Unfortunately, that trade is likely going to require more assets heading the other way than first anticipated.
Pittsburgh Penguins writer for TheHockeyWriters.Com and PittsburghHockeyNow.Com. Youth hockey coach, and student of the game.