After an exciting preliminary round, the puck drops on the quarterfinals of the Olympic women's hockey tournament on Saturday, Feb. 15, when Finland takes on Sweden and Switzerland takes on Russia.
Finland vs. Sweden
After two hard-fought games against the United States and Canada in the preliminary round, Finland finally earned its first win of the tournament with a 4-3 overtime victory over Switzerland on Wednesday. The Finns did not play poorly in either of those first two games, however. They went down early to Team USA and though they would net a late goal, they fell 3-1 to the Americans. Against the Canadians, they kept the game scoreless until the 9:27 mark of the third period. Finland just couldn't mount enough of an offensive attack against either North American squad, but they did a much better job against the Swiss, with Michelle Karvinen and Susanna Tapani leading the way.
For the Swedes, it was the opposite. They won their first two games, defeating Japan 1-0 and Germany 4-0, but then fell to Russia 3-1 as the two teams played for the Group B crown. Sweden's had a pretty good start in these Olympics; they didn't allow a goal until 128:38 into the tournament, when Russia took a 1-0 lead in the first period on Thursday. They've gotten good goaltending from both Kim Martin Hasson and Valentina Wallner, though Wallner has started two games to Martin Hasson's one. The Swedes had a little bit of a scare in that first game against Japan, but played well in the win over the Germans.
Finland poses the biggest threat to the U.S. and Canada, but that doesn't mean beating Sweden is going to be easy. They'll need to execute well offensively, and not make a mess of things defensively; the latter got them into some trouble against Switzerland. But between Noora Räty in net, Jenni Hiirikoski on the blue line, and Karvinen and Tapani up front, they've got the kind of impact players that a team needs to succeed. They've also got enough pieces around them to boast likely the most complete roster in the world, not counting the Americans or Canadians. The Swedes will try and keep this a low-scoring game, so the Finns need to make sure they're sharp and capitalize when they can.
Sweden hasn't put on an offensive show in any game so far this tournament, and if Finland is sound defensively they're likely going to have the same issue here. They've relied a lot on forwards Jenni Asserholt, Anna Borgqvist, and Erika Grahm, and Pernilla Winberg has proven to be a threat so far, too. Emilia Andersson is likely to be relied upon heavily defensively. It's going to take a concerted effort to stop the Finns' star players, who looked like they were starting to heat up against the Swiss, but Sweden's goaltending can probably frustrate them. More important than piling up shots and dominating will be forcing Finland into making mistakes, preferably without playing too out of control themselves. If Sweden can slow the Finns down in transition, it will really limit the ability of those top players.
Russia vs. Switzerland
The Russians went 3-0-0-0 in group play, with a 4-1 win over Germany, a 2-1 victory over Japan, and a 3-1 win over Sweden. In those first two games, breakthroughs in the third period were what carried them to two victories. Against the Germans, Russia found itself down 1-0 after two periods of play, but then exploded for three goals in 4:23 and ended up winning 4-1. They also gave up the tying goal to Japan 30 seconds into the third, but a shorthanded goal from Alexandra Vafina with 9:24 left led them to an eventual 2-1 victory. The Russians did a good job of establishing themselves as the better team against Sweden, outshooting them 31-16.
Switzerland took a pounding in both of its first two games, losing 5-0 to Canada and then falling 9-0 to Team USA. Their defense couldn't hold up in either game; they gave up 69 shots to the Canadians and 53 to the Americans. Neither result was really a shock, but they came back out in the last game and really challenged Finland, though they eventually lost 4-3 in overtime. The Swiss were outplayed in the opening period and headed into the second down 2-0, but collected themselves and tied it just eight minutes into the middle frame. They pushed the Finns for the rest of the game and tied it up again with only 3:35 remaining to force overtime.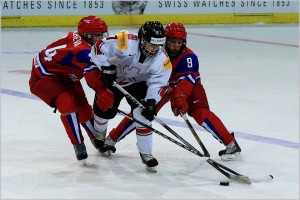 With the win over Sweden, Russia drew the more favorable match-up against Switzerland, but they're still going to have to be careful. Florence Schelling is more than capable of making whatever saves necessary to lead the Swiss to victory. But the Russians have a lot of momentum coming out of Group B, and as the tournament's hosts, we've already seen them get a push when needed from the crowd. Look for Yekaterina Smolentseva to be a big factor for Russia in this game; she's come up big in big moments for the team and has been one of the tournament's best forwards so far.
It will be no easy task for the Swiss to advance to the semifinals, but even a couple of disheartening losses to open the tournament, this team still has potential. They didn't have an answer against Canada or the U.S., but Russia doesn't have that kind of depth. They'll have to watch the Russians' skill, but if they play as well as they can, their key players should earn some of their own chances. Phoebe Stanz has been one of the most effective players up front so far, and so have Stefanie Marty and Sara Benz; Julia Marty, Lara Stalder, and Nicole Bullo can stabilize the blue line. Despite not having the topmost talent, Switzerland's a very opportunistic squad and could play a very effective game against the Russians.