With 10 members of the Chicago Blackhawks focused on winning Gold for their home countries, five questions facing the Blackhawks continue to linger. Whether they're participating in Sochi, or taking in some much need rest and recuperation, the Blackhawks are just two weeks away from returning back to NHL action. Here are five burning questions facing the Blackhawks after returning from the Olympic break:
1. Questions Facing the Blackhawks – More Wheeling and Dealing?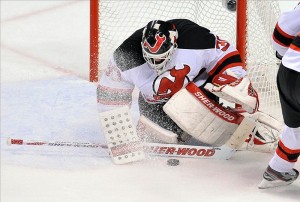 GM Stan Bowman hasn't necessarily been sitting on his hands throughout Chicago's 4-3-3 mark in their last 10 games. On Feb. 7th, Bowman acquired a pair of centers in Peter Regin and Pierre-Marc Bouchard in an effort to create stability at the position on the second line. With Regin logging 11:39 of ice time in his debut, Bouchard was less fortunate as he was sent back to the AHL.
Although scoring has not been Regin's forte (21-41-62 in 223 NHL games), he appears to fit the mold of the two-way forward that head coach Joel Quenneville has been so desperate for. Bouchard, on the other hand, possesses more of a scoring skill set that has accumulated 110 goals and 246 assists through a decade and some change in the league. Bouchard's value appeared to drop though, when he was sent down to AHL Bridgeport earlier this season to make room for Islanders prospect Ryan Strome to make his NHL debut.
Should Bowman choose not to place all of his eggs in the basket of his most recent trade, other options are available. That is not to say there aren't other areas of the team that could use tweaking. After leaping out to a 12-2-3 record, backup goalie Antti Raanta hasn't won since Jan. 12th against Edmonton. With starting goaltender Corey Crawford's health in question yet again, the Fourth Period has reported that the Blackhawks are very interested in New Jersey Devils goalie Martin Brodeur.
"The Chicago Blackhawks could be on the lookout for a veteran goaltender to play behind starter Corey Crawford and appears to have interest in superstar Martin Brodeur."
The Blackhawks have traded for six players since the 2009-10 trade deadline. With names like Sam Gagner, Thomas Vanek, and Andrew Ladd on the trade block, it should come as no surprise if Bowman pulls the trigger to make a deal by the deadline for the fifth straight year.
2. Questions Facing the Blackhawks – What Will Become of Brandon Pirri?
At just 22-years-of-age and 35 career NHL games under his belt, Brandon Pirri has garnered attention in trade rumors. Appearing in 28 games this season with the Blackhawks, Pirri has recorded six goals and five assists for 11 points. Pirri was also recently named MVP of the AHL's All-Star game against Farjestad BK of the Swedish Hockey League with two goals and an assist.
The 59th overall pick of the 2009 NHL Entry Draft has scored 174 points in 212 games played with the Rockford Icehogs prior to this season, including a 75 point season effort last season. With the young center showing a knack for finding the stat sheet, one might inquire why the Hawks would dangle such a prospect when they're already in need of a second line center. The answer can be in his inability to solidify a spot on the roster with his light NHL production and annoying injuries.
"Trading Pirri would make sense for both for the Blackhawks and for another team looking for help up the middle. Pirri clearly wants to be on an NHL roster, and his continued inability to stick with the Blackhawks is likely becoming a frustrating burden for the youngster. When you add to that the fact that the Blackhawks have so many potential centers in their organizations, from Teuvo Teravainen to Mark McNeill, then the writing on the wall seems to be even clearer when it comes to Pirri's future with the club." – James Neveau, NBC Chicago
Barring an injury, that might have been Brandon Pirri's last chance with the #Blackhawks. Could be an intriguing piece of trade bait.

— Mark Lazerus (@MarkLazerus) February 7, 2014
If Stan Bowman decides to not move Pirri, however, the curiosity of whether or not Pirri can eventually translate his AHL success to the big club will be under the microscope. "This is a good team no matter what. I'm just trying to compliment players," explained Pirri. "I'm happy to be here. I just want to do everything to contribute. There's a little familiarity there and I'm just trying to help out in any way I can. I've had a taste here and there. Hopefully I can stick around."
3. Questions Facing the Blackhawks – Will the Special Teams Improve?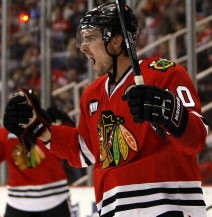 Heading into the Olympic break, Chicago's special teams units flip flopped from one extreme to the other. Their 3rd ranked power play unit went 4-for-34 in the month of January, while their 26th ranked penalty kill unit gained steam, killing off 16 consecutive penalties in the same month. While the Hawks still boast a hefty goal differential of plus-44, executing on the power play could be the difference in repeating, or going home early.
Chicago is 12-for-31 in one-goal games, which is currently 23rd in the league. Adding to it, the Blackhawks are a woeful 5-14 in games requiring overtime, with all five wins coming via the shootout. The Hawks have managed to stay atop the Central Division despite their special teams inconsistencies with a league-leading 207 goals. But as they know all too well, the playoffs consist of very close games.
"We have to find a way to get pucks to the net more," said Blackhawks forward Kris Versteeg last month. "The power play's been big, but it's been a tough few games on it."
The tough few games Versteeg was referring to has now turned into a bone dry drought. After converting only four times on 34 chances in January, the Hawks have remained desolate, going 2-for-13 on the power play through four games in February. If the special teams do not improve, expect the two units to be the biggest factor in them not repeating.
4. Questions Facing the Blackhawks – Can They Hold Off the Blues?
After comfortably leading the Central Division for the vast majority of the season, the Blackhawks now find themselves deadlocked with the St. Louis Blues with 84 points apiece. Not only is it a problem that they've watched their one time lead slip out of their grasp, the Blues own three games at hand on the defending champs. In the first three games against Ken Hitchcock's squad, the Blackhawks have gone 0-1-2.
Moving forward, the Hawks will have to figure out a way to scratch out victories in their final two meetings, which are advantageously home games for Chicago. With Brian Elliott finding his winning ways of late, winning two straight, matching up against St. Louis becomes more and more intimidating, especially since Jaroslav Halak was able to limit the Blackhawks to two goals in both of his wins.
With the undefeated advantage in games played between the two teams this season, the Hawks will appear to have an uphill climb ahead of them. That's because it's not the 0-3-0 record that's most daunting – it's the manner in which St. Louis has handed the Blackhawks defeat. Back in December, the Hawks blew a two-goal lead twice, eventually falling to the Blues in a shootout. "Right now, it seems like they have our number," said team point leader Patrick Kane. "You never want to give a team you play three times six points, especially in your own division."
5. Questions Facing the Blackhawks – Post Olympic Fatigue?
Having a competitive teams comes at a cost in some instances. In the case of the Olympics, the Blackhawks have marched 10 players out to Sochi, including their top five point scorers. And although alternate captain Patrick Kane sits 5th in the league in points, it's noteworthy to acknowledge that he was 2nd in the NHL in points for the majority of the season. Yes, Kane has seven points in Chicago's last 10 games, but he's also had three consecutive stretches of pointless efforts since Jan. 5th. Simply put, the Hawks can't afford to have Kane turning into Casper down the stretch.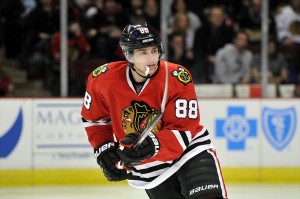 Much has been said about Jonathan Toews and missing his "scoring touch" this season. Toews' current numbers, however, suggest that he is trending along the same production level as previous years. His point totals through 60 games though, are two less than Claude Giroux's 67 – while Giroux spends the Olympic break resting and not risking injury.
It's not just the possibility of injury that have owners and the league concerned about NHL players participating in Olympic action. The effects of fatigue, and even a results-oriented hangover have the league re-thinking their future engagement in Olympic play.
"We're a different company than we were in 1998, a different stage in our evolution and development," said NHL Deputy Commissioner Bill Daly. "It has a much higher profile. As a business, we're more successful. We're much more visible on the world stage. We're much more of a media company and less of a licensee of rights. I think that's a factor when you consider whether the Olympics make sense for you going forward."
With only 22 games remaining on the schedule, the Blackhawks will finish out the regular season by seeing teams who are currently out of the playoffs eight times. The Hawks will play their next "home game" when they host the Eastern Conference-leading Pittsburgh Penguins on March 1st in the outdoor Stadium Series game at Soldier Field. The answers to these questions facing the Blackhawks will determine what kind of Spring their fans can expect.