As the Pittsburgh Penguins take a hiatus from their quest for NHL domination, seven players and a coaching staff hope to dominate the world in Sochi. The men's hockey portion of the 2014 Olympics is just underway, but it didn't take long for several storylines to develop for Pittsburgh's representatives. If you're a Penguins fan trying to keep secondary rooting interests, it was a good day as every Penguin was a winner.
1) Introduce Yourself to the World, Olli Maatta
Pittsburgh has one of the NHL's best kept secrets in 19-year-old defenseman Olli Maatta. The problem with that is there is absolutely no reason he should be a secret at this point. Maatta's trajectory this year has been that of a firework ready to dazzle its patient onlookers. His story can quickly be summed up by the articles we have written about him:
February's hopeful headline will be "Maatta explodes onto the world scene." He made his Olympic debut for Finland against Austria. It was a bit of a rough start as he was on the ice for the first goal against and had the second goal against bounce in off of his skate. Maatta steadied as the game went on though, recording a goal on a blast from the blue line.
He finished the game with one goal on three shots and 13:56 of ice time in an 8-4 win. I'm willing to bet that this isn't the last you'll hear of Maatta in the next two weeks.
Maatta even transcended the story of Jussi Jokinen, who recorded a goal, assist, and six shots in 16:36 of ice time. Pittsburgh's representatives for Finland are certainly off to a strong start.
2) Dan Bylsma and the Americans are Ready
Team USA had faced plenty of criticism going into the Olympics, ranging from the exclusion of goal-scorer Bobby Ryan to its gritty, playoff-like composition. After one game, it appears that the staff knew what it was doing.
The United States dominated Slovakia with a six-goal second period in a 7-1 rout. The team looked fast, smart, and balanced as they chased Jaroslav Halak from Slovakia's net.
Despite concerns around Pittsburgh that Brooks Orpik is on the decline, he handled himself well as the 7th defenseman and played a solid 10:43. Meanwhile, Paul Martin looked very comfortable transitioning from defense to offense and notched one shot over 18:46 of ice time. General Manager Ray Shero and Head Coach Dan Bylsma have to be happy with their "home" picks so far.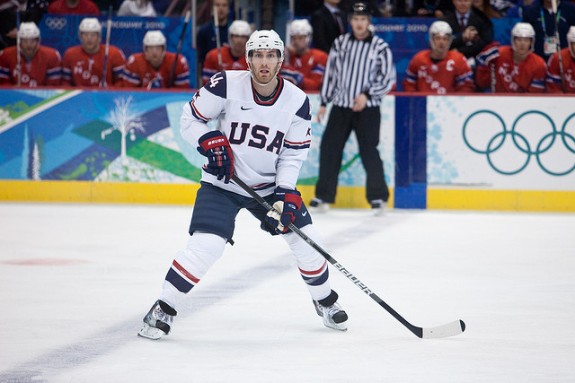 3) Winger for Crosby?
It's a seemingly never-ending story for Sidney Crosby no matter where he plays at this point. He may have brought one of his wingers in Chris Kunitz, but the next question is who fills in on his right wing for Canada now. Is Jeff Carter the right answer?
Team Canada had a very lackluster start in the first period and eventually dominated play in a 3-1 win over Norway. Even more surprising than the low score was that their scoring came from the defense and the fourth line. Crosby's line had its chances, but they will face scrutiny quickly with high expectations on Crosby and controversial picks in Chris Kunitz and Jeff Carter.
As Jonathan Willis of the Edmonton Journal noted, the first line did produce scoring chances:
CAN F SC: 14: +6/-2 87: +6/-2 77: +7/-2 12: +7/-0 15: +8/-0 24: +8/-0 10: +5/-1 16: +4/-1 61: +2/-1 22: +4/-0 20: +4/-0 37: +6/-0 26: +2/-0

— Jonathan Willis (@JonathanWillis) February 13, 2014
Will that be enough for Head Coach Mike Babcock though? He may have to start juggling lines quickly in a short tournament where Canada is expected to have unlimited firepower. Both Carter and Kunitz will be under pressure to find the back of the net very soon.  It already sounds like Martin St. Louis will get his turn on Crosby's wing in Canada's second game.
Crosby finished with two shots in 15:41 of ice time and Kunitz also added two shots along with two penalty minutes in 14:39 of ice time.
4) Good Luck Defending Malkin and Ovechkin
Russia had its share of scares in a 5-2 victory over Slovenia. One thing that should be scary to the rest of the participants is how quickly Alexander Ovechkin and Evgeni Malkin started the game though. It took just over a minute for Ovechkin to score on a 2-on-1 alongside Malkin.
Just under three minutes later, Ovechkin sprung Malkin for essentially a breakaway goal.
[Highlight links can be found here at NHL.com and are country-dependent]
After Russia's embarrassing exit four years ago, the host country is putting all of their hopes and dreams into the two superstars. It certainly doesn't look like a bad bet after one game. Malkin continued on to notch another assist as he finished the game with one goal, two assists, and five shots in 17:10 of ice time.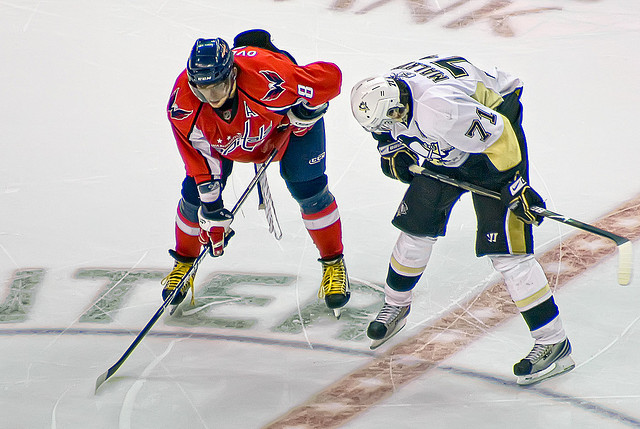 5) Yes, That's a Former Penguin
Finally, for Penguins fans familiar with the late 1990's and early 2000's, there are a few recognizable names that will be called out during the preliminary round.
Whether it's current NHL players in Jaromir Jagr and Michal Rozsival or a former player in Petr Nedved, the Czech Republic can easily bring about feelings of nostalgia for Pittsburgh fans.
Meanwhile, Slovakia boasts Tomas Surovy for those who survived and didn't completely erase their memories of the dark pre-Crosby years.
As for more recent former Penguins, Zbynek Michalek is also on the Czech roster and Marian Hossa is competing for Slovakia.
There is certainly no shortage of fun, secondary rooting interests as the tournament moves on.
Enjoy the abundance of good hockey and cross your fingers that no one gets hurt.  Meanwhile, Sean Griffin has provided you with five Penguins storylines to get you ready for the post-Olympic world as well.