It's not often that a fourth line winger can be counted as a key to victory for a team, but Patrice Bergeron is that exception for Canada this Olympics.
A credit to the depth of Canada or the versatile skill set of Bergeron and likely a combination of both.
Patrice Bergeron started the Olympic hockey tournament on the fourth line playing the right side with John Tavares and Jamie Benn. Now the first thing that jumps out is that there's no way that's a fourth line, yet again the incredible Canadian depth.
Patrice Bergeron running (on the wing) w/Jonathan Tavares & Jamie Benn. Thats about as savage a bottom-6 line as you'll ever see #BruinsTalk

— Joe Haggerty (@HackswithHaggs) February 10, 2014
Bergeron is the most versatile forward Team Canada has. He can play wing, and likely will for the majority of the tournament, however is a natural centre and also one of the NHL's best faceoff men. He's also one of the league's smartest and best two way forwards.
Two Way Prowess
Should things go horribly wrong and Canada find themselves playing from behind, Bergeron won't see as big a role, albeit still a regular one, with all of the offensive firepower in the lineup. His true value however, will be protecting leads and playing a shutdown role.
If Canada gets a lead in any big game expect to see a lot of guys like Bergeron and Jonathan Toews. Toews is an obvious pick and will no doubt lead all forwards in ice time over the tournament, but Bergeron will be no less important, especially in that role.
He played a similar one in Vancouver in 2010 although far more limited then. He will take on more responsibility in Sochi 2014 and be one of the top forwards over the boards to protect late leads. He's the 2012 Selke Trophy winner as the NHL's best defensive forward and has a +95 rating in his NHL career. Which isn't to say he's one dimensional and is dangerous on the counter attack, evidenced in game one against Norway where he had two assists and was named the game's third star.
Canada's stockpile of world-class talent down the middle forced Bergeron, a longtime Boston Bruins center, over to the wing for the majority of the game. It's a position Bergeron rarely — if ever — plays in the NHL, but he handled the transition with ease, and his line with Tavares, the New York Islanders' star center, and Benn, a top-line winger for the Dallas Stars, was Canada's most productive by far.

Bergeron assisted on the game's first goal — a rocket from the blue line by Nashville Predators defenseman Shea Weber early in the second that Benn set up by drawing a penalty behind the net — and also fed Benn with a beautiful cross-ice pass to put Canada up 2-0 later in the period. – NESN
He's a player Mike Babcock and the coaching staff can rely on more than most to play mistake free hockey. A rare commodity indeed.
Penalty Kill
One area where he will earn his ice time is on the penalty kill, and will be relied on as one of the first over the boards when Canada is a man short. Against Norway he was paired with Patrick Marleau as the top PK unit with the pair of Jonathan Toews and Rick Nash being 1B.
As inconsistent as international refereeing can be and how vital special teams are in a short tournament, Bergeron will have a lot of pressure to keep the puck out of his own net shorthanded. With the top two PK pairs above, not to mention the defensemen Canada can trot out, they should be in good shape and should have as good a PK as there is in the Olympics.
The real test will come later in the tournament if they have to face the firepower of a Russia or Sweden powerplay. A task Bergeron is no doubt up for and proved he could do four years ago en route to a gold medal.
Faceoff Wizard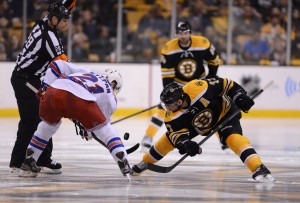 If there's an area Canada has a distinct advantage, it should be in the faceoff circle. On the roster they have six natural centres, and arguably two of the top faceoff men in the tournament in Bergeron and Toews. The other bonus is that one is a left shot and the other a right. Figure on seeing one of the two taking most defensive zone draws in Canada's end late in games.
With puck possession being key, Canada has the ability to dominate other teams and Bergeron is the best on the team. Especially in medal round games, when there is always a few crucial faceoffs, Canada has an ace in the hole in Bergeron they can rely on.
*****
In 2010 Bergeron was used a specialist of sorts. Primarily in the lineup as the extra forward he played limited 5 on 5 minutes and was used mostly in PK and faceoff situations.
He will play a similar role in 2014, although the difference this time will be a regular 5 on 5 shift. Although he may be listed as the fourth line right winger, don't be surprised to see his ice time in certain games near the top of the forward group.
Canada has aspirations of repeating as Olympic champions and if they do, Patrice Bergeron will have played a significant role.
____________________________________________________________________
Follow Carl on twitter @carlTHW and Google+ for more articles