Okay, so we're a bit past the half-way point. But 43 games is close enough (which is how many they've played as of my writing of this article), plus the holiday season took up a bit of my time. You understand.
The Pittsburgh Penguins will head into the first full week of 2014  with a 30-12-1 record, good enough for the top spot in the Eastern Conference right now.
But I think we all know that this team earns their money – and their reputation – in the playoffs. The regular season is, well, a means to an end.
That end is hopefully, at worst, the number one seed in the conference come playoff time.
There have been a good number of storylines from the first 43 contests, and that's where we'll start. Then we'll wrap up with a grading of the various aspects of the team: offense, defense, goaltending, special teams, and coaching.
Pittsburgh Penguins: Biggest Storylines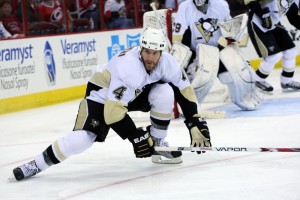 Had I told you on October 1st, that the Penguins would be in first place not only in the Metro (I still can't get used to calling it this) Division, but overall in the Eastern Conference through 43 games, and that they would do so not only minus the backup goalie who guided them to the Eastern Conference Final a season ago, but also largely without their top 4 defensemen. And of the top 6 D, one would be a guy who you would have bet would be traded due to salary cap constraints, and the other would be a 19 year-old rookie, would you have signed up for that?
That's what I thought.
Tomas Vokoun began by being cursed with a blood clot in his groin. An unfortunate situation that will likely cost him the season, if not his career.
Rob Scuderi was the first defenseman to go down just eight games into the season with a broken ankle from blocking a shot. Paul Martin followed with a broken bone in his leg. Brooks Orpik was assaulted by Shawn Thornton of the Boston Bruins in a play that sickeningly reminded you of Todd Bertuzzi trying to decapitate Steve Moore. And Kris Letang has been out with everything from a hang nail to a knee injury that required arthroscopic surgery (the hang nail is actually a shoulder injury).
Oh yeah, and Deryk Engelland was inexplicably suspended for five games when the Red Wings' Justin Abdelkader skated into his shoulder.
Then there are the forwards. James Neal has missed time due to injury and suspension. Evgeni Malkin has been in a suit for the past nine games (and hasn't exactly been filling the net the way folks 'round these parts are used to seeing), and then two days before Christmas Pascal Dupuis was fallen by his teammate (and captain) Sidney Crosby thanks to Ottawa's Chris Phillips (Phillips checked Crosby, causing Crosby to fall into Dupuis' knee awkwardly).
In short, you could say that so far this season it's been the Pittsburgh-Wilkes Barre/Scranton Penguins vs. the NHL.
Out of all of these injuries however, there has risen perhaps a superstar for years to come: Olli Maatta. The 19 year-old Finnish-born defenseman has been a rock for the Penguins thus far. And if it weren't for the MVP and Art Ross Trophy-caliber performance of Sidney Crosby so far this season (which I'll get to in a minute), Maatta's defensive partner – Matt Niskanen might be vying for team MVP.
The Grades:
Offense – A
As I just mentioned, captain Sidney Crosby is having one of the best seasons of his career so far (knock on wood). He leads the league in scoring with 23 goals and 62 points. Linemate Chris Kunitz is tied with Crosby for the team lead in goals, and James Neal has come on of late, tallying 14 goals total despite missing 15 games due to injury, and five to a suspension.
What Malkin is lacking in goal-scoring, he is certainly making up for in assists. Prior to his injury, Geno was leading the league with 32 helpers, but has since been caught by Crosby (39), and the San Jose Sharks Joe Thornton (42).
Jussi Jokinen has gone through some long spells this season where he hasn't produced much in the way of points, but he is quietly third on the team in goals with 11. The aformentioned Malkin has 9, while Brandon Sutter, one of Jokinen's current linemates, has 8.
Perhaps what is most surprising about the offense is the contributions of the WB/S call-ups. Guys like Chris Connor and Jayson Megna – both of whom were undrafted – each have four tallies. And even though he's missed 19 games because of injury, Kris Letang leads the blue line corps with six goals, and Matt Niskanen has contributed four himself.
Defense – A+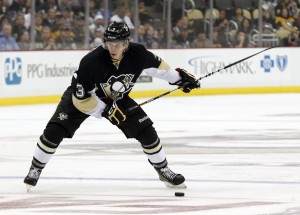 This is where the Penguins have persevered despite the injury bug. Robert Bortuzzo and Simon Despres were the two defensemen called upon at first to help out. But then the Penguins had to reach further into the farm's pockets and call up guys like Brian Dumoulin and son of former Pens' D-man Ulf, Philip Samuelsson.
Dumoulin saw his first six games of NHL action and finished that stretch as a +1, while Samuelsson saw five games and finished a -1. pretty impressive for guys making their NHL debuts.
All of that in addition to who I mentioned before – Olli Maatta. The 19 year-old has done nothing more that play like a six or seven-year veteran D-man – rarely getting caught out of position defensively, contributing on the power play, and racking up a stat line that reads like this: 42 GP, 3G-9A-12P, +2, 8PIM, and he's one for one in penalty shots (which also happened to be a short-handed goal). The Finn is here to stay folks. I've already said that.
Goaltending – B+
The problem with Marc-Andre Fleury has never been his regular season. It's been his past two postseasons that has Penguins' fans most concerned.
So what we're seeing out of The Flower right now is not necessarily anything unexpected, or even pleasantly surprising. It's pretty much par for the course for the French-Canadian netminder. Probably the only thing really worth mentioning on Fleury is his new goalie mask, which I really like. But if you know anything about hockey players, they're all very superstitious. Goalies especially (I know because I was one). MAF had the same mask for the past two seasons – including playoffs – and I'd bet my gig here at The Hockey Writers that having a new cage has something to do with past postseason failures.
What is surprising is the play of backup goalie Jeff Zatkoff. The guy who assumed he'd start the year starting for the WB/S Baby Pens suddenly found himself thrust onto the big club after incumbent backup Tomas Vokoun's very unfortunate blood clot.
After looking less than promising in his first career NHL action against the Florida Panthers by giving up five goals in a bad loss to a weak team, he's played much better as of late, including winning his last seven starts. His record is 7-2 (the other loss came in fill-in duty for Fleury when he was pulled), with a 2.52 GAA and a .910 save percentage.
Prior to the season, most bets would have been on GM Ray Shero making a trade sooner rather than later for a more experienced backup to Fleury. But Zatkoff has done his part admirably to quash those ideas.
Special Teams – A+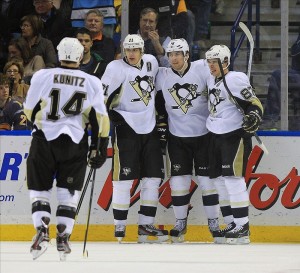 How do you not award the highest grade to the league's best power play unit (25.9%), and second-best penalty killing unit (88.4%)?
Enough said.
Coaching – A+
I know that this team will be judged by their accomplishments – or failures – in the postseason. And that includes head coach Dan Bylsma.
We all know – and most of us were miffed at the fact – that he and assistants Tony Granato and Todd Reirden were awarded contract extensions at season's end, despite the Boston catastrophe. But as I already said once, this is where Bylsma and co. are earning their paychecks.
The job they – and newcomer to the staff Jacques Martin – has been nothing short masterful.
It certainly helps that same system is played throughout the organization. From Pittsburgh down to Wheeling, the Penguins play the same style of hockey both offensively and defensively.
The obstacles that this team has faced with with injuries is something that I almost wouldn't wish even on the Flyers. The ability of the coaching staff to plug in call-ups from the AHL speaks volumes about the job they're doing not only behind the bench, but on the ice during practice, and in the room preparing the team for that night's opponent.
Overall – A
The Pittsburgh penguins are currently one of the best teams in the National Hockey League. And with the continued return of the early-season expected regulars, they figure to only improve on their current mark.
A scary prospect for the rest of professional North American ice hockey.
Submit your comments on my articles, or questions for The Hockey Writers/Pittsburgh Penguins Mailbag to:
TDTorraoTHW@Gmail.com
You can also reach me (and follow me) on Twitter:
Pittsburgh, Pa. Class of 2000 graduate from Robert Morris University with a B.A. in Mass Communications. Full-time objective sports fan.